How to Choose the Best Forestry Tires


Operating super-powerful and massive machinery in extremely challenging terrain, loggers ask a lot of forestry tires. The best forestry tires help get equipment in (and out) of difficult-to-access sites, provide stability while carrying heavy loads, improve productivity, and ensure uptime—but how do you know if the forestry tire you're looking at is up to the task?
While there are numerous brands and styles of logging tires, there are some characteristics that all great forestry tires share.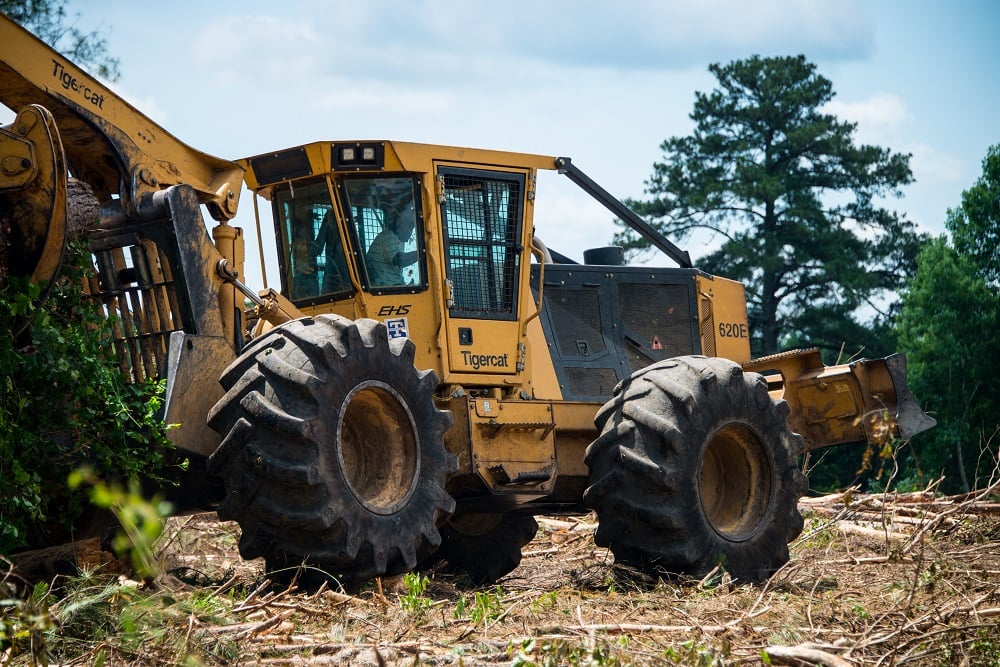 Puncture Resistance


Stumps, sharp branches, and rocks—logging sites are filled with hazards, and punctures pose an enormous problem for loggers. First and foremost is that loggers often operate in remote, hard-to-access areas, which means a replacement tire or tech to fix the tire is not always nearby. Machine downtime is particularly costly in businesses with tight margins, like logging. Tire manufacturers like Alliance and Primex use a wide range of ways to protect against punctures.

Ply Rating/Load Index

Ply rating is an indication of the strength and load capacity of a tire and its importance when choosing a forestry tire has grown as logging equipment continues to get larger and more powerful. Tires with heavier ply ratings are better suited for handling the demands of carrying massive logging machinery and can withstand more punishment than less robustly built tires.
Building an even heavier, stronger tire can increase up-front costs. However, these tires last longer and help prevent costly downtime, providing a lower total cost of ownership in the long run. Yokohama Off-Highway Tires America, Inc. is always working to meet the real-world challenges facing our customers and continues to deliver the tires the market demands, which is why we recently released a 32-ply version of our popular Primex LogMonster tires in sizes 30.5L-32 and 35.5L-32.


Steel Belts, Rubber, and Rubber Compounds
Steel belts are becoming an essential feature of forestry tires and act like a suit of armor for your tires, repelling attacks from branches and stumps and protecting vulnerable areas like between the lugs (where a tire has less rubber). Working with steel belts to guard against punctures are thick under treads and sidewalls, which protect against slashes, cuts, and cracks.
While steel belts and precision-engineered reinforcements shield the carcass of a tire, rubber compounds are on the front lines fighting against the rocks, limbs, and roots that cause tires to chunk and chip. The best forestry tires are made using rubber compounds specially formulated to stand up to the challenges of operating in a rugged landscape and resist cuts, punctures, and chunking.


Bead

The bead of a tire plays a significant role in both the performance and longevity of a tire. They need to stand up to punishing abuse from the stumps, rocks, and heat that come with working in the forest, while also effectively transmitting the horsepower of today's super-powerful equipment and preventing rim slippage. Tires like our Primex Xtreme feature an innovative dual bead and rim shield rubber to stand up to the abuse of forestry applications.

Performance
Loggers require a tire that more than merely survives the harsh landscape it operates in—they need one that excels in it. Great forestry tires generally have an aggressive lug angle for maximum traction and enhanced hillside stability. They also typically feature lugs precisely engineered for traction, protection, and self-cleaning, which allows the tires to clear themselves of mud and debris, and helps avoid any puncture-causing material from getting stuck in the tread.
In addition to deep, aggressive treads, super-rugged forestry tires like our Primex LogMonster and Alliance 345 ForeStar feature tie bars. Tie bars provide extra strength to the lugs and help provide stability while lifting heavy loads, reduce lug movement, and minimize cracking.



Maintenance

One way logging operations can keep tires performing at their best is with regular maintenance, which begins with keeping tires inflated to the proper pressure.

Underinflation hurts tire performance and leads to a host of issues that affect a tire's longevity, such as excessive bulging (which can cause cracks or punctures on the sidewalls and tread) or slippage of the tire on the wheel.
Overinflation affects a tire's ability to flex when running over stumps, logs, and rocks, which can lead to carcass damage.
In addition to the unique problems posed by under- and over-inflated tires, both issues also cause uneven wear and shorten the lifespan of the tire.
A Cut Above the Competition

Our Alliance and Primex brand forestry tires are built to deliver the performance and longevity that today's logging operations demand. Check out five of our favorite forestry tires for just a hint of our impressive product offerings, or contact your local dealer/rep to learn how Alliance and Primex forestry tires can help you trim costs and harvest profits.