Radial Skid Steer Tires Improve Skid Steer Performance
Thanks to their versatility, skid steers are employed in a variety of tasks and terrain—and manufacturers have responded by delivering numerous tire styles aimed at improving performance in particular applications. There is no one-size-fits-all tire solution to address the demands of every application, however, so operators must select a tire that meets the particular challenges facing them to maximize their investment—considering factors from tread type to construction.
The need to improve skid steer performance is a common concern in industries like demolition, waste management, and ag, but tire dealers can benefit too, as one of our Minnesota-based dealers was recently reminded. They got almost four times longer service life from their tires after making the switch from traditional bias R-4s to steel-belted Alliance 550 MultiUse radials.
Switching from R4 Bias to Hybrid-Tread Radial

Our Minnesota tire dealer uses its skid steer in their storage yard, which features a combination of tough-on-tire surfaces ranging from concrete to crushed concrete pavement to gravel. The skid steer works through all four seasons—including harsh Midwestern winters—which means it also spends a fair amount of time in the snow and on icy surfaces. While these conditions pose a challenge for skid steer tires, they're the perfect proving ground for our Alliance 550 MultiUse radial tire. Plus, nobody puts a tire to the test like a tire dealer.
Prior to trying our Alliance 550 MultiUse, the tire dealer's skid steer was equipped with conventional R-4 bias tires that lasted approximately 300 hours, or five months. Conversely, they just replaced the Alliance 550 tires on their machine after more than 1,100 hours—almost four times longer than their bias R-4 predecessors!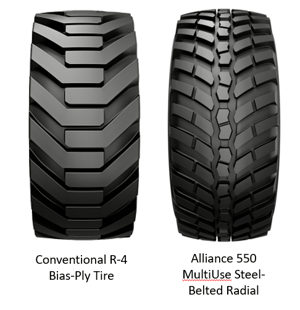 Why the Alliance 550 Radial Outlasted the Bias Tire

The 550's industrial tread rubber compound—which is engineered for long, even wear on both hard and soft surfaces—is one reason for their longevity. It's also a testament to the quality of the compound that, despite obviously seeing hard use, the tread is still discernible, the blocks didn't get chunked off, and the tire hasn't been cut through, punctured, or unduly worn.
Another contributor to the long service life of the 550 MultiUse tire: radial construction. The skid steer market has traditionally favored bias-ply tires, finding them cost-effective and reliable. But options like the Alliance 550 MultiUse radial are changing the perception of equipping skid steers with radials, which have been widely adopted in other sectors such as farm equipment.
Radial Construction

Traction: One of the main reasons that the steel-belted 550 radials out-performed their bias counterparts at the dealer's storage yard is that they're able to operate at lower inflation pressure, which allows them to put a wider, more uniform footprint on the ground. The better footprint of the 550 provides superior traction, which reduces spinning and slipping, both of which hasten tread wear.
Bottom Line: An unseen bonus is that in addition to being longer-lasting tires, the improved traction provided by the Alliance 550 MultiUse also leads to increased productivity and more efficient fuel consumption—all of which add up to more dollars at the end of the day.
Puncture Resistance: Lower operating pressures and larger tread areas allow radials to engulf otherwise puncture-producing debris like sharp pieces of concrete or rocks. The steel-belted construction of the 550 provides further protection against punctures.
Improved Ride: The flexible sidewalls of radial tires like the 550 act as natural shock absorbers and provide a more forgiving ride, resulting in better productivity and satisfaction for operators—and fewer shocks, jolts, and maintenance costs for machines.
Hybrid-Tread Pattern

The hybrid, directional, multi-block tread of the Alliance 550 MultiUse is designed to excel in a variety of conditions, including those encountered in the tire dealer's storage yard.
The low void-to-lug ratio is ideal for putting the optimal amount of rubber on the ground for hard-surface applications like operating on concrete.
A large number of blocks provide excellent biting power in winter conditions and allow the 550 to excel in the snow and on ice.
An "S" center tread provides stability (and comfort) and eliminates squirming and stress when operating on hard surfaces.
Optimally distanced directional blocks provide great traction when working in variable conditions like the broken concrete and gravel found in the tire dealer's storage yard.
Of course, the magic is in how it all works together—as the steel-belted radial construction puts the maximum amount of the 550's innovative tread pattern on the ground for maximum performance and longevity.
Cost of Ownership

The low up-front cost of bias tires is one reason why many skid steer owners still turn to them, but a low initial cost doesn't always translate to a low total cost of ownership (TCO). Just consider our Minnesota tire dealer that got almost four times more life out of the Alliance 550 tires than they did their bias tires.
A simple formula to judge how tires are returning on their investment is to divide their cost by the number of hours or months of service you get from them.
Maintenance Matters with Radial Tires

To get the best return on radial tires, it's important for operators to commit themselves to proper maintenance, namely monitoring and adjusting inflation pressure. In addition to shortening tire life, improper inflation can negatively impact everything from performance to ride quality.
Underinflated tires can build up heat, damage their casing, and wear the outside of the tread faster than the inside.
Overinflated tires can cause excessive wear in the center of the tread and can lead to impact breaks.
Regularly checking and adjusting your tire pressure is one of the best steps you can take toward improving the TCO of your tires.
Application-Specific

Our Alliance 550 MultiUse was just the tire our dealer in Minnesota needed—but it isn't the solution for every application. Skid steer owners should consider factors like the job a tire is asked to perform and the conditions it will work in. Use those as a guide to the type of tire (construction, tread type, and compound) you need.
Between our Alliance and Galaxy brands, we have options for skid steers engaged in all kinds of work and terrain—whether it's the Super Smooth SDS for machines working on smooth hard surfaces, our classic Beefy Baby III, the bias-ply workhorse the Galaxy Hulk, or our ground-breaking Alliance 550 MultiUse. Contact your Alliance/Galaxy dealer or rep today to put our application-specific skid steer tires to work for your operation.