Why Warranties Matter When Choosing Farm Tires


There's a lot to consider when buying new farm tires. For example, do you need the tires to help you achieve a goal like lowering soil compaction, improving roadability, or increasing traction? Or, will the tires operate in specific conditions, such as on hillsides or in muddy soil? Another characteristic to contemplate is the quality of a company's warranty. A tire manufacturer's warranty is an indicator of the confidence they have in their ag tires and provides purchasers with protection if a tire fails to meet a producer's promised performance.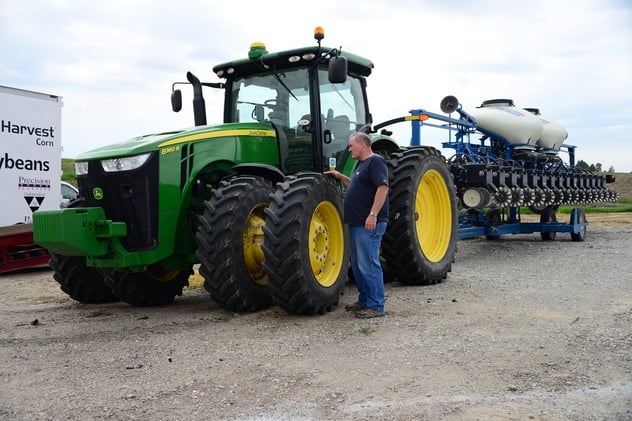 Length of Coverage


One of the most straightforward warranty characteristics is the length of coverage. It goes without saying, when a company backs a tire for a certain period of time, we anticipate that tire to not fail, or become unusable, due to a manufacturer defect over that course of time. For instance, when you buy one of our steel-belted Alliance AgriFlex IF/VF tires backed by a 10-year warranty, you know that we're so confident in its quality, that we stand behind our work for a decade.

Workmanship & Materials


Any good tire warranty will, at minimum, cover workmanship and materials. This protects customers if a tire fails to perform as intended when they've used their tires in the correct application, maintained and stored them properly, and didn't abuse them.

Field Hazard & Stubble Damage Protection


Similar to the road hazard warranties that back the tires on your truck, field hazard, and stubble damage warranties protect farm tires against damage done under normal use.
Field Hazard: Manufacturers take a variety of steps to reduce downtime caused by tires, using everything from steel belts to special compounds to armor them against the threats they encounter in the field. Regardless, a farmer's field is a perilous place for tires, making punctures and air loss a reality for any machine that spends time in them. Field hazard warranties protect tire owners from failures beyond the control of themselves and are offered by manufacturers as a benefit to users—allowing them to share the expense of a tire that is unrepairable.
Stubble Damage: A byproduct of today's high-standability, high-yielding crops is the stout, tire-menacing stalks they leave behind, which are notorious for chipping away at the tread and rubber/fabric casings of even the toughest tires. Tires that operate in applications where stubble damage is a concern—for example, growing corn, soybeans, and cotton—should be backed up against this kind of damage. To protect a farmer's tire investment against tire-wrecking nuisances, every tire we build using our stubble guard rubber compound is covered against stubble damage.
A favorite piece of advice from one of our product managers is to think about the problems you've had in the past with your farm tires and make sure your new tires are covered against those issues.

Who is Backing the Warranty?


The particulars of a warranty are important—what is covered and how long is it covered for are questions that you should ask when buying farm tires, but another thing to keep in mind is the warranty process. A stellar warranty isn't worth the paper it's written on if there's an abundance of legal language that makes it impossible to collect on the warranty, or if the warranty process is so convoluted or time-consuming that it is simply easier to get new tires.
Time is money, and for busy farmers, there's a high cost to getting tied up on the phone or computer trying to collect a warranty, especially in time-crunched seasons like plant or harvest. This is why we make processing warranties easy. Our Warranty Wizard app makes submitting claims convenient and easy—they can even be done from the field using a smartphone. The innovative app walks you step-by-step through the claim process and sends the info directly to the people responsible for handling it.

Why Choose Our Farm Tires


Ag tires are a big investment and choosing a farm tire with a warranty is a fantastic way to protect that investment. We have the utmost confidence in our tires, which is why we offer some of the most robust warranties in the industry—from the 10-year warranty backing select steel-belted Alliance AgriFlex IF/VF tires to the 7-year warranty covering our entire farm tire lineup. Even our solid skid steer tires—a popular option for moving feed and cleaning barns—are backed by a 5-year warranty. And in the event of an issue, help is just an app away.
The best warranty is a warranty you never need to use! We build high-performing tires for the long haul, and while we offer a robust warranty on our tires and an easy claims process, our goal is that you never have to use it. To learn more about our extensive line of application-specific tires for use on and around the farm, contact your local dealer or rep today!