Our Winter Wonder—the Alliance 550 MultiUse
Perhaps no time of year is construction more challenged than winter. To make the most of the season's short days, construction companies need to operate at maximum efficiency while navigating unpredictable (and often unfavorable) weather that places additional strain on both its people and machines. Every business is different, and in winter construction companies do everything from continuing business as usual to shutting down for the season. Lucky for these customers, we have a multiuse tire that meets the needs of whatever your construction company is planning this winter.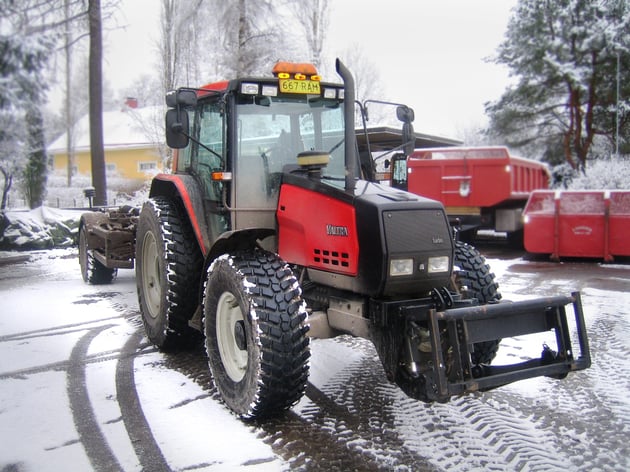 Businesses planning to brave the elements this season will need a tire as hardy as their workforce. More so, they'll need a tire that can handle working in the snow, slush, and mud. It's here the Alliance 550 MultiUse excels. Designed to handle whatever Mother Nature can throw at it, the Alliance 550 features a block type pattern tread and a large footprint for exceptional performance in the snow. Even better, the 550 is engineered with steel belts for increased puncture resistance and a special compound designed to perform at low temperatures.
For many construction companies—especially ones operating in locations with harsh winters—winter provides a different revenue stream from building: snow removal. Designed for use on industrial tractors, backhoes, and compact equipment, the Alliance 550 MultiUse tire has all the features a construction company that transitions to plowing in the winter needs as well. The Alliance 550 is as capable in the snow as it is on hard surfaces like the asphalt and concrete, allowing it to seamlessly switch from plowing one day to building the next.
The Alliance 550 is also excellent for businesses moving indoors this winter. Great for use on telehandlers, the 550 MultiUse's S-block center tread offers exceptional stability on hard surfaces and its large footprint delivers fantastic stability when lifting loads. Even better, the S-block tread provides superb wear on hard surfaces—like concrete floors—as well as great roadability when you have to subject yourself to winter weather and move between jobs.
If your construction company shuts down for the winter, there's no better time to think about your tires. Use the downtime to look over your machines' tires and see what needs to be replaced before business starts up in the spring. Getting ahead on this type of maintenance can help prevent headaches, downtime, and money when operations ramp up again.
If you want to learn how the Alliance 550 MultiUse can benefit your construction company this winter, contact your dealer today. We pride itself on building tires that solve the real-world issues facing our customers, whether you're working in a winter wonderland or staying indoors this year.