Solid Skid Steer Tires for Puncture-Prone Applications
Historically, pneumatic tires have been a fixture on skid steers; however, as the number of tasks these versatile machines are asked to perform continues to grow, so do the kinds of tires available for them. There is no one-sits-fits-all tire solution for today's skid steers, but pairing the "right" tire to the conditions your machine works in can pay off—improving everything from productivity to profit. For example, solid skid steer tires offer numerous advantages to machines working in harsh, puncture-prone environments in applications like demolition, scrap, waste, and recycling.

Here are five reasons why skid steer owners operating in some of the most challenging applications are turning to solid tires.

Five Benefits of Solid Skid Steer Tires in Severe Applications
1. Puncture-Proof Performance

The reason many skid steer owners equip their machines with solid tires is that, rather than being filled with air, they're made entirely of rubber. Their solid-rubber construction makes them extremely durable and puncture proof, and eliminates flats. This means solid-tire-equipped skid steers are able to work in environments where the threat of a puncture is a constant—whether it's a glass-filled recycling center or a construction site littered with loose nails—without the worry of downtime or incurring the expense of repairing or replacing a punctured tire.


2. Long Lasting

The robust construction of solid tires does more than merely help them survive tough jobs, like those found in waste handling and demolition, and even tougher terrain—it helps them last longer. The rugged construction of solid tires and the use of special rubber compounds (for example, our Galaxy Hulk SDS tire features unique base and tread compounds) allows them to resist lifespan-shortening abrasion and last two to three times longer than comparable pneumatic (air-filled) tires.

A good way to visualize the expected life of a solid is to look at the comparable tread depth of the tire. A standard pneumatic R-4 tire typically has around 28/32 of usable rubber/tread depth. In comparison, the equivalent Galaxy Beefy Baby SDS solid comes with 92/32 of usable rubber while the Hulk SDS features an impressive 106/32 of usable rubber.

3. Low Maintenance

Solid tires require very little maintenance. Because of their solid construction, there's no air pressure to check or flats to repair/replace. Unlike foam-filled tires, there is no expensive, labor-intensive filling process or messy foam and unexpected downtime from something like a slashed sidewall.
When it comes time for new tires, the process of changing solids is extremely straightforward. Most solid tires are sold pre-mounted on rims, which makes swapping tires as simple as taking off the old ones and putting on the new ones. Solid tires are also a bolt-on replacement for pneumatics, which enables owners to easily switch between the two—which is particularly beneficial to machines operating in terrain best suited to a solid one day (like demolition) and applications ideal for a pneumatic the next (such as moving materials).

4. Strength and Stability

Because solid tires are made entirely of rubber, they weigh more than comparable pneumatic tires. This lowers the machine's center of gravity and provides a more stable platform, especially when lifting loads. Solids also have a super-high carrying capacity; for example, the Galaxy Beefy Baby SDS offers up to 40% higher carrying capacity than that of a pneumatic tire. The high-carrying capacity of solids makes a big difference when, for example, a skid steer is carrying a heavy load of metal across the yard or a heavy granite block across a quarry.

5. Lower Total Cost of Ownership (TCO)

All solid tires share similar characteristics—such as solid rubber construction and being puncture-proof—but not all solid tires are created equal. Yokohama Off-Highway Tires' Galaxy brand stands apart from the competition. Galaxy solid skid steer tires are made using uniquely formulated compounds that deliver the perfect blend of flexibility; heat dissipation; and scrub-, cut-, and chip-resistance. They also feature special bead bundles for minimizing rim slip and transmitting a skid steer's power to the ground.
When you add up the benefits of using a Galaxy solid skid steer tire, along with the benefits of using one in applications with a high risk of flats—increased uptime, longer service life, less maintenance, and improved performance—you get a tire with a lower total cost of ownership and a cost per hour that leaves competitors in the dust.

Application-Specific Solid Skid Steer Tires

While solid skid steer tires share some qualities, there are numerous characteristics that differentiate one tire from another. The key to maximizing your investment in solid tires is to choose an application-specific tire designed specifically for the job and conditions the tire will work in.
Yokohama Off-Highway Tires America, Inc.'s line of Galaxy solid tires has an option for nearly every machine and application. Some popular Galaxy solid tires and the applications they're ideally used for include:
Galaxy Super Smooth SDS: Designed for use in waste and recycling applications, the Super Smooth SDS delivers exceptional service life, even wear, and eliminates lug cracking on hard surfaces.


Galaxy Hulk SDS: With 58% more tread depth than standard R-4 solid tires and a sturdy chevron-block tread pattern, the Galaxy Hulk SDS is the go-to choice for skid steers engaged in rough work on a variety of surfaces, such as managing feed and moving manure on dairy farms or working in a scrapyard.


Galaxy Beefy Baby SDS: The Beefy Baby has been the gold standard in skid steer tires for years and the solid version of this stalwart is a favorite of skid steers working in applications like demolition and construction.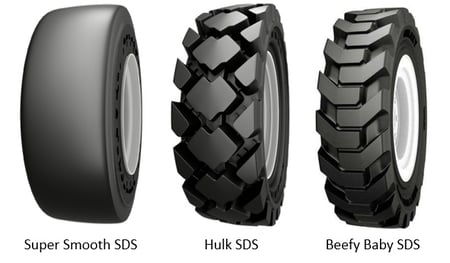 Solid vs. Pneumatic

Solid tires excel in tough applications where punctures are a hazard and failure is unacceptable, but there are still many jobs where pneumatic tires reign supreme. Pneumatic tires act like suspension and provide a more comfortable ride than solids, which can add up to improved operator satisfaction and productivity, as well as reduce wear and tear on the machine.
One of the primary methods for making the most of your investment in tires is matching the tire to the application and considering everything from the tire's construction, tread pattern, and unique features like compound and bead bundle when deciding what type of tire to outfit your machine with.
Galaxy Brand Skid Steer Tires

Solid tires have long been the choice for machines operating in severe-duty applications, but they are becoming increasingly common for everyday use. Contact your local Yokohama Off-Highway Tire America, Inc. dealer or rep to learn more about our Galaxy brand solid skid steer tires and to see if they're right for your application.