Signs That It's Time for New Tires
Farmers depend heavily on tractors, and how well those tractors perform depends largely on their tires. Tires past their prime no longer efficiently transfer a tractor's power to the ground and fail to provide adequate traction, which can reduce productivity and add fuel costs. Operating a tractor with tires in need of replacement is also a recipe for costly and frustrating downtime.
There's no standard rule for when it's time to replace the tires on your tractor, but there are some tell-tale signs that it's time for new tires.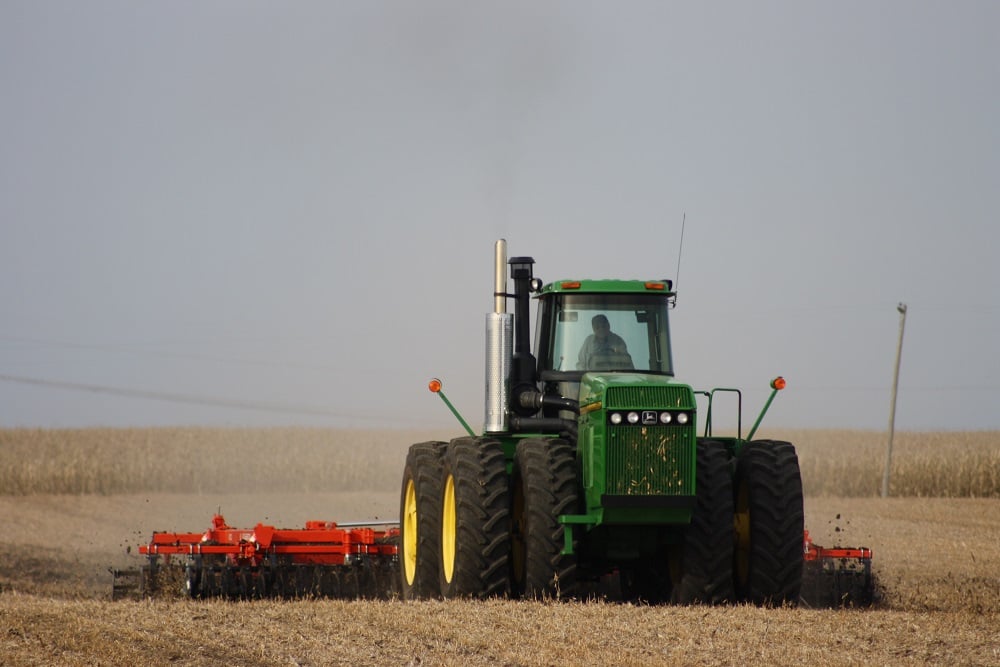 Tire Damage

Punctures are one of the most common causes of tire damage, and there are numerous ways that tractor tires are subjected to puncture damage—for example, spear-like stubble, unseen fence posts, and stray nails. While tires can withstand a lot of abuse, older tires simply have less rubber than newer ones, and rubber is the first line of defense against punctures. If a cut, tear, or puncture exposes the body plies or belts (which provide a tire with strength and stability), it's time for a new tire.
Punctures aren't the only threat to damage tractor tires. Impact damage—like that caused by a hidden rock in the field or bad road conditions—can result in a bulge on the tire. A bulge means the tire's casing is damaged. You cannot repair a bulge and should replace a bulging tire immediately, as it can fail at any time—at best causing aggravating downtime and at worst posing a serious risk to safety.

Not Holding Air

The performance of a tire—and, subsequently a tractor—is tied to tire pressure. It's extremely challenging to keep a tire leaking air at its optimal pressure, which affects everything from fuel efficiency to footprint (soil compaction) to ride comfort. There are a handful of things that can cause a tire to leak, such as a worn-out valve stem or a damaged wheel, and it's not uncommon for older tires to struggle to hold air.
When the task of constantly filling a slow-leaking tire becomes unbearable and you realize the time and effort spent doing it is costing you more than a new tire (or you don't want to chance of getting a flat) it's time for a replacement.

Tire Slippage

There is no "penny test" for tractor tires nor a tried-and-true formula for when a tire's tread is past its time. For example, a worn tire working in wet soil might require replacement before a similarly worn tire operating in dry terrain. However, wheel slip is a good indicator of when a tire is no longer performing at its best and is nearing time for a replacement. If you have newer tires, wheel slip can also be a sign of other issues, such as incorrect ballast or improper tire pressure.
Wheel slip is when the tires turn faster than the speed the tractor is traveling. Tractors are designed to operate with a little bit of wheel slip—it reduces strain on the drivetrain—but with too much slip, you're wasting power and fuel and prematurely wear your tires. Too little, and you're putting excessive wear on your drivetrain. Ideally, tractors and tires should operate with wheel slippage between 10% and 15%; for every 1% past the optimal slip, you lose 1% in productivity and energy efficiency.
Most modern tractors are equipped with wheel slip indicators that are easily monitored from the cab. However, if you have an older model tractor you can try the old trick of simply checking your tractor's tracks—a lack of defined lug prints are a sign of wheel slippage. The more mathematically inclined can try this approach:
Mark the inside sidewall of a tire that you can see from the cab of the tractor
Flag a distance of 100 feet in a field
Find the circumference (in feet) of the tire
Drive the 100 feet while counting the tire revolutions
Multiply the number of revolutions by the circumference of the tire and divide by 100
For example, if your tire traveled 110 feet while the tractor only moved 100 feet (10 feet farther), you have 10% wheel slip.



Dry Rot

Dry rot is caused by things like overexposure to sun and dry air and contact with chemicals like herbicides and pesticides—and is particularly problematic on machines that don't move much. Dry rot robs tires of elasticity, creates cracks, degrades their structure, and ultimately makes them unusable. A tire with dry rot is a tire in need of replacement.
Issues Outside of Your Control
Every now and then, a tire fails to deliver its expected service life. In these cases, a warranty that covers the tire's shortcomings—and is easy to process—is invaluable. Because of this, Yokohama Off-Highway Tires America stands behind our products with one of the best warranties in the industry. Our warranty protects against defects in workmanship and manufacturing along with providing insurance against damage done by field hazards and stubble. If you ever need to file a warranty claim, you'll find it extremely straightforward—our Warranty Wizard app lets your claim and photos from the convenience of your phone.

The Importance of Timely Tractor Tire Replacement

Replacing tires is expensive and it's only natural to want to put off making the investment in new tires for as long as possible. However, taking too long to get new tires might cost you money.
Excessive wheel slip caused by worn tires makes tires spin excessively, which wastes fuel and power, along with speeding up tire wear.
Worn tires that result in too much wheel slip can cause your tractor to use more fuel.
The more wheel slip from worn tires, the less productive your tractor is and the greater amount of time you spend working. (Time is money!)
Older tires are unable to hold optimal air pressure. Underinflation puts tires at very high risk of failure from heat buildup or running flat, and can also lead to poor steering/handling/braking, increased fuel consumption, and sidewall cracking from excessive flexing—all of which costs you in the long run.

Yokohama Off-Highway Tires America

Tractor tires are a big investment and we encourage farmers to maximize it by taking appropriate steps to make them last as long as possible. In addition to extending service life, another way to improve ROI is to have the right tire for the right job—that is, a tire designed for the type of machine, work, and conditions you operate in. Our Alliance brand is a leader in application-specific ag tires and has an option for nearly every type of tractor and job found on the farm, from traditional bias-ply tires like the FarmPro 324 to high-tech radials like the AgriFlex+ 354 to unique hybrid tread patterns like the 550 MultiUse.
When it's time for new tires, contact your local Yokohama Off-Highway Tire dealer or rep to learn about our extensive range of tractor tires and how they can help your operation.