The Galaxy Hulk: A Souped-up Solid Tire With More Rubber
Skid steers are commonly tasked with working in harsh, tire-killing terrain, leading to frustration with unanticipated downtime and tires that don't meet expectations. When adding to our broad range of skid steer tires, it felt logical to offer a solid tire for the most brutal conditions—enter the Galaxy Hulk SDS. Reminiscent of Home Improvement handyman Tim "The Toolman" Taylor's catchphrase, "more power," we souped up this special solid tire with more rubber! The result is a tire that increases machine uptime and operational efficiency, which adds up to extra dollars at the end of the year.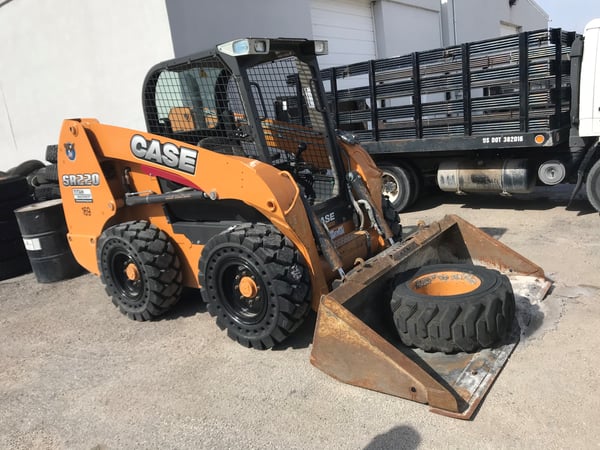 More Rubber!
You're darn right more rubber. We are always innovating, so rather than building the Hulk SDS on a 20-inch rim, like most solid tires are designed around, we built the Hulk with the same outer diameter as a tire with a 20-inch rim on a 16-inch rim. Because of this ingenious bit of engineering, our Hulk SDS offers four times more usable rubber to the 60J line—the final wear indicator of the tire—than traditional skid steer tires. The result is a tire with more rubber that delivers an industry-leading performance and superb return on investment.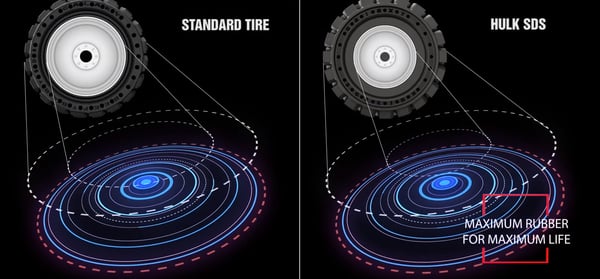 Deep Tread
One major benefit of the copious amounts of rubber used in the construction of the Galaxy Hulk SDS is a tread that's 58% deeper than that of standard skid steer tires. The massive lugs of the Hulk's chevron-and-block tread pattern are more than two inches deep to deliver exceptional, long-lasting traction in the toughest terrains while working the most challenging jobs.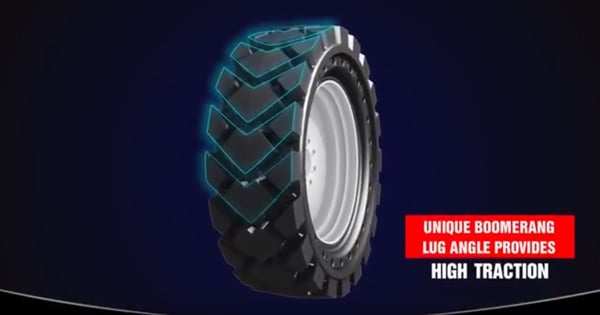 Compounds and Construction
The innovation didn't stop with our use of a 16-inch rim when engineering the Hulk SDS. We didn't need an assistant like Al Borland to help us when formulating a special rubber compound designed to resist wear, scrubbing, chunking, and heat build-up (the ultimate enemy of tires) for the Hulk SDS. What we did seek the help of, however, was an under-tread tie bar that stabilizes the centerline block, resulting in better traction and longer service life—sort of like Al to our tire's Tim.
Read "More Rubber in the Galaxy Hulk SDS Solid Tire" in Modern Contractor Solutions
More Power!
Just as the Toolman knows there's no sense in owning a 1,000-horsepower tractor if it just spins its tires, you know that to take advantage of today's large-frame loaders, you need a tire capable of transferring your machine's power to the ground. Because of this, our Hulk SDS features a steel creel bead to hold tight to the rim and turn the machine's torque into "more power" on the ground.
Increased Uptime
Dealing with tough jobs is hard enough—and machine downtime caused by punctures, slices, and burst casings only makes them more difficult. This is why we designed the Hulk SDS not only to eliminate costly machine downtime due to tire failure, but also to reduce the need for time-sucking (and costly) changeovers—helping to keep your machines and operations running and profitable.
Read "Solid Tires Prove a Solid Investment" in Modern Contractor Solutions
Round Up
If you've been looking for a skid steer tire that's tough enough for your operation, don't wait for Wilson to whisper through the fence about our Galaxy Hulk SDS tire. Call your local dealer or rep for more information—or try it today to see for yourself.