Wisconsin Dairy Farmer Puts the Galaxy Mighty Trac ND to the Test

Skid steers have become an integral piece of equipment on today's dairy farms and outfitting them with the right set of tires can make a huge difference in everything from tire life and cost to equipment performance—all of which adds up to dollars at the end of the day. A Wisconsin dairy recently switched from a competitor's skid steer tire to our Galaxy Mighty Trac ND and saw firsthand the enormous difference tires can make.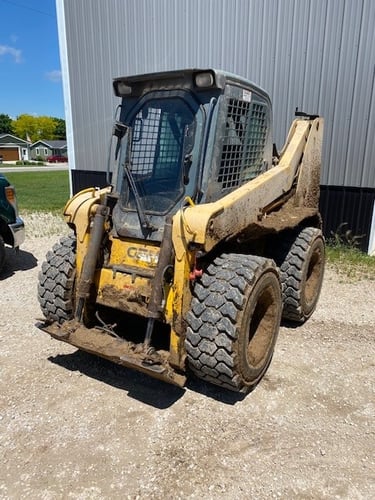 Work on a Wisconsin Dairy

The Wisconsin dairy that put our Galaxy Mighty Trac ND tires to the test milks 700 heads and uses a Gehl 6640 skid loader to tackle chores like moving bedding, piling manure, pushing feed, and cleaning up yards. Like at other dairies, the skid steer works 365 days a year and spends a substantial amount of time on abrasive concrete, which can quickly wear down tires.
Before switching over to our Galaxy Mighty Trac ND tires, the Wisconsin Dairy was getting about 700 hours from our competitor's skid steer tires. So far, the Mighty Trac ND tires have delivered 1,500 hours of grinding work—more than doubling our competitor's offering—and still have tread to spare.
Don't take our word for it, according to the Wisconsin dairy farmer, "the Mighty Trac is the best tire for longevity and traction we've had on this farm."


The Galaxy Mighty Trac ND


What differentiates the Galaxy Mighty Trac ND from other skid steer tires? First and foremost, its versatility. The Mighty Trac ND is designed to excel in a variety of conditions, whether it's moving bedding in pens and barns, cleaning slick manure-covered floors, or clearing snow from yards.


Maximum Traction


It should come as no surprise that the Mighty Trac ND provides exceptional traction—after all, "Mighty Trac" is right in its name. Helping to give the tire its exceptional grip is an aggressive tread pattern and polygon-shaped blocks which deliver more biting edges in every direction. The non-directional tread pattern of the Mighty Trac ND enhances performance while both moving forward and in reverse, which is something operators maneuvering skid steers in tight spaces appreciate.
The Mighty Trac ND also features a 52:48 rubber-to-void ratio that provides phenomenal traction on both hard and soft surfaces. The tread blocks alternate along the tire's shoulder between reaching all the way to the edge and leaving an indent, which turns the edges of the tire into active traction surfaces. When using the Mighty Trac ND, the Wisconsin dairy farmer trialing our tires noticed that "there's a lot more traction—you don't slip as much."
Another unique feature of the Mighty Trac ND is that there are sipes in every tread block to enhance traction in wet and snowy conditions, not to mention manure. The advantage provided by the sipes is especially beneficial in the winter; the Wisconsin farmer using our tires said, "Normally, the operators would say, 'we've got to get different tires; we're sliding around,'" and noted that "nobody said a word this year."

Mighty Good Performance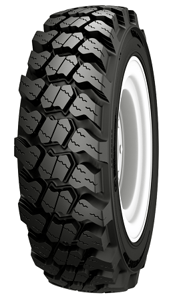 It's not just traction that the Mighty Trac delivers, it's excellent all-around performance. The tire produces a flat, even contact patch that's 10% larger than that of a leading competitor's tire and features stepped centerline blocks which allow the tire to provide exceptional stability and a high-quality ride on improved surfaces.
As the Wisconsin dairy farm trying out our tires pointed out: "They're a little taller, too, so they can clear the alley scrapers better." This helps make life just a little easier—something everyone appreciates, especially those working on 24/7, 365-day-a-year operations like dairy farms.


Long Service Life


The Galaxy Mighty Trac ND is built to last, which is music to the ears of operations who don't have a moment to spare for downtime and time-consuming tire changes. The Mighty Trac ND is made using a special compound engineered for cut and chip resistance, as well as heat dissipation—heat is the number one enemy of tires—making it ideal for long days in tough applications, like those found on dairy farms.


Twice as Nice


After getting more than 1,000 hours from the first set of Galaxy Mighty Trac tires on their Gehl 6640 skid steer, our Wisconsin farmer also replaced a worn-out set of tires on his old Gehl 4640, and couldn't be more pleased with their performance.
"You've got to go up a slope to clean out that barn," the Wisconsin dairy farmer testifying about Mighty Trac tires on the Gehl 4640 said. "Usually they're spinning, they can't get a full bucket, and they're sliding down the ramp. But the guy who drives that skid loader says he had no problems with the Mighty Tracs. He said they just drive right up and get a full scoop." Ultimately, the Wisconsin dairy discovered that the Mighty Trac ND "tires grip better than any other tire we've had on it."


A Mighty Good Investment


As the Wisconsin farmer testing our tires discovered, the Galaxy Mighty Trac ND tops the competition in all areas, from traction to performance to service life. Ultimately, the benefits of the Mighty Trac—getting jobs done faster and more effectively, with a longer-lasting and more cost-efficient product—add up to a tire that delivers an outstanding total cost of ownership and means more money in your pocket at the end of the year.


Yokohama Off-Highway Tires America


Yokohama Off-Highway Tires America's (YOHTA) Galaxy brand delivers a wide range of skid steer tires—from solid to radial to bias-ply—designed to excel in every application in which skid steers are employed. Contact your local YOHTA dealer or rep to learn more about our Galaxy skid steer tires and how they can benefit your operation.