Outfitting a Customer with Alliance AgriFlex Tires
Collaboration is a big part of what we do, as we work closely with our dealers to outfit customers with the best possible—and most cost-effective—tires to meet their specific needs. As such, it's particularly satisfying when we hear stories about our dealers working to solve a customer's issue.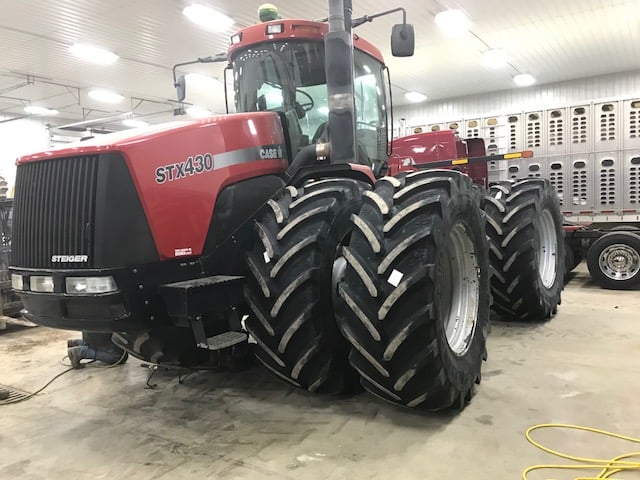 Such is the case with our latest Tire Tale, as Brad Bullerman—the manager and ag tire expert—from Adrian Coop Oil in Adrian, Minnesota helped to replace a worn-out set of tires on a four-wheel drive Case STX430, to get as much tire on the ground as possible, and to reduce soil compaction for their local customer Bullerman Livestock and Grain (BLG for short).
The Case in question came in on 710/70R42s and the customer was considering changing the dual-tire setup to a "super single" configuration. Knowing his customer, his operation, and specific needs, Brad had unique insight into BLG's requirements. Because the company's main objective was to get as much tire on the ground as possible in an effort to minimize compaction and rutting while maximizing traction and transferring as much of the Case's power to the ground as they could, Brad suggested sticking with the duals, but upgrading to an IF (increased flexion) tire.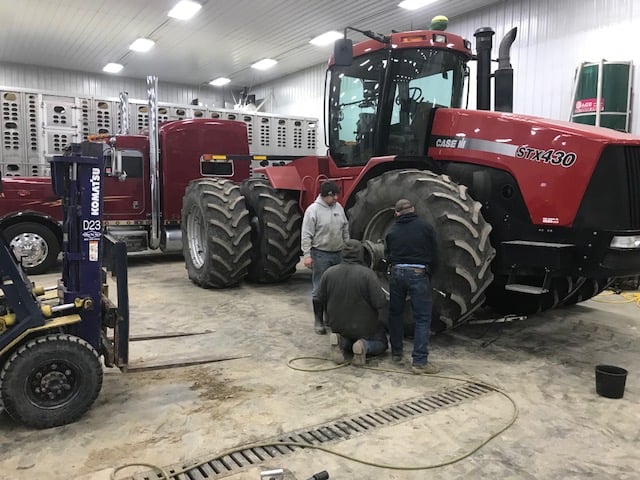 After some discussion between the customer, Brad, and an Alliance representative, the decision was made to equip the Case with Alliance Agriflex IF 710/70R42 372s. IF tires (and VF tires, too) are like standard radials but on steroids—they can carry between 20-40% more load than a conventional radial or operate between 20-40% less air pressure. Simply put, IF/VF tires offer more capacity and less compaction than standard radials.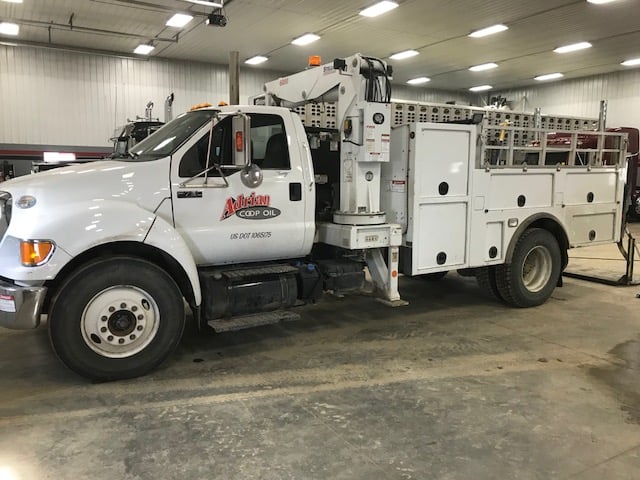 One of the main considerations for choosing the Alliance Agriflex 372 IFs over a "super single" was that duals simply put more rubber on the ground than a single—even a really wide one. Making the customer especially happy was that an increase in footprint was immediately noticeable upon mounting the Alliance Agriflex 372s. Some quick work with a tape measure revealed that the 372s were an inch and a half wider than the old tires. And, seeing that all Alliance IF/VF tires are steel belted, the Agriflex 372s put a nice, even footprint on the ground, which is crucial in reducing compaction, minimizing rolling resistance, lowering slip, and improving traction.

Measuring the new Alliance IF 710/70R42 372s (left) against the 710/70R42s (right) that were on the Case 
Of course, the customer also appreciated that the 372s have not only met the demands placed on them in the field, but were also more affordable than a "super single." Great work to Brad at Adrian Coop Oil for giving us this great Tire Tale! We depend on fantastic, customer-focused dealers like these to get our tires out of the warehouse and into the field where they belong.



The new Alliance IF 710/70R42 372s (left) compared against the Case's old 710/70R42s (right)
If you'd like to learn more about our industry-leading line of steel-belted Agriflex IF/VF tires, contact your dealer today!