Understanding Tractor Tire Tread Terminology
Tractors are used for a variety of tasks and work in all types of terrain—from farming and landscaping to snow removal and maintaining small acreages. Helping tractors maximize their efficiency and productivity are tires featuring different types of tread, each uniquely engineered to deliver optimal performance in particular applications and conditions.

Why Choose an Application-Specific Tire Tread?

There are numerous reasons to choose an application-specific tire. For example, they can improve the performance of your tractor by providing it with the attributes you value most, such as traction, ride quality, fuel efficiency, and impact on the ground. Another great reason to choose application-specific tires is that matching the tire tread to the terrain in which it will operate is a simple way to increase tire life.


R-1/R-1W (Ag) Tires

R-1/R-1W tires are also known as agricultural or ag tires. As their name implies, they're commonly found on the farm. R-1/R-1W tires feature a deep bar-lug tread with angles between 23 and 45 degrees (or curved lugs that combine two angles to get the best of both worlds). These tires excel on soft surfaces—like fields of corn, soybeans, and wheat—delivering superb traction, self cleaning, and reliable performance when working on rough, uneven terrain.
The "W" in R-1W tires stands for "wet," which, not coincidentally is where they excel. R-1W tires feature a 20% deeper bar-lug tread pattern than that of R-1 tires, which makes them ideal for use in heavy, wet, and muddy soils.
R-1 and R-1W tires are available in a variety of construction types, including bias-ply options like the Alliance FarmPro II, higher-performing radials such as Alliance Agri Star II, and high-tech tires like the Alliance AgirFlex+ 354—which is able to carry 40% more load than a traditional radial at the same air pressure (or carry the same load at 40% less air pressure).


R-2 (Rice/Cane) Tires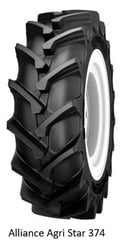 R-2 tires, like the Alliance Agri Star 374, feature a bar-lug tread similar to that of R-1 and R-1W tires but have at least double the tread depth of an R-1 tire. The extra tread depth allows R-2 tires to operate in extremely wet terrain, such as muddy sugar cane fields and the standing water found in rice paddies—hence the "rice/cane tire" moniker commonly given to them.


R-3 (Turf) Tires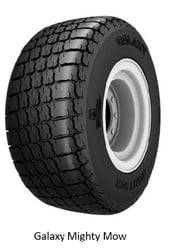 R-3 tires, like the Galaxy Mighty Mow, often also go by the name of turf tires. R-3 tires are intended for work on lawns, grass, or forage crops and strike a balance between the need for traction and the need to not tear up or leave tracks behind. The tread of an R-3 tire is designed with blocks or buttons and high rubber-to-void ratios which allows the tire to float on the surface of the turf, unlike the bar lugs of R-1/R-1W and R-2 tires which dig into the ground for traction.


R-4 (Industrial) Tires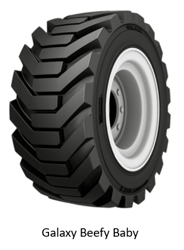 R-4 tires—such as the Galaxy Beefy Baby—are jacks of all trades, which is why they frequently come as standard equipment on compact chore tractors. R-4 tires feature a bar-lug tread pattern like R-1/R-1W and R-2 tires, although it's often straight across the tire so it's less aggressive, and the tread depth is generally only about 70% that of an R-1 tire.
The tread pattern of an R-4 tire allows it to operate on a diverse range of surfaces. However, where they truly shine is on hard ground like asphalt, concrete, and gravel. R-4 tires are often referred to as industrial tires and are regularly made with harder rubber compounds to increase longevity when working on hard, abrasive surfaces in everything from light construction or municipal use to chores around the farm.


Hybrid Tires

Hybrid is the name we give our technical tread patterns that blend the best qualities of R-1/R-1W, R-3, and R-4 tires. With the self cleaning properties and traction of an R-1/R-1W tire, the wear resistance of an R-4 tire, and the biting edges from the blocks of an R-3 tire, Hybrid tires—like our Alliance 550 MultiUse, Alliance AgriFlex+ 363, and Galaxy Garden Pro/Garden Pro XTD—provide game-changing performance in a variety of applications.

The Right Tread Pattern for the Right Job

We understand the importance of having the right tire for the right job. Our range of Alliance and Galaxy brand tires feature tread patterns designed to improve the performance, productivity, fuel efficiency, and overall satisfaction of your tractor while delivering exceptional total cost of ownership—whether you're working five acres or 5,000. Contact your local Yokohama Off-Highway Tires America, Inc. dealer or rep today to learn more about our application-specific tires.