Telehandlers Rise to New Challenges

Telehandlers were developed to act as a forklift in rough terrain—a specialized tool, for a specific application, and occasional use. It didn't take long for operators to discover just how versatile telehandlers are and for them to outgrow their original application. Telehandlers are more adaptable than forklifts and more compact and maneuverable than cranes, which has led them to be used in all manner of construction projects, including general construction, roofing, framing, masonry, demolition, commercial, retail, road, and bridgework.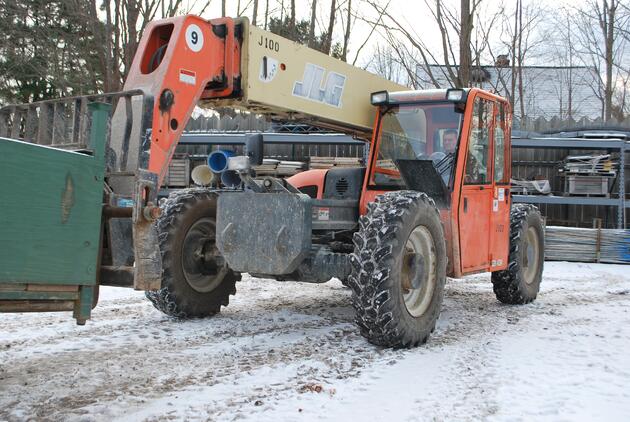 As the applications telehandlers are used in have grown, so have the available tire options for them. There are myriad options available for telehandlers, but selecting the right tire can have a huge impact on a machine's performance by improving productivity, reducing downtime, and enhancing operator comfort. The right tires can even reduce tire cost per hour.


The Challenge Facing Telehandler Tires

Tires play a huge role in the performance of a telehandler; they're responsible for everything from transferring the machine's horsepower and torque to the ground to stabilizing the machine while lifting heavy loads—no small task considering the stress placed on tires when a telehandler's boom extends and the load shifts, not to mention the variety of surfaces a telehandler's tires are asked to work on (such as traction-sapping mud, challenging unimproved surfaces like dirt and gravel, and abrasive improved surfaces like concrete and asphalt).


Yokohama Off-Highway Tires' Telehandler Range

Yokohama Off-Highway Tires continues to develop telehandler tires in a wide range of specs, sizes, and price points to meet the real-world challenges facing them and are engineered to help equipment excel in the growing number of applications and terrain where they operate. A few favorite telehandler tires include:

Pneumatic Bias: Galaxy Multi-Purpose Construction (MPC)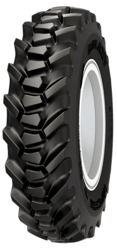 One of our more popular telehandler tires is the Galaxy MPC; when filled with foam, our high-performance MPC delivers long service life and minimizes downtime, all at a price point that customers love.
The Galaxy MPC is constructed with reinforced sidewalls and a wide, flat tread that provides excellent lateral stability—extremely important when lifting heavy loads at height. The MPC's unique tread features large center blocks and open shoulders for excellent traction and provides a stable platform on a variety of surfaces.

Pneumatic Bias: Galaxy Giraffe ND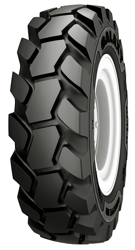 If you've used, and loved, the MPC but are looking for a performance upgrade, look no further than the Galaxy Giraffe ND. The Giraffe ND features an improved tread pattern that is at home on hard and soft surfaces alike (with open edges for sand and mud and huge center blocks for pavement) and provides fantastic traction when moving both forward and backward. Heat-building heavy loads and long days are common characteristics of a telehandler's day, and the Giraffe ND is built with a special heat-resistant compound for longer service life.
The Giraffe ND also features a low aspect ratio (the percentage of a tire's height divided by its width), which produces a sturdy sidewall and delivers exceptional stability when lifting heavy loads. The Giraffe ND's low aspect ratio also lowers the volume of a tire, which can keep costs down for those who foam-fill their telehandler tires and help offset some of the expense of upgrading to it.

Solid: Galaxy Super High Lift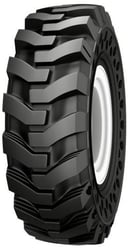 Solid tires, like the Galaxy Super High Lift SDS, are becoming the go-to tire choice for telehandlers working in more severe terrain and challenging applications where downtime isn't an option. The Galaxy Super High Lift SDS features a stepped lug, deep tread, and solid construction from abrasion-resistant compounds that allow it to perform well on hard and soft surface applications alike.
The solid rubber construction of tires like our High Lift SDS provides puncture-proof performance, has a high load capacity, and provides an extremely stable platform from which to operate. In addition to fending off tire-life-shortening damage like punctures, cuts, and impacts, the robust construction and massive amount of rubber they're made with adds up to unprecedented service life—solid tires can last three to four times longer than a comparable pneumatic.

Pneumatic Radial: Alliance 585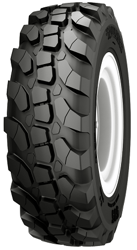 Radial telehandler tires have been slow to gain adoption in the North American market but are a popular tire option in markets like Europe. There are numerous advantages radial tires like the Alliance 585 offer to today's telehandlers—for example, they can improve traction, reduce fuel consumption, and extend service life.
The steel-belted Alliance 585 shines on hard surfaces where its radial construction allows it to travel at high speeds and over long distances without building up heat and extending the life of the tire. Also enabling the 585's hard-surface superiority is its deep tread, high rubber-to-void ratio, and specially formulated compound. No one-surface specialist, the 585's large multi-directional block tread is maximized by its radial construction—placing a longer, wider contact patch on the ground—and helps it deliver excellent traction and self-cleaning when operating off-road or in slippery, slushy applications like snow removal.

Selecting the Right Telehandler Tire

There is no one-size-fits-all telehandler solution that shines in every situation. For the best performance from your tires, it's important to match them to your application. A few factors to consider when selecting telehandler tires include:
Environment: Where are the tires going to work—on improved surfaces or unimproved surfaces? A telehandler lifting a stack of shingles to the roof of a house on a construction site has different needs than one moving materials on a bridge project.


Puncture Hazard: In applications where punctures are a constant threat (such as demolition work), solid tires can offer a reliable solution to reducing downtime due to tire damage.


Type of Work: Does your telehandler operate non-stop? Does it need to travel long distances? Is it required to travel at high speeds? All of these factors can point to a particular type of tire.


Cost of Acquisition vs. Cost of Ownership: Different types of tires have different expense profiles—for example, a bias tire has a lower initial cost than a solid, but if you're working in a puncture-prone environment, the solid will provide a better return on investment–lower total cost of ownership—over the life of the tire.




Yokohama Off-Highway Tires Advantage

Telehandler tires have a demanding job and it's only getting harder as operators and fleet owners continue to find new applications for them. As telehandler roles continue to grow, you can count on Yokohama Off-Highway Tires to keep creating new tires designed to improve performance, increase productivity, and deliver the lowest total cost of ownership in the industry. Contact your local YOHTA dealer or rep to learn more about our Alliance 585, Galaxy Giraffe ND, Galaxy Super High Lift SDS, and the rest of our extensive line of telehandler tires.