Applications that Benefit from Solid Skid Steer Tires


Skid steers have built a reputation for versatility, becoming a staple in a wide range of applications spanning a multitude of industries. Whether it's moving manure on a farm or cleaning up a demoed building in the middle of the city, this workhorse piece of equipment depends on its tires to maximize its performance and enhance its adaptability. The type of tire equipped on a skid steer will greatly influence how it performs in a particular job.
Solid tires are often the first choice for skid steers tackling the toughest applications, such as those with a high chance of punctures, working on extremely abrasive surfaces, and where downtime isn't an option.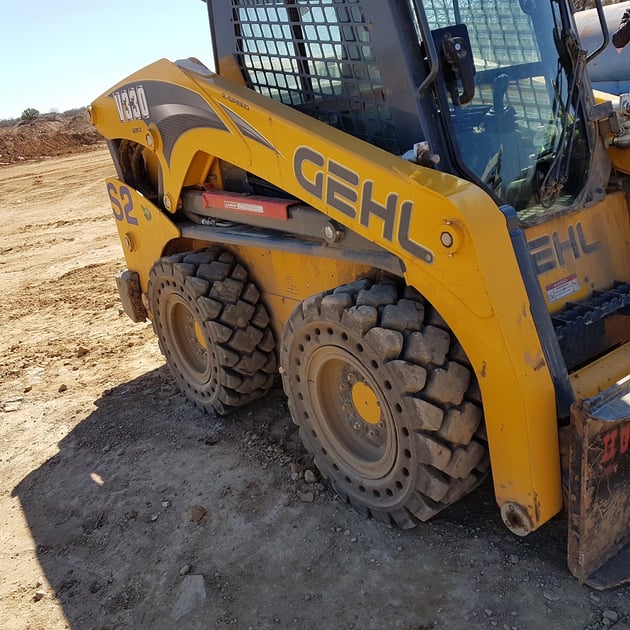 What Is a Solid Tire?


Unlike traditional pneumatic tires which are filled with air, solid tires are made entirely from rubber, offering puncture-proof performance to skid steers operating in even the harshest terrain and drastically lowering the likelihood of downtime. The robust construction of solid skid steer tires also allows them to provide long service life—solid tires can last three to five times longer than pneumatic tires and provide better wear characteristics since many of them feature deeper tread.
We even figured out how to pack more rubber onto our Galaxy Hulk SDS Severe Duty Solid: put it on a 16-inch rim and make up the difference with compound. That means the Hulk SDS has four times more usable rubber to the 60J line and still fits the same skid steers as the 20-inch competition. Simply put, the Hulk SDS has more rubber, lasts longer, lowers the number of time-consuming tire changeovers, and, even in high-intensity applications, delivers a low total cost of ownership (TCO).


Solid Tires in Recycling, Waste, and Scrap Handling


Tires are one of the largest operating expenses of skid steers working in recycling, waste, and scrap applications. Waste processing presents a number of challenges to tires, including puncture hazards (such as metal, glass, and debris), working on abrasive terrains like concrete, encountering wear-accelerating liquids, and traveling on uneven surfaces or cracked floors which can cause impact breaks—all of which induce downtime and shorten service life.
Solid skid steer tires help fleet managers and operators in recycling, waste, and scrap applications achieve the low downtime and long tire life they require. Solid tires are exceptionally resistant to punctures and take more than twice the amount of force to tear than a pneumatic tire. Brands like Galaxy continue to expand their solid tire range, which makes it easier than ever to match the tread pattern of a tire to a particular application—offering everything from classic bar-lug patterns like the Beefy Baby SDS, blocks like the Hulk SDS, or no tread at all like the Super Smooth SDS.


Solid Tires in Construction


Solid skid steer tires keep busy construction crews productive. They're nearly impervious to punctures—whether from a loose nail, a chunk of concrete, or a stray piece of rebar—and keep valuable machines moving and in-demand employees working, rather than waiting for a repair.
The robust construction of solids also protects tires from damage done by inexperienced operators, an increasingly common occurrence as the construction industry welcomes more workers from outside industries. Solid skid steer tires can last up to five times as long as their pneumatic counterparts and are known to deliver an impressive TCO—attractive qualities to construction businesses and fleet managers.


Solid Tires in Demolition


Skid steer tires working demolition operate in some of the harshest conditions imaginable and face puncture threats from broken pavement, crushed rock, rubble, and rebar. Solid tires provide the puncture-resistant performance needed to keep crews operating at peak productivity, budgets maintained, and projects on schedule.


Solid Tires on Dairies


Time is money and nowhere is that more important than in 24/7 operations like dairies, where downtime can have a ripple effect that lasts for days. Skid steers are the backbone of many dairy farms—they're employed in everything from moving feed to scraping manure to clearing snow. This equates to lots of tight turns on abrasive concrete and paved surfaces and ample opportunity to bash into curbs and other hazards.
Manure can also have a corrosive effect on tires. Solid tires shine in the day-in and day-out grind of dairy farms, as they resist abrasion, are immune to impact breaks, and, thanks to their low TCO, can cut down on expenses.



Solid Tires in Other Industries


Waste processing, construction, demolition, and dairies are at the forefront of solid tire adoption, but they're making inroads into other industries as well. The compact size and maneuverability of skid steers make them a popular piece of equipment with both surface and underground mining operations and solid tires provide excellent protection against the puncture- and tear-threatening rocks and debris that litter sites. Landscapers are also putting solid tires to work for them, particularly those with projects that frequently involve the excavation of rock and pavement.


Yokohama Off-Highway Tires America


Yokohama Off-Highway Tires America's (YOHTA) Galaxy brand delivers a full range of solid skid steer tires designed to help operations increase productivity, reduce downtime, and maximize their investment in tires. Contact your local YOHTA dealer or rep to learn more about our Galaxy solids along with our numerous other application-specific skid steer tires.