Engineered to Keep You Running

From floater tires to narrow row crop tires and everything in between, Yokohama Off-Highway Tires America, Inc. is the complete co-op tire supplier. With the wide range of Alliance brand designs and sizes, we have tires for nearly any piece of equipment in your operation—floaters, high-clearance sprayers, anhydrous toolbars, nurse tanks, implements, and more. Here's what our customers say about our tires.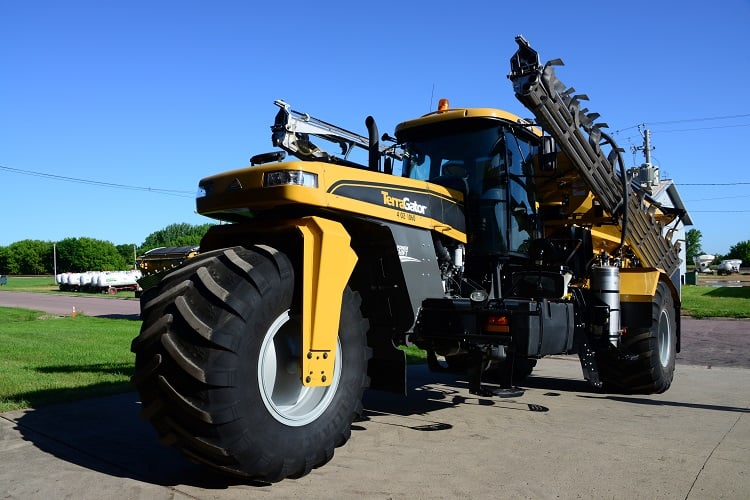 Our tires are engineered and manufactured to keep your machinery running more days per year, in more challenging conditions, on the road, and in the field. We're a leader in flotation technology, including high-flotation tires rated to 60 mph for safe handling and long wear. We're an innovator in tread design, with patterns that improve steering for faster, more reliable postemergence spraying. And we're experts in compound chemistry, with rubber blends to resist stubble damage and road wear.


Alliance 354 & Alliance 363 Row Crop Radials

The Alliance Agriflex+ 354 and 363 steel-belted construction allows these VF (Very High Flexion) and IF (Increased Flexion) radial tractor tires to deliver outstanding performance in any conditions. VF tires carry 40% more load on the same inflation pressure as conventional radials, or require 40% less inflation pressure for the same load, to reduce soil compaction. IF tires carry 20% more load on the same inflation pressure as conventional radials, or require 20% less inflation pressure for the same load.
Here's what one custom applicator said about the Alliance Agriflex 363, with its flexible sidewalls and "hybrid" tread pattern that combines the biting edges of a block tread with the curved pattern of a classic lug for great self cleaning.
"I don't get any more chatter, I don't feel all the bumps on the edge of the road. Then when I get into the field, it's the same way. When I get a bump in the field, it's a lot softer so it doesn't throw me as bad in the field, and then I'm able to drive faster and stay inside of the rows easier."
It's one of the smoothest tires I've ever had on the highway.
The Alliance Agriflex 363 features a dense centerline of tread blocks, which adds stability and longer tire life on the road. "As far as tread design, I think that extra rib that's in the center is real important to keep that bar from chewing up while you're going down the
highway. It cleans out well, so it doesn't take much to clean the mud out of it, so I think that gives us better traction, too, because it gets rid of that right away. It does seem to run a lot cooler, so I think that tends to hold up a lot better."
Blake Elbert, custom applicator in Pocahontas, IA had more to say about the
363 he runs on a Hagie high-clearance sprayer:
"With these, you get the same quality of drive as we did with the floater tires we had last year, but with a much skinnier pattern. Never had any problems with them sinking in the ground; they always made a nice footprint and pattern across the soil, so not much compaction at all, even when it was wet and I was loaded."


Alliance Multi-star 376 Radials & Agriflex+ 377 VF Radials

The Alliance Multi-Star 376 is designed to offer great traction and soil protection on harvesters and floaters. Steel belts and a stubble-resistant rubber compound ensure a long tire life and maximum durability. The Alliance Agriflex+ 377 is the latest addition
to Alliance's engineered series of Agriflex tires. It has been designed to fulfill the needs of spreaders, sprayers, combine harvesters, and grain carts. Its ability to carry 40% more load at the same amount of pressure makes it well equipped to move the additional
weight of fertilizers and herbicides with minimum soil compaction.
After running over 1,500 hours on Alliance 376 Multi-Star radials...and with at least another season to go, Nik Samuelson, Shop Manager at Crystal Valley in Madelia, MN had this to say:
What I've determined since about 2018 is that we've been getting about two or three times the time out of a set of Alliance tires compared to a competitor tire.
Nik continued, "So, we're getting two to three additional seasons out of a set of those Alliance tires for well under the cost of what you'd pay for a competitor tire. It's really a no-brainer."
They're a very smooth ride compared to others we've had in the past.


Alliance Agriflex 381 IF Implement & Agriflex+ 881 VF Flotation Radials

The new Alliance 381 and 881 implement flotation radials bring IF and VF flexibility to heavy implements, along with steel-belted construction and 40 mph speed ratings. High rubber-to-void ratio slows wear and massive shoulder blocks improve performance in the field. These powerful tires demonstrate how the Alliance brand has been a leader in radial flotation technology for decades.
With the Agriflex+ Alliance 381 and 881 VF flotation tires, the Alliance brand has kicked its commitment to reduced soil compaction into high gear. Developing tires that allow custom applicators to reduce the inflation pressure in their flotation and row crop sprayer tires, or permit farmers to tap into VF technology to reduce the compaction from heavy tractors and combines was a huge advance in protecting soil health.
With the invention of the VF 381 and 881, the Alliance lineup brings the low-compaction advantage to implements, too. So nearly any machine that touches a field—even the
implements—can protect the soil from compaction.