What You Need to Know about Sprayer Tires
Farmers ask a lot of their equipment. This is particularly true for self-propelled sprayers that are tasked with handling a variety of applications, such as pre-plant, pre-emergence, and post-emergence herbicide applications. In addition to handling multiple tasks, sprayers also must work in an array of conditions, including everything from the wet fields of spring to sun-baked summer ground. One way to ease the strain on sprayers, improve their roadability, boost field health, and maximize yields is to equip them with an application-specific set of tires.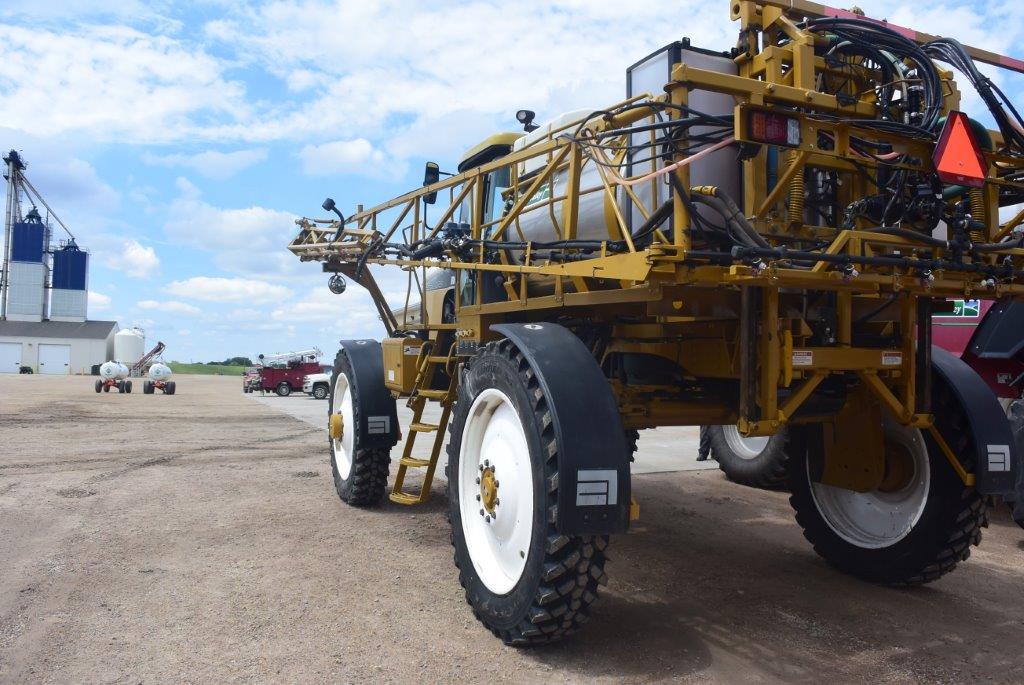 Flotation Sprayer Tires
With widths ranging from 520mm (20.8″) to 1050mm (41.3″), flotation sprayer tires provide a massive footprint and the ability to carry substantial loads at low inflation pressures. This allows the tire to spread the weight of today's increasingly large and heavy self-powered sprayers across a greater area and reduces the force the machine exerts on the ground—resulting in less soil compaction.
The large contact patch provided by flotation tires enables them to put more tread on the ground which equates to superior traction. The larger footprint also causes less rutting when performing jobs like pre-plant and pre-emergence herbicide applications, which often occur in soggy spring conditions. Once the crop has emerged, it is worthwhile to switch to narrower row-crop tires to avoid running over the crop.
Yokohama Off-Highway Tires America, Inc. has one of the broadest offerings of flotation tires in the market. Thanks to application-specific tires like the Alliance 550, 360, 365 AgriStar, 372 AgriFlex+, and the 376 MultiStar, there's a flotation option for nearly every type of soil and piece of equipment you'll encounter on the farm. You'll even find big flotation tires like our 375 AgriStar and 377 AgriFlex+ in 1000/50R25 and 1050/50R32 sizes for use with RoGators and TerraGators with sprayer attachments.
Radial Row Crop Sprayer Tires
Ranging in width from 270mm (11.2″) to 480 mm (18.4″), row crop tires allow sprayers to operate in between growing crops—making them ideal for jobs such as spraying post-emergence herbicide or side-dressing nitrogen. To maintain their narrow width, and to keep pace with the growing size and power of modern ag equipment, row crop sprayer tires like the Alliance AgriFlex+ 363 have grown taller, creating longer—rather than wider—footprints to maximize traction and minimize harm to precious farmland.

The height of row crop tires and increased radialization have helped them close in on the advantages delivered by floaters in footprint size, traction, and lightened load on the ground. Making a row crop tire tall enough to equal the performance of a flotation tire, however—especially in pre-plant and pre-emergence applications and wet terrain—would invite a host of other issues like increased turning radius, reduced fender clearance, and the dangerous possibility of hitting power lines while roading your machine.
Very-High Flexion (VF) Tires
Switching self-propelled sprayer tires mid-season has been a standard practice on farms for years, with farmers moving from floaters for early season fieldwork to row crop tires after emergence. However, a new crop of tires is helping farmers meet the varying demands of large, powerful modern machinery without the need to switch: very-high flexion (VF) tires. A self-propelled sprayer equipped with VF tires is able to carry 40% more load at the same inflation pressure as a conventional radial tire or operate at 40% less pressure while carrying the same weight as a traditional radial.
A high-tech tire for today's advanced equipment, VF sprayer tires allow farmers to take advantage of the positive attributes of both flotation and row crop tires. The ability to operate at low inflation pressures makes them well-suited to early-season applications—allowing them to combat compaction in sensitive fields with large weight-distributing footprints—while also being capable of operating at everyday inflation pressure for carrying heavy loads.
Alliance Sprayer Tire Options
Because farmers and custom applicators have different needs, such as how much acreage they treat, the conditions in which they operate, and how much time they spend on the road, there are a host of VF tire options available to them. A couple of Alliance favorites are:
Alliance AgriFlex+ 354: A low-pressure option for operating in soft spring ground, the AgriFlex+ 354 features an R-1W bar-lug tread pattern for maximum traction and steel-belted construction for a wide, even, compaction-reducing footprint.


Alliance AgriFlex+ 363: A popular choice for machines that spend a big portion of their day traveling between fields, the steel-belted AgriFlex+ 363 features a directional block tread that delivers excellent hard-surface operation, excellent steering and braking, and a smooth ride on the road without sacrificing in-field performance.
Pressure to Perform
No matter whether you're using wide flotation tires, skinny row crop tires, or high-tech VF tires, it's vital to operate them at the proper air pressure to maximize their performance. Check the load/speed index table for your tires and set them accordingly. Tires will lose air over time, so make sure to check the pressure and make adjustments regularly. A favorite saying of ours is that a $5 tire pressure gauge is one of the best investments a farm can make.
Ask Yokohama Off-Highway Tires America, Inc.
If you have a question about setting up your sprayer tires, or you're wondering what option would work best for your application, contact your local Yokohama Off-Highway Tires America, Inc. dealer or rep today.