Tires Provide an Opportunity for Smaller Equipment in Infrastructure Projects

The federal government recently made a historic commitment to massive infrastructure investment in the U.S. and is just beginning to spend billions of dollars to repair and improve roads, bridges, railways, and airports. These projects will put a lot of machines to work—from massive earth movers to compact loaders—in turn, the role of smaller equipment in day-to-day operations is growing. A lot is riding on equipment (and its tires) as the nation and construction businesses alike make the most of this excellent opportunity.

What's Driving the Need for Smaller Equipment?


Unlike past infrastructure projects, many of which were built from the ground up in underdeveloped areas where huge earthmoving equipment could maneuver, most of today's projects will involve repairing or replacing existing infrastructure in confined urban areas and on existing roads. A good comparison to today's infrastructure projects is the "last mile" in transportation, the phase where goods are delivered to their final destination. In this context, many current and future infrastructure projects are best described as "last brick"—they're not starting from scratch; rather, they're focused on maintenance and repair.

Last brick construction generally requires equipment to operate in smaller, more confined areas (such as within a city block, an existing roadway, or the footprint of a building), and to build anything in a developed area normally means knocking something, or a piece of something, down. These types of sites and applications require smaller equipment that's able to work on and maneuver around obstacle-filled sites and between buildings, without damaging existing roads and other infrastructure.

You only need to look around to see the prevalence of this equipment. Walk by any construction site and look at the equipment being used—motor graders, smaller wheel loaders, and telehandlers dominate. Even the maintenance of infrastructure, like snow removal and mowing, is leaning on smaller machines like industrial tractors and skid steers.
The Advantages of Smaller Equipment

More than merely well suited for these upcoming infrastructure projects, smaller equipment is also optimally positioned to meet the demands facing construction businesses. Small machines like wheel loaders and telehandlers are extremely versatile, which makes them productive and cost-effective contributors to infrastructure projects. Thanks to an assortment of available attachments, a single machine, like a wheel loader, can accomplish a variety of tasks—for example, scooping rubble with a bucket one day, grading with a blade the next, and moving material with forks the day after that. This adaptability ensures equipment and operators are working toward pushing projects forward, rather than sitting idle or spending excess time and money on machine transport.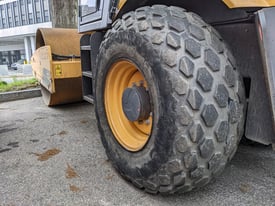 Another benefit of compact equipment is that it's easier to find operators, as it's less intimidating to get someone to learn how to use smaller pieces of equipment. With the tight labor market that has plagued the construction industry in recent years, anything you can do to ease entry into the field and make it easier to attract employees is extremely advantageous—consider that the global management consulting firm McKinsey & Company, along with other industry experts, have speculated that a shortage of construction workers could derail the plans to upgrade U.S. infrastructure.

The last mile of delivery is notoriously the most expensive step in the supply chain, and last brick construction isn't so different. The need to demo, move materials, and build in developed areas adds both challenges and expenses to many infrastructure projects. While tires aren't a cure-all for cutting costs on pricey infrastructure projects, they can help control the expense of operating both large and small equipment alike.


Smaller Equipment Benefits from Application-Specific Tires
As smaller machines take on a larger role on today's construction sites, the demands on them grow. Construction business owners and fleet managers require equipment to work more efficiently, carry more and often heavier loads per production hour, and deliver reliable service job after job. Tires help these machines meet expectations—whether it's a wheel loader working on a paving project or a telehandler helping rebuild a bridge, tires are an important factor in maximizing machine performance.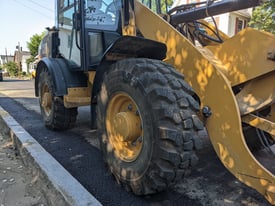 Pairing construction equipment with application-specific tires (tires optimized for the types of jobs, shifts, terrains, and loads it will face) can pay huge dividends. The advantages offered by application-specific tires include:
Improved efficiency
Increased safety
Longer service life
Less fuel consumption
Lower total cost of ownership
Reduced downtime
All of this adds up to boosted productivity, smoother operations, fewer headaches, and better-looking balance sheets.
Yokohama Off-Highway Tires America

As smaller equipment is poised to play a huge role in upcoming infrastructure projects, Yokohama Off-Highway Tires America (YOHTA) is uniquely positioned to provide tires for that equipment—helping construction companies and the country capitalize on this enormous investment. YOHTA's trusted Alliance, Galaxy, and Primex brands offer a vast number of application-specific tires in a variety of options (bias, radial, and solid) for rim sizes 25 inches and under.
Bias tires are readily available, offered in a wide assortment of styles and sizes, and known for their cut-resistant sidewalls while simultaneously providing stability to equipment. Bias tires are also a popular choice for foam-filling—an alternative to solid tires on some equipment working on sites with a high probability of punctures.


Radial tires are becoming an increasingly popular option for compact equipment thanks to their ability to run cooler (allowing them to run more hours and last longer), deliver exceptional traction, improve fuel efficiency, resist punctures in the tread area, and deliver a high-quality ride.


Solid tires deliver puncture-proof performance, making them the go-to choice for equipment working in applications like demolition where there is a constant threat of puncture. Solid tires can also last three to five times longer than their pneumatic counterparts and deliver exceptionally low total cost of ownership.
Additionally, construction business owners and fleet managers will find YOHTA's Alliance, Galaxy, and Primex tires available in a broad spectrum of patterns, made with high-tech compounds, and engineered using feedback from customers operating on real-world sites with firsthand experience working on infrastructure projects.

Contact your local YOHTA dealer or rep to learn more about our application-specific tires for smaller equipment and the giant benefits they can provide your operation.