Choosing an Application-Specific Skid Steer Tread Pattern


Today's skid steers work in a wide range of conditions, encountering everything from rock, mud, and sand to gravel, asphalt, and concrete. One thing that remains the same no matter the surface is the need to minimize spinning, maximize traction, and increase longevity. There's no better way to accomplish all of these outcomes than with application-specific skid steer tires. Whether you're looking for traction, speed, or durability—or some other attribute—we have a skid steer tire for you.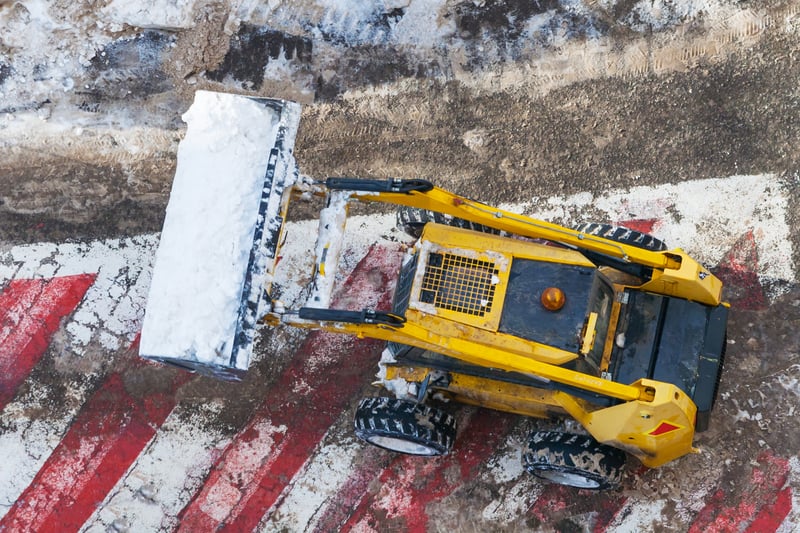 Smooth-Surface Tread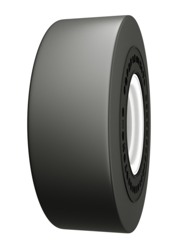 Smooth-treaded solid tires are an ideal choice for operating on the harsh level surfaces found in places such as demolition sites, scrap yards, and recycling centers. The tread on tires like our Galaxy Super Smooth SDS puts the ultimate amount of rubber on the ground to promote even wear and eliminate annoying issues like lug cracking, while the solid construction uses the maximum amount of material to extend tire life. Built for tough jobs in even tougher conditions, smooth solids provide excellent capacity and stability while eliminating punctures to keep operations productive and efficient. More than merely a workhorse, many smooth solids—for example, our Galaxy Super Smooth SDS with aperture—feature apertures for a more comfortable, less-jarring ride.
Hard-Surface Tread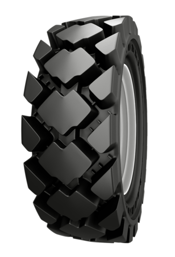 Skid steers operating outside on abrasive terrains like pavement, asphalt, and gravel while working on roads or in construction often need more traction than a smooth-treaded tire can provide—consequently, operators in these conditions choose hard-surface tires. Hard-surface tires, such as our Galaxy Hulk, feature specially formulated rubber compounds, deep treads, and high rubber-to-void ratio patterns for optimum resilience to grating surfaces and maximum tire life. Engineered to be tough for the meanest, most puncture-prone tasks, we offer tires like our acclaimed Hulk as a solid.
Soft-Surface Tread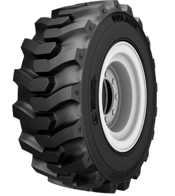 For those down-and-dirty jobs taking place in loose dirt, sand, and mud, skid steers are best outfitted with soft-surface skid steer tires. Skid steer tires engineered for this use take advantage of deep, aggressive lugs to dig into soft soils and mud, while the treads are designed to self-clean to maintain traction. Our Galaxy Muddy Buddy is an excellent example of this type of tire; the Muddy Buddy features 55% more tread depth than standard R-4 skid steer tires, helping it excel in everything from mud to manure.
Sensitive-Surface Tread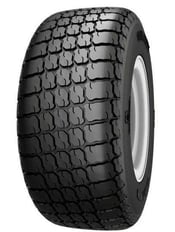 Not all skid steers get hard labor; many are called upon for more delicate work by landscapers, golf courses, and municipalities. In these applications, the skid steer's tires are asked to deliver much-needed traction without damaging sensitive surfaces such as lawns, gardens, and green spaces. Skid steers specifically designed for use on turf—like our Galaxy Mighty Mow—feature wide footprints to help them float on top of grasses and reduce ground pressure. They also feature lawn-friendly tread patterns that provide traction without digging into the ground and rounded shoulders that won't tear up turf when turning.
All-Terrain Tread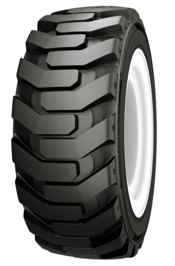 Not every skid steer operates in a single type of terrain. In fact, many of these versatile machines will find themselves performing a variety of jobs in a given week. For those machines, there are all-terrain skid steer tires. These tires are built to operate in a range of applications and terrain, work well on both hard and soft surfaces, and are capable on and off the road. One such tire is our Beefy Baby III, an update of the iconic Galaxy Beefy Baby—the first skid steer-specific tire—that is wowing operators in all types of work.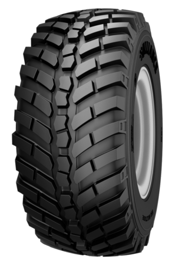 Another all-surface all-star is the Alliance 550 Multiuse. Thanks to its radial construction, the 550 puts more tread on the ground than its solid and bias counterparts, giving it a larger, more evenly distributed footprint. This helps it better transfer a skid steer's horsepower to the ground, provides better flotation, increases traction, and helps it shine in a wide range of conditions. No need to wonder if the 550 is tough enough for your application—steel-belted construction and a radial tire's natural ability to envelop and roll over debris reduces the chance of punctures.
Bringing It Around
Matching a skid steer's tires to its intended application is one of the simplest steps operators can take to maximize the performance of their machine. Contact your local dealer or rep if you have a question about any of our application-specific Galaxy or Alliance skid steer tires and learn how they can positively impact your operation.