R-3 and R-3+ Turf Tire Tread Patterns

There are a lot of factors to consider when purchasing new tires for your lawnmower, zero-turn mower, or compact tractor, but one of the most important is the tread pattern. A tire's tread pattern is an indicator of its intended use and will determine the applications in which it's most successful—and pairing the proper tread pattern to an application can improve everything from productivity to service life (and ultimately profit).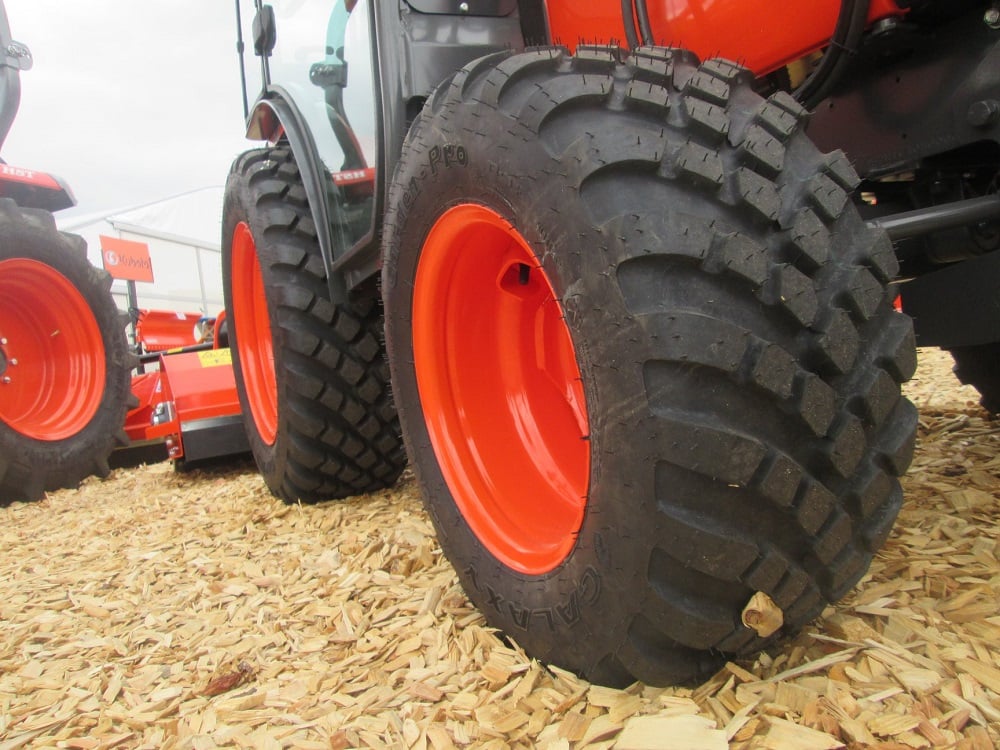 R-3 Tread Patterns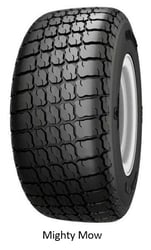 Turf tires, also known as R-3 tires, are engineered to gently work on delicate grass and other sensitive surfaces without leaving marks. An R-3 tread, like our Galaxy Mighty Mow, commonly features closely spaced geometric blocks that provide traction and stability when operating on uneven ground and deliver flotation to avoid leaving behind unwanted tire tracks or indentations. R-3 turf patterns are also less deep than other tread types.
R-3 tires are a common sight on equipment ranging from zero-turn mowers to traditional lawnmowers to compact tractors and are frequently employed in mowing parks, playing fields, and golf courses. Often, these applications require their tires to deliver traction without damaging the delicate turf beneath them. Consequently, these tires feature wide footprints for maximum flotation to disperse the weight of equipment. They also regularly come with wrapped or rounded shoulders to prevent ruts and damage done by the tire while turning.


R-3+ Tread Patterns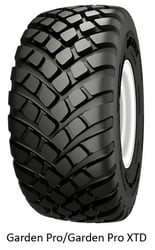 R-3+ patterns, also known as hybrid patterns, like that of our Galaxy Garden Pro/Garden Pro XTD, provide a solution for applications that prevail over everyday turf tires. R-3+ tires blend the best aspects of classic tractor patterns found on R-1 tires with the block pattern of an R-3 tire, along with extra tread depth, to create a tire that excels in a variety of conditions. R-3+ tires provide more traction, better self-cleaning, and improved performance than traditional R-3 tires while reducing turf disturbance.
Hybrid tread patterns are a popular option for compact tractors that work in challenging or varied terrains—for example, tractors used for municipal mowing in the summer and snow removal in the winter, or machines that are put to work in a variety of tasks on small acreages, such as mowing, land clearing, and moving materials. Because of this, R-3+ tires blend the demand for traction (deeper treads and more biting edges) with that of the need for a light touch. Since these tires are found working everywhere from fields to feedlots, they're engineered to excel on both hard and soft surfaces alike.

Radial vs. Bias

The construction of a tire—either radial or bias—isn't directly related to a tire's tread pattern, but it does affect how the tread comes in contact with the ground.

Bias Turf Tires
Bias turf tires have a reputation for being sturdy, durable, and a tried-and-true performer. Bias tires also have a low upfront cost, which has made them a favorite for use with lawnmowers and zero-turn mowers as well as compact tractors. Because of the way bias tires are built, the tread area and sidewall of the tire work together. This produces what is best characterized as a stiff ride that can jostle operators when working on uneven ground or hitting an unexpected obstacle like an unseen rock or groundhog hole. That said, sometimes the stiffness is useful, like when working on a sidehill.

Radial Turf Tires

Radial turf tires are a more recent addition to the market and are primarily the realm of compact tractors. The sidewall and tread area of radial tires work independently from one another to provide a softer, more comfortable ride. Radial tires are also able to operate at lower inflation pressure, which allows them to put more tread on the ground, more evenly, and distribute the weight of equipment over a larger area. The larger, more uniform footprint of radials enables them to deliver better traction and less soil compaction, in addition to promoting consistent wear.
Typically, radials have a larger upfront cost than bias tires, but they'll provide a better total cost of ownership thanks to their long service life—the tread on a radial tire can last two to three times longer than a bias tire's tread.

Yokohama Off-Highway Tires America

Whether you're looking for turf tires for municipal work or looking for something to help you maintain a small acreage, you'll want to invest in a tire that pays off with high performance and long service life. Yokohama Off-Highway Tires America (YOHTA) has a wide range of application-specific turf tires designed to meet your specific needs—no matter if it's an R-3 or R-3+ or a bias or radial. Contact your local YOHTA dealer or rep to learn more about Galaxy turf tires and how they can benefit your operation.