Tires to Inflate Construction Profits


The busy summer building season can be very lucrative for construction companies that keep their teams and equipment productive, operate efficiently, and avoid unnecessary downtime in the hot summer temperatures. However, when most people prepare for the perils of operating construction equipment in the heat of summer, their thoughts turn to fluids, coolants, and fans—but what about tires? More importantly, what about tire pressure?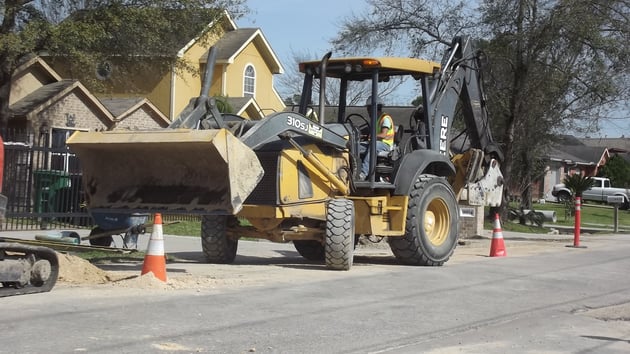 The stresses caused by heat can cause tires to wear out faster, leading to failures and costly downtime. Equipment owners can inadvertently heighten the problem by not monitoring tire air pressure throughout the summer season. Tire underinflation can lead to increased fuel costs and tire wear, as well as increased heat buildup and potential tire deformity. Overinflated tires are no better, as they decrease the lifespan and performance of a tire.
It's a common misconception that a machine's tires carry the weight of the equipment, but in reality, it's the air in the tire that supports more than 90% of the load.
With that in mind, it's easy to see how being even just a few PSI overinflated or underinflated could have an enormous impact on performance. Consider that for every degree of temperature change, a tire's pressure changes 1 PSI. Now consider the cool summer mornings and evenings along with the sweltering mid-day heat. These temperature swings could be having a huge effect on your equipment's performance, and your business's bottom line.
While it's not practical to account for every shift in temperature, you can start each day (or even week) outright by making sure your skid steer's tires are properly inflated. Or, before sending your loaders and dozers to the site, take a minute in the morning (the most reliable time to take a pressure reading) to make sure your tires are properly inflated for maximum performance and tire life.
Making a commitment to increasing the frequency of taking this step will improve the overall performance of your machine and reduce your chances of downtime due to tire failure. (As an added bonus, you will also lower your fuel and tire replacement costs!)
Our Galaxy brand of construction tires is designed for work in the most challenging of conditions, whether it's the heat of summer or the cold of winter. Contact your local tire dealer to learn more about the proper pressure for your tires and how Galaxy construction tires can further help your construction company keep costs down and profits up.