Selling Skid Steer Tires
Quentin Martin, owner of Martin's Tire & Alignment in Narvon, PA, serves a 150-mile radius around his store and does a robust business in skid steer tires. We asked him about his business and the latest trends in this product segment:
Q. What types of skid steer tires are your customers primarily interested in?
"The demand that we see is pretty much in three tread designs:
More of a turf design for lawn and garden applications;
Your hard-surface design exemplified by the Galaxy Hulk.
And the standard skid steer, like the Galaxy Beefy Baby or Muddy Buddy.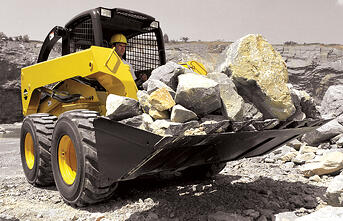 Those three designs cover about 99 percent of our skid steer market.
The Hulk is for someone who operates on a lot of blacktop – paving companies, some of the farms where the larger farm lots are paved. They'll outlast the standard R4 design at least 2-to-1 in that application.
The Muddy Buddy is used in both applications a little bit because of the added tread depth. It's great for someone who works on a hard surface, but also gets off into the mud. It's got better traction than the Hulk in the mud, but it's good on hard surfaces as well. "
Q. What do you think the future holds in skid steer tire designs?
"I think those three designs are going to continue on. Radial is starting to come on a little bit, but it hasn't taken a huge amount of the market because of pricing – it's about double.
Q. What's your opinion on the Galaxy line-up of skid steer tires?
"That's been the best skid steer line we've ever run. I'd put it up against any skid steer tire anywhere.
Everybody knows the Beefy Baby or Beefy Baby III name, so it's an easy sell. They're getting to know Muddy Buddy; that extra tread depth on the Muddy Buddy really makes it an easy sell."
We're constantly developing new designs to meet the specific needs of skid steer operators. For example, operator comfort and machine stability are becoming more widely recognized as safety and productivity factors. The stability and comfort of the machine have a huge impact on how quickly an operator gets fatigued, and much of that is connected directly to the tires—how well the skid steer performs, and how much jolting and jostling the operator experiences.
We developed the Beefy Baby III tread to improve stability and performance, which is good for the operator and for the bottom line. Our engineers beefed up the familiar Beefy Baby bar tread by deepening the tread and fine-tuning the lug design to deliver even greater stability, longer life and better traction.
With the Muddy Buddy, our engineers reconfigured the angles of the lugs and increased tread depth by more than 55 percent to deliver better traction in mud and manure, where a lot of skid steers spend much of their time. It's a very sophisticated design to perform in a very demanding environment, and customers have been really excited about it.
The Galaxy Mighty Mow is ideal for the "turf design" skid steer tire Martin was referring to. "This product features a diamond design for gentle operation in sensitive areas like lawns and golf courses. The design also includes rounded shoulders to avoid digging up divots on wet turf or when the skid steer is turning."
"It's all about the details in developing application-specific skid steer tires," Vandegrift concluded.