Olivier Hubrecht: Our Ironman
Odds are you won't play in a foursome with Tiger Woods or race on the same track as Dale Earnhardt, Jr., but there is one sport where everyday athletes line up next to the world's best: triathlon, and more specifically Ironman. Despite sharing a course, the motivation of Ironman's elite contrasts with those of weekend warriors—competitors at the front jostle for wins and prize money, while the majority of participants are competing only against themselves. Just finishing the grueling race is a satisfying result for many.
One competitor recently pushing their personal limits on Ironman's Cozumel, Mexico, course—swimming 2.4 miles, bicycling 112 miles, and running 26.22 miles—was Olivier Hubrecht, our Vice President of Sales–South America.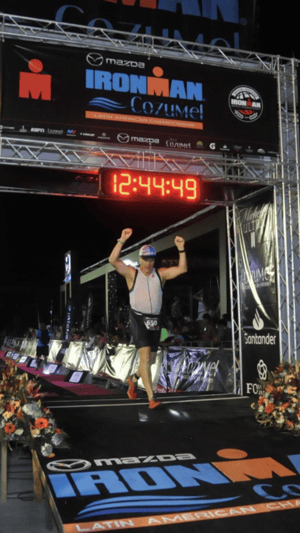 In addition to their blistering fast finish times, what sets those at the head of the pack apart from the bulk of competitors is that they're professional athletes. The winner of Ironman Cozumel (the event Olivier competed in) was won by Tyler Butterfield—a professional triathlete and two-time Olympian. Unlike Tyler, whose business is triathlons, Olivier juggles a career in sales which is not ideal for training due to all of the traveling, eating out, and entertaining customers. Additionally, Olivier's commitment to family time also consumes a lot of his time and energy.
One of the appeals of tri training is creating a healthy lifestyle out of what otherwise is a potentially unhealthy way of life. During his training for the Cozumel Ironman, Olivier lost 24 pounds, 12 of which he put back on a month after the event (which, according to Olivier, is a great motivation to keep doing them). Learn more about how Olivier's business and training philosophies intersect in the article about him in Tire Review.
Successful businesses have a plan and so do Ironman finishers. Olivier is supported by two coaches—one manages his physical training and the other his nutrition—and relies on a schedule designed to fit within the demands of his job and desire to spend time with his family. One of Olivier's biggest inspirations is his wife Carla, a two-time cancer survivor and ultrarunner who completed The North Face Challenge 50K run the week before his Ironman.
The typical triathlete spreads their training out, spending two to three hours a day swimming, biking, and running. However, Olivier trains an hour a day Tuesday through Friday with the lion's share of his training taking place on weekends: four- to six-hour sessions on Saturday and three- or four-hour training blocks on Sunday are normal.
The boxer Mike Tyson famously said, "Everybody has a plan until they get punched in the mouth." This is particularly true of Olivier, who took a few beatings during his training. Three months away from the Cozumel Ironman, a bike crash kept him from running and biking for roughly eight weeks as only swimming was possible. With everything seemingly back on track, Olivier was hit by a car roughly two weeks before the big day, costing him another week of training. Just as in business, Olivier didn't let setbacks divert him from reaching his goal; rather, he adapted his routine and overcame the challenge before him.
Whether building or staying within a budget, meeting a sales goal, or building up to a big run, the idea is the same according to Olivier. In the morning, you wake up, create a plan, put in milestones, work toward meeting them, and don't accept failure. Tough customers, long negotiations, cramps, inclement weather—for Olivier, giving up isn't an option, they're just new challenges to face.
Another quality shared by successful businesses and Ironman finishers is that they're built on solid foundations. Olivier didn't tackle the massive mileage of an Ironman immediately; rather, he worked up to them. The triathlon bug first bit him while competing in a sprint triathlons (0.46-mile swim, 12.4-mile bike, and a 3.1-mile run). Olympic-distance tris (0.93-mile swim, 24.8-mile bike, and a 6.2-mile run) followed shortly thereafter. Two years ago, he dipped his toes into Ironman, completing a half Ironman in his home state of Florida.
You might think after completing such a lofty goal Olivier would be ready to relax, but he already had his sights set on another Ironman in Nice, France, which was unfortunately canceled due to COVID-19. Olivier is still staying in shape with workouts every other day, and hoping to compete in another event in 2020. As if he needed additional motivation to swim, bike, and run, he's facing competition at home—participating in triathlon has caught the attention of his nine-year-old daughter.