Introducing the New Galaxy LHD 510 SDS Tire
With deep shoulder grooves connected across the tread face by S-lug channels and rugged chip-and-chunk-resistant compound, the new Galaxy LHD 510 SDS (Severe Duty Solid) released by Yokohama Off-Highway Tires is built for long service delivering traction indoors and out.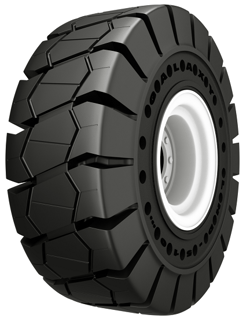 The Galaxy LHD 510 SDS is a true traction tire, designed to provide substantially more grip in varying conditions than smooth tires can deliver. The deep grooves on the shoulder define massive tread blocks that bite through water or mud, while continuous S-lug channels create a horizontal pattern across the entire tread surface to ensure maximum traction, preventing the tire from spinning on wet surfaces.

A unique zig-zag pattern on either side of the centerline channels water away from the contact patch to ensure good rubber-to-ground contact. And inch after inch of solid, extra-durable compound delivers long service life.

"The tread pattern was designed to provide maximum traction, with input from tire dealers and end users who constantly complained that the smooth center on the other solid traction tires in the market provided insufficient grip in wet conditions," adds Ryan Lopes, National Product Manager—Material Handling and Solid Tires for Yokohama Off-Highway Tires America, Inc. "The other feature that really sets the Galaxy LHD 510 SDS apart is the top-quality chip-and-chunk resistant compound, which allows the tread pattern to do its job while holding up in the toughest conditions."
The tread design is eye-catching, but what you don't see in the LHD 510 SDS is just as important, Lopes adds.

"The Galaxy LHD 510 SDS has creel bead wires across the entire rim area," he explains. "Unlike many solid tires that have more conventional bead configurations, the LHD 510 maintains tight, uniform contact with the entire surface of the rim to turn the loader's torque into action, not rim slip. That's another way the LHD 510 delivers more."
The Galaxy LHD 510 SDS is available in the 20.5-25, 23.5-25, 26.5-25 and 29.5-29 sizes that are most common on wheel loaders. All are designed with apertures for heat dissipation and cushion against external shocks, and are backed by a 5-year warranty.