Introducing the Galaxy Hippo All-Steel Radial Tire

The new Galaxy Hippo all-steel radial from Yokohama Off-Highway Tires America, Inc., pushes traction to a whole new level for bucket loaders. The high-traction pattern is ideal for loaders working in dirt on construction sites, or on farms and dairies.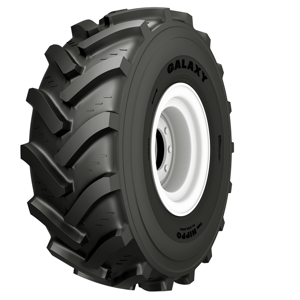 "We think of rock tread for most loaders, but many of those machines are working in dirt, whether it's on construction jobs, demolition sites, or on farms," says Dhananjay Bisht, National Product Manager—Earthmoving, Construction and Industrial Tires for Yokohama Off-Highway Tires America, Inc. "The new Galaxy Hippo all-steel radial brings a dirt tread to the category to deliver the extra traction many loader operators need."

Bisht uses farms as an example of an ideal application for the high-traction Hippo radial.

"On dairy farms and other livestock operations, loaders are used to build silage piles, pack silage, pick up manure, load scales or do dirt work, so farm loaders need reliable grip in any conditions," he notes. "And we see similar challenges on many construction sites where loaders are in more of an earthmover environment."

Variable-Angle Lug

The new Galaxy Hippo all-steel radial delivers better stability under load as a result of its deep, variable-angle lug, Bisht notes, as well as top performance on mud, vegetation and pavement. The lugs on the Hippo radial are thicker than those on the bias-ply Hippo, adding durability and roadability.

Along the outer part of the tread, the lugs are almost perpendicular for maximum traction, and feature aggressive, buttressed shoulders that add extra grab. Toward the center, the lugs curve to form a steeply angled overlap for steady roading and reduced wear at up to 25 mph.

Yokohama Off-Highway Tires' design team also extended and widened the nose of each lug to produce a smoother, more stable ride and reduce scrub wear while running on hard surfaces.
All-Steel Radial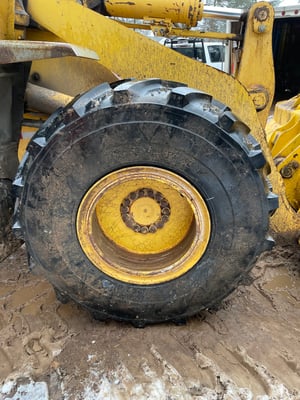 The new Hippo radial features a new, improved cut-and-chip-resistant compound with excellent wear resistance on pavement. Below the tread, steel radial belts provide puncture protection and create a larger, flatter footprint to boost traction, flotation, and tire life, Bisht adds.

The flatter footprint and tire cavity are a result of radial construction, he explains. The radial version of the Galaxy Hippo has a footprint 6% larger than the bias version of the tire in the same size. The flat, even footprint puts more rubber in contact with the ground, improving traction and slowing wear.

"Radials last a lot longer than bias-ply tires, wearing more slowly and evenly," Bisht adds. "Radials also deliver better traction, and they have a much smoother ride. Operator comfort is a big factor in safety and productivity, and it can make a long day in the operator's seat feel a lot shorter."

"On top of all of the features we built into the Hippo radial for long service life, we also built the all-steel casing to be extra durable to allow retreading," Bisht points out. The long service life and tough construction of the new Galaxy Hippo all-steel radial is reflected in its 5-year warranty.

Yokohama Off-Highway Tires has released the Galaxy Hippo all-steel radial in the popular 20.5R25 and 23.5R25 sizes, engineered to fit on existing rims while providing a larger footprint.
Contact your Yokohama Off-Highway Tires dealer or rep to learn more about the Galaxy Hippo all-steel radial.