Alliance Introduces New Sizes of Its Popular 885 Agri-Transport Tire
Yokohama Off-Highway Tires has upgraded the performance of its popular Alliance 885 line of agri-transport tires with new, high-load 850/50R30.5 and 710/40R22.5 configurations—popular sizes for modern manure tankers, spreaders, and sprayers.


Credit: Tanvic Farm Tyres 
The 850/50R30.5 Alliance 885 has an 182D load index, capable of carrying up to 18,700 pounds (8500 kg) at speeds of up to 40 mph (65 km/h). The tire's radial construction enhances tire performance, improves roading, and reduces compaction, says Blaine Cox, National Product Manager—Agriculture, Golf, and Turf for Yokohama Off-Highway Tires America, Inc. (YOHTA).
"The flexible sidewall and steel-belted construction of the Alliance 885 flotation radial create a bigger, more even contact patch for greater traction, more surface area to spread the load, and slow, even wear," Cox explains. "The new Alliance 885 provides the perfect opportunity for farmers, manure managers, custom harvesters, and others who haul heavy loads at high speeds to switch from bias-ply to radial tire technology."


Rounded Shoulders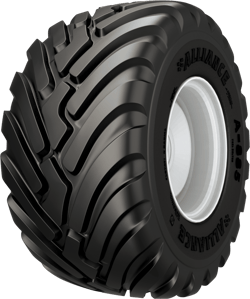 The Alliance 885 features an innovative curved-lug tread pattern with great traction in the field, quick self-cleaning, rounded shoulders to minimize crop damage and soil ruts, and a dense centerline for stability on the road.
"The 885 design features reflect our commitment to engineering and manufacturing our tires to provide outstanding performance in the real-world challenges farmers and agricultural professionals face every day," Cox says. "A top-quality agri-transport tire has to be just as good on the road as it is in the field. It has to resist wear and damage to deliver great return on investment. And it must have a minimal impact on soil health—low compaction in the soil profile and the lightest traces possible on the surface—so crops can approach their highest yield potential."


22.5 Size, Too


In addition to the 850/50R30.5 size, Yokohama Off-Highway Tires has also introduced a new Alliance 885 flotation radial in 710/40R22.5 with a 165D load index. With a load-carrying capacity of up to 11,400 pounds (5150 kg) and a speed rating of 40 mph (65 km/h), the new radial size is an ideal replacement for tires on a long list of tankers, carts, and sprayers.
"Agri-transport is a competitive, fast-moving business," notes Cox. "Today's agri-transport tires have to be tougher, faster, and more durable than ever while also protecting soil health. That is exactly why we have introduced these new Alliance 885 flotation radials."
Contact your local Alliance dealer or rep to learn more about the Alliance 885 and our wide range of Alliance farm tires.