As of Jan 1, 2021, Alliance Tire Group and Alliance Tire Americas, Inc. changed their names to Yokohama Off-Highway Tires and Yokohama Off-Highway Tires America, Inc respectively. The Alliance, Galaxy and Primex brands and product names remain unchanged. Product information is available at www.yokohama-oht.com.

Launching a new brand of truck tires is a huge task, even for a company with a global reputation for the quality of its Galaxy, Alliance, and Primex off-highway tire (OHT) brands. Truckers want to know that the new line of Galaxy truck tires have proven themselves on the road.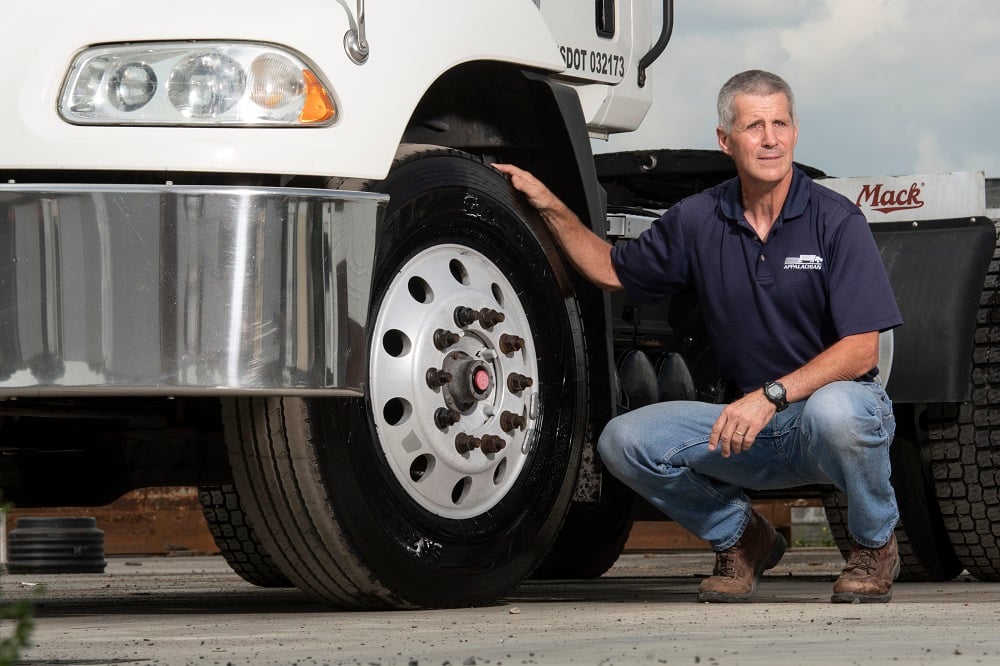 For generations, Galaxy OHT tires have helped move the country's heaviest loads—hauling rocks in mines and carrying the load for excavators, earthmovers, backhoes, dump trucks, skid steers, and more—so the Galaxy brand already stands for "tough" and "durable." Putting that to the test with its new Galaxy truck and bus tire line, introduced in October 2020, manufacturer Alliance Tire Group (ATG) put its newest line of tires in the hands of truckers like Jeff Pence, vice president at Appalachian Freight Lines in Edinburg, Virginia.
"We have trucks that run over 20 hours a day, up to seven days a week, back and forward seven miles from a processing facility to a distribution center," Pence says of the 2010 Mack Day Cabs he used to test 16-ply Galaxy DR271-G regional drive tires. "There's two drivers that work two shifts and they run those trucks back and forth all day long and half the night. They back one in, open the door and jump in the next truck."
That arrangement set the stage for a perfect test of the tires' durability, he notes.
"Basically, they're doing a lot of twisting and turning, it goes up pretty steep and down pretty steep, so those tires are getting a big workout because you're either pushing on them or pulling on them, and it's pretty high-scuff," Pence explains.
"You look at the data and those tires are getting used," he adds. "They're not parked in somebody's garage somewhere. Every day, those tires are getting used, and they're performing. And that's what we're after. We watch tires really close, and those tires have done really well. They've exceeded our expectations, and we have data to back that up."
Pence's team is also running Galaxy SR211-G steer tires on regional haul rigs. He says those tires, designed with closed shoulders for longevity in regional use, are looking great, too.
Listening Carefully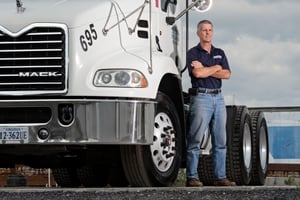 Pence puts a lot of stock in the word of Dale Ruby, who oversees all the tires in at Appalachian Freight Lines. During his first ride on the regional drive tires, Ruby commented that the truck rode like a Cadillac.
Pence also listens carefully to what his drivers say.
"I'm a hands-on guy," he says. "If there was anything a driver didn't like about a tire, I'd hear about it. I would have known about it quickly, because a lot of times you put a new tire on and the drivers will complain about them, especially the ones that sway or walk around on the road a little bit before they get a few heat cycles on them and stiffen up a little. But we didn't have that on the Galaxy tires—they are doing a really good job and the drivers like them."
Big Part of the Business
Appalachian Freight runs 100 power units—all Mack—and 425 trailers, so tires are a big investment for the company. Pence's philosophy is to invest in good tires, then maintain them well to get the best possible performance throughout the life of the tire.
"Really, it's all about your cost per mile or cost per hour," Pence says. "We don't pinch pennies when it comes to buying tires, we run the best you can get. Every time they come in, we look them over. You've got to keep your pressure straight, and your alignment is critical. We do an alignment on every service, we check the bogie alignment, we check the camber and the caster and the toe-in, and we rotate the tires when they start to wear."
Each of the new Galaxy truck tires is designed with the optimum tread pattern for its role as a steer, drive or trailer tire and purpose-built for long-haul, regional or construction applications. That means each features a special rubber compound developed to handle real-world conditions the tire will face, whether it requires tread rubber that can endure the grueling wear of long hauls on hot pavement or to resist the chips and cuts of construction sites and gravel roads.
Regardless of the tread pattern and compound, each Galaxy truck tire is warrantied for defects for five years and two retreads, says Dhaval Nanavati, president of Alliance Tire Americas.
"We stand behind our tires and want to make sure owner/operators and fleet owners are confident right from the start that Galaxy tires run alongside the best in the industry," Nanavati says. "Our quality assurance program is second to none, with every single tire subjected to rigorous physical, x-ray and radial run-out testing before it leaves the factory. Many of the Galaxy truck tires are SmartWay verified, so they are proven to improve fuel economy. And because they are manufactured for long service and excellent reatreadability, Galaxy truck tires deliver great performance and low cost per hour.
"Working with the team at our new, state-of-the-art factory, we are confident in the quality of our world-class truck tires," Nanavati adds. "And working with truckers like Jeff Pence, who deeply respects the value and performance of his tires, we have been able to demonstrate that quality on the road."
Pence says he's happy to find tires he can trust to help keep his business moving.
"I mean, we're here to put bread on the table and be successful," Pence says. "These tires have helped us do that."