The Galaxy Mighty Mow tire line was expanded this week to include the new Mighty Mow-TS, available now to build the spring 2018 Galaxy turf tire lineup. The announcement this week brings the company's long-admired pro turf tire to smaller commercial mowers with rims sized from 8 to 12 inches, as well as a 22.5-inch option.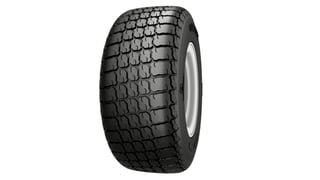 "For years, turf care professionals operating on compact utility tractors have relied on the Galaxy Mighty Mow for great traction and turf protection on sports fields, golf courses, sod, and other sensitive grass surfaces," says Seth Walters, Vice President—Strategic Sales Initiatives. "The Mighty Mow-TS brings the same features to sizes that fit commercial mowers, giving landscapers the chance to bring major league turf care to smaller commercial accounts."
With its curved shoulder tread reducing the potential for ruts and divots, long-wearing block tread design, even footprint for flotation and traction, and effective self-cleaning blocks, the Galaxy Mighty Mow-TS provides a large, stable contact area. The tread pattern also ensures precise steering, comfort, and durability on paved surfaces and extra protection of turf during turns.