As of Jan 1, 2021, Alliance Tire Group and Alliance Tire Americas, Inc. changed their names to Yokohama Off-Highway Tires and Yokohama Off-Highway Tires America, Inc respectively. The Alliance, Galaxy and Primex brands and product names remain unchanged. Product information is available at www.yokohama-oht.com.
Alliance Tire Americas is introducing its new radial Alliance 585 multi-surface backhoe/loader tire, which employs a unique block-lug hybrid design and steel-belted construction to deliver higher performance and longer service life than bias-ply tires. The company is pricing its new, steel-belted Alliance 585 radial backhoe/loader tire aggressively to reduce the current barriers preventing construction machinery owners from adopting radial tire technology.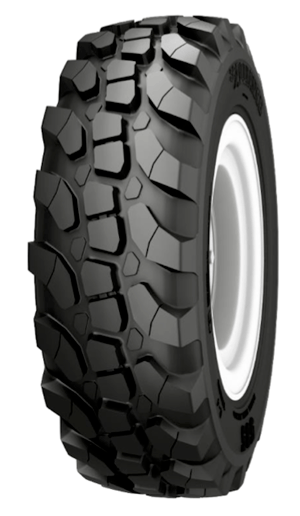 "Cost-per-hour analyses conducted in the field with a variety of tire brands indicate that the cost of ownership of radials can be one-third that of bias-ply tires due to the extended service life they provide," says Ryan Lopes, Alliance Tire Americas' National Product Manager for Materials Handling and Solid Tires. "We are pricing the Alliance 585 radial and aligning our other radial tires more on a level with our competitors' bias tires, resulting in a compelling business case for construction professionals to access radial technology for backhoes and loaders that was previously out of reach."
ATA is introducing its Alliance 585 radial in the popular 340/80R18, 400/70R18, 400/70R20, 400/80R24, 460/70R24 and 500/70R24 sizes, and five more sizes are in development.
Better Performance
The radial construction of the Alliance 585 ensures a long, rectangular footprint that puts more of the tire's unique block-lug pattern—and more horsepower—in direct contact with the ground. The results include better traction, less slip, higher fuel efficiency, lower heat buildup and better ride quality.
Radial steel under-tread belts and reinforced sidewalls in the Alliance 585 resist punctures, and its unique non-directional tread aligns large, deep blocks in patterns that approximate multi-angle curved lugs.
"The tire is designed to deliver a low-scrub, long-wearing ride on hard surfaces and excellent grip and self-cleaning on loose soils," Lopes says. "The heat-dissipating properties of the Alliance 585 make it especially suited to backhoes that shuttle back and forth over distances of more than 1,000 yards or that travel a significant number of road miles."