Radial Tires for Better Compact Tractor Performance


Compact tractors are an increasingly popular tool for varied chores like moving snow, landscaping, and gardening. A multitude of available accessories such as buckets, backhoes, and mowers make them one of the most versatile pieces of equipment a landscaper, hobby farmer, or property owner can possess. With more and more work hours tasked to compact tractors, their owners are looking for options to increase their comfort and productivity. Mounting radial tires is a relatively inexpensive enhancement to the performance, looks, and comfort of your compact tractor.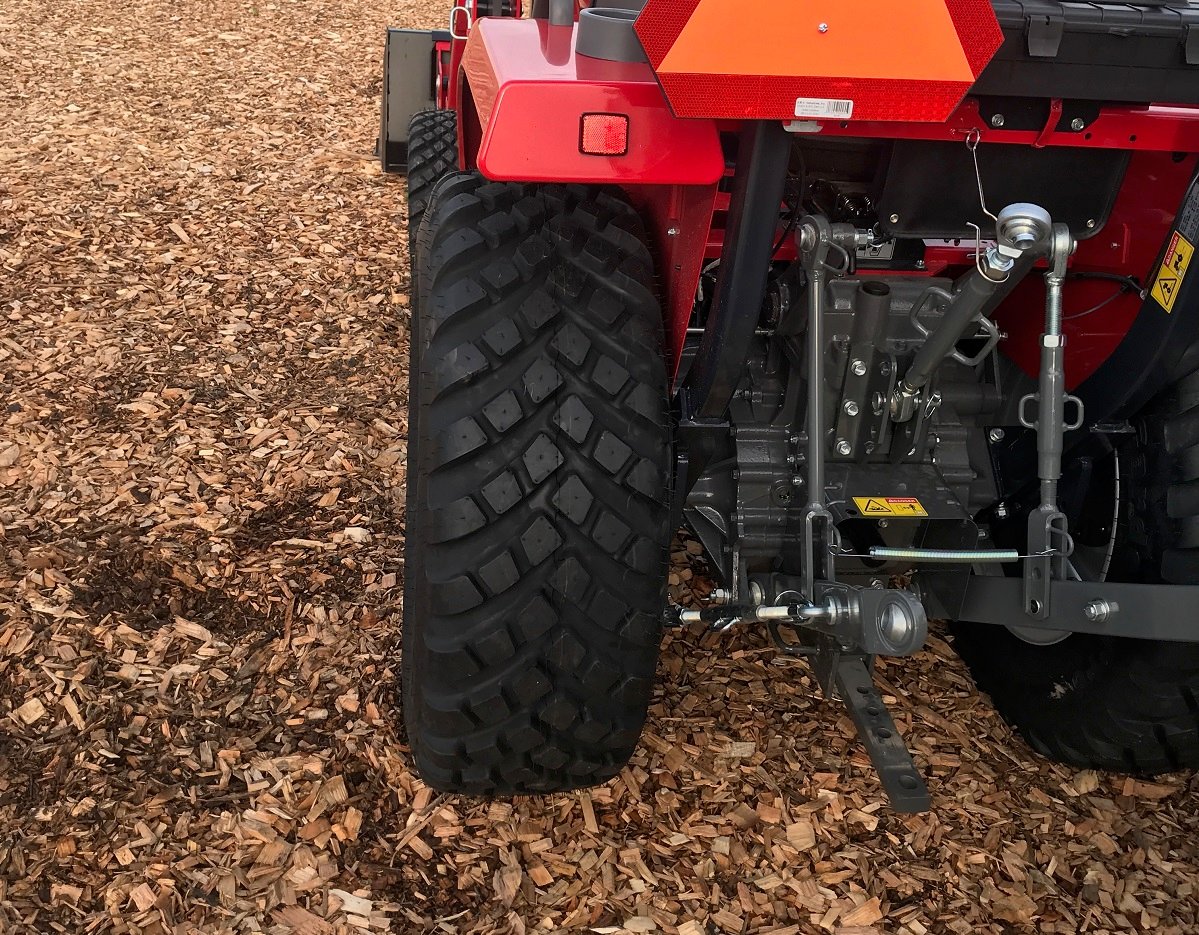 Radial vs. Bias Tires


A fixture on tractors since the 1930s, bias tires are built with multiple rubber plies with internal bands running diagonally from bead to bead. The result of a bias tire's design is that the tread and sidewall function as a single unit.
In contrast, a radial tire is built in two parts. One part of a radial features plies arranged perpendicularly to the direction of travel while the other part features radial belts made of steel or fabric wrapped around the plies, directly beneath the tread. Consequently, the sidewall and tread of a radial tire work independently of one another. Radial construction creates more pliable sidewalls that "flex and absorb" when in motion and under load.
Improved Traction


One of the primary advantages offered by radial compact tractor tires is improved traction. Since the tread of a radial tires works separately from its sidewall, a radial tire is able to sit flatter on the ground—delivering up to a 25% larger contact patch than a bias tire does. The large, even footprint a radial provides puts the optimal amount of tread on the ground which leads to greater traction. This doesn't just help when working in the yard, radials also provide superior traction in the snow and ice—an important consideration for compact tractors used for snow removal. Since better traction means less slippage, this also results in improved fuel efficiency.
The Galaxy Garden Pro radial also offers more tread depth and wider tread for even longer wear than conventional tires, all while taking it easy on turf thanks to its rounded shoulders.

Improved Operator Comfort and Ride


Comfort is an important consideration for many compact tractor owners, as the popularity of features like smartly designed cabs, intuitive gauges, and hydrostatic transmissions make clear. Because radial tire sidewalls flex easily and independently from the tread, they act like shock absorbers, allowing for greater vertical deflection. This deflection reduces the amount and intensity of jolts from uneven terrain or rough roads, ultimately delivering a noticeably smoother ride than bias tires. An added bonus of the more comfortable ride of radials is less operator fatigue and increased productivity.
The real winner of soft-riding radials is your equipment. While radial tires give the driver a nicer ride, they also give the equipment's suspension less shock and fewer jolts. Put a radial on your compact tractor, get the air pressure to the proper level, and you'll be sure to keep dirt in your bucket when you're maneuvering in rough terrain.

Less Tire Wear


The construction of radial tires also results in them wearing better than their bias brethren, which are notorious for irregular wear. The large footprint of radial tires efficiently contacts the road to reduce heat, and our radials enhance this advantage with special plies and compounds that dissipate heat more effectively. As we like to remind our customers, heat is a tire's worst enemy. Some of our recent field evaluations have shown radials to last almost twice as long as their bias counterparts.

Lower Total Cost of Ownership


Radials are, simply put, more expensive to purchase than bias tires; over the lifetime of your tractor, however, radials will deliver a much lower total cost of ownership. Radial tires provide better traction, decrease fuel costs, longer life, cause less soil compaction, and improve operator productivity—all of which add up to radials being the more cost-effective long-term option. Several original equipment (OE) manufacturers now offer our Galaxy Garden Pro radials as an option, so make sure to ask about the upgrade when you're shopping for a new compact.

Bringing it Around


Because of the reasons above, radial tires are becoming the norm on larger-sized tractors, and smaller machine owners are beginning to capitalize on their value as well.
We offer a handful of radials designed specifically to bring out the best in your compact tractor, including the Galaxy Garden Pro which has a rugged block-type directional tread. Designed for mowing, moving snow, hauling dirt or hay, or digging fence posts, the Garden Pro offers the traction, performance, and comfort you need to make the most out of your compact tractor.
Contact your local dealer or rep today to learn more about the Galaxy Garden Pro or any of our other great compact tractor tires.