New Uses for Old Tires


We strive to make long-lasting, durable, and cost-effective tires for our farm, construction, forestry, and trucking customers. Despite our best efforts, however, every tire eventually needs to be replaced. Impressively, more than 87% of the 300 million tires discarded each year in the U.S. will be recycled or reused in some way. Some will find a second life on the farm as a rope swing or planter and others will be turned into incredible art. But the majority of these tires will find themselves in one of three major markets: tire-derived fuel, ground rubber applications, or civil engineering.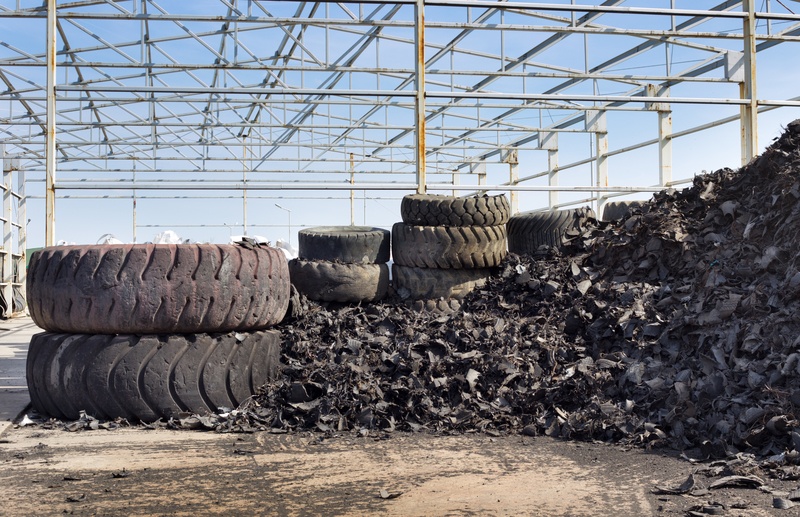 Tire-Derived Fuel


The majority of the nation's scrap tires are processed for tire-derived fuel (TDF), one of the oldest and best-developed uses for retired tires. Because of their high heat value, consistent composition, and low moisture content, TDF is considered a viable alternative to fossil fuels. Tires burned for fuel produce the same amount of energy as oil and 25% more power than coal, and you can find them used in places such as cement kilns, boilers in pulp and paper mills, and industrial boilers. Even more impressive, an EPA study shows that scrap tires burned in a dedicated facility with combustors specifically designed to burn TDF can have much lower emissions than other solid fuels.

Ground Rubber Applications


There's something poetic about tires being reincarnated into roadways and playground surfaces. Asphalt made with ground tire rubber (GTR)—one of its most common uses— creates a more durable road surface than traditional asphalt that requires less maintenance and reduces the cost of repairs. Also, roads made with recycled tires are quieter, more skid resistant, and provide a higher ride quality.
Of course, roads are merely one surface where old tires may find a second life. GTR is also used everywhere from playgrounds to playing fields, where it creates a soft and springy surface that's easy on the joints. In addition to being good for the environment and replacing tons of petroleum derivatives in asphalt, GTR is weather resistant and low maintenance.

Civil Engineering


Tire-derived aggregate (TDA) is a product made from shredded scrap tires and is widely used in place of natural materials because of its low weight, thermal insulation, and ability to dampen vibration and sound. Because of its porosity, TDA is ideal for use in construction projects where drainage is also a concern.
TDA is being used in civil engineering more and more as designers, architects, and engineers realize the economic and environmental benefits of this application. With increasing familiarity with the material, the percentage of tire-derived aggregate used in civil engineering is expected to grow past the roughly 7% it enjoyed in 2015. A typically cost-effective alternative to natural materials, it's common these days to see scrap tires used in road and light rail construction, in septic tank leach fields, for building foundations, and, ironically, in the development of landfills—the place tire-derived aggregate is working to keep tires from in the end.

We've Come A Long Way


What's most impressive about tire recycling is just how far we've come; back in 1990, only 11% of scrap tires were being repurposed, which led to enormous stockpiles overrunning the nation's landfills. Even though we've made tremendous strides in the recycling and reuse of scrap tires, we are still going to do our best to keep tires out of the landfill the best way we know how: by making the strongest, most rugged, and longest-lasting tires possible.
Want to learn more about our toughest tires? Contact your local tire dealer and ask them about our new line of Galaxy solid tires—the ideal solution for the most rugged construction and waste management sites.