Increasing the ROI of Forklifts with Tires
Forklift tires have a lot of responsibilities—they connect a machine to the ground, transfer horsepower, provide suspension, and stabilize loads. Forklift tires also contribute to everything from the productivity of your equipment to its maintenance costs to the safety of your operators. Consequently, equipping forklifts with good-condition, high-quality tires can have a huge impact on all aspects of a business, most notably on its bottom line.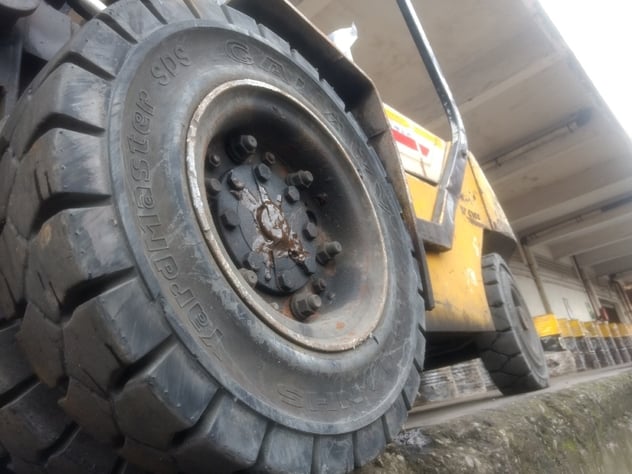 How Forklift Tires Affect an Operation

Machine Life/Decrease Maintenance Costs

New forklift tires can lower maintenance costs and extend the life of your machine. Because forklifts don't have suspension, their tires are solely responsible for absorbing every ounce of a forklift and its load—quite a task, considering the average forklift weighs about 9,000 lbs., not including its load. New tires help reduce shocks and jolts to slow the wear and tear on equipment and deliver better traction to minimize the stress and strain placed on engines and transmissions, while also improving fuel efficiency or battery life.

Productivity

When a forklift tire has worn 40% or more of its tread, the machine and the driver absorb over 84% of the shock if it's being run over a rough surface. Just like shocks and jolts are bad for equipment, they're also bad for operators. The improved ride of new forklift tires can keep operators feeling fresh and increase their productivity and efficiency, along with mitigating the lower back pain that commonly plagues them. It can also help ensure the satisfaction and retention of operators, which is particularly important considering the Society for Human Resource Management (SHRM) estimates that it costs a company six to nine months of an employee's salary to replace them.

Safety

New forklift tires improve forklift safety and help avoid injury-causing accidents by ensuring stability, minimizing the likelihood of a tip-over, and decreasing the odds of a blowout, especially when under load. Tip-overs and blowouts are bad news for your business, as they pose a risk to the well-being of operators and can cause a great deal of damage around the workplace—for example, wrecking the floor, equipment, racks, walls, doors, docks, and products.


When Is It Time to Replace Forklift Tires?

Extremely worn forklift tires don't have to damage your business. One of the simplest steps fleet managers can take is scheduling routine tire inspections—the more often, the better—and knowing the signs for when it's time to replace a tire.

Forklift Tire Inspection

No matter what type of tire your forklift is equipped with—pneumatic, press-on band, or resilient solid—there are some things you should watch for on every kind of tire.
Wear indicator: Most forklift tires feature a wear indicator that will let you know when a tire has reached the end of its usable rubber. In the absence of a wear indicator, a good rule of thumb is to consider replacing a tire when it gets between 30% to 40% of its original size.


Irregular wear: A difference in the wear between the inside and outside of a tire can point to a number of issues including aggressive operation, misalignment, or improper inflation in the case of a pneumatic.
Cuts, tears, cracks: These can all compromise the integrity of a tire and put your forklift and operator in a potentially perilous position.
Chunking: Large pieces missing from the tread area is a clear sign that it's time for a new tire.
In the case of pneumatic tires, it's also important to ensure they're operating at the proper air pressure. Over- and under-inflated tires invite a variety of problems, ranging from minor to major—most notably, the risk of underinflated tires overheating, which can lead to catastrophic failure. The more frequently you check your tire's air pressure, the better.

Application-Specific Forklift Tires

Along with monitoring the condition of your forklift's tires, equipping them with high-quality application-specific tires is another measure fleet owners can take to improve their overall performance and profitability. Yokohama Off-Highway Tires' line of Galaxy Yardmaster tires has an offering for nearly every application and for work on every surface.
Galaxy YM (

Smooth

and

Traction

) Press-On Band tires deliver maximum uptime to machines working on hard surfaces indoors, such as in warehouses or distribution centers.



Galaxy Yardmaster SDS

tires provide puncture-proof performance and the versatility to work in a variety of applications and terrain.



Galaxy Yardmaster Radial

tires are the go-to choice for forklifts that work non-stop and/or travel long distances, thanks to their ability to dissipate tire-killing heat and the comfortable ride they produce.



Galaxy Yardmaster

pneumatics feature bias-ply construction and deliver proven performance and an impressive return on investment.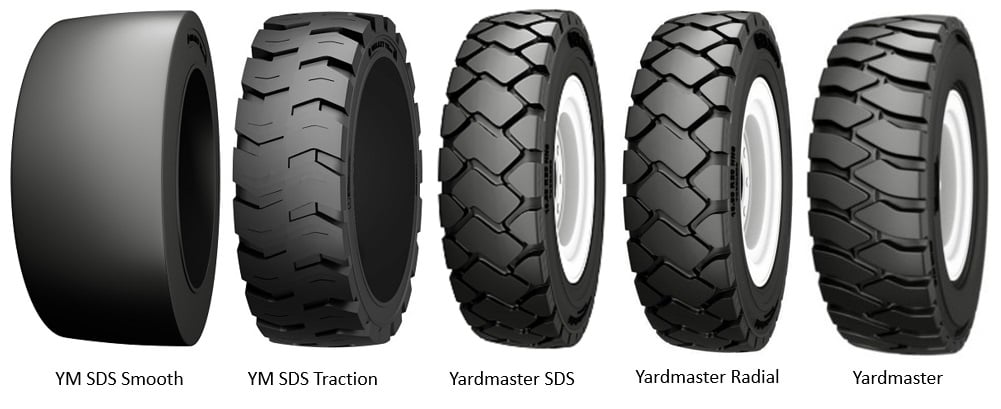 For all but forklifts equipped with press-on band tires—which are limited to only other press-on band options—huge performance gains are often found by simply switching the type of tire. For example, moving a machine historically plagued by punctures to a puncture-proof solid tire will obviously have a huge effect on uptime and machine productivity.

Out-of-This-World Tires

Contact your local Yokohama Off-Highway Tires America, Inc. dealer or rep today to learn more about its Galaxy range of forklift tires and how they deliver out-of-this-world performance to your equipment.