Kansas at SEMA


We love tires. We love tires so much so that the better part of our day is devoted to developing the best-performing, most advanced, and most durable tires on the market. But life isn't all tires...we also love rock 'n' roll. We're excited to combine these two passions at this year's SEMA show, where we'll be hosting a free concert at the Hard Rock Cafe featuring Kansas! For those of you who don't know Kansas (have you been living under a rock for the last forty years? You might recognize hits like Dust in the Wind, Point of No Return, or Carry On Wayward Son), here's a little information on this legendary rock band.
It's hard to believe that for more than 40 years, Kansas, a "little garage band" from Topeka, is still going strong. It all began in 1974 with the release of their self-titled debut album, giving the world its first taste of Kansas's and their unique brand of heartland rock 'n' roll. With a story as old as rock 'n' roll itself, Kansas grew a cult-like following through relentless touring and promotion before they were selling out some of the world's largest venues.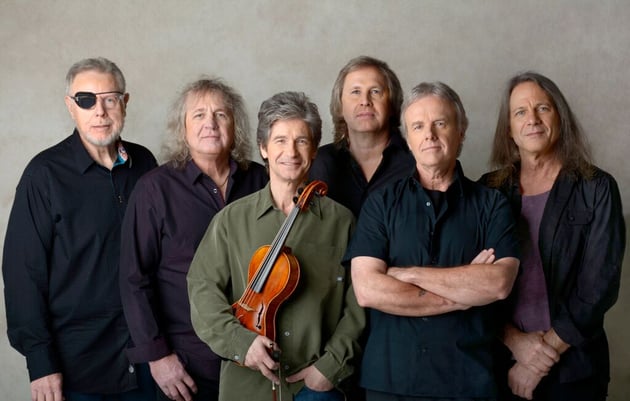 A tremendous commercial success, Kansas has produced eight gold albums, three sextuple-platinum albums (Leftoverture, Point of No Return, and Best of Kansas), one platinum live album (Two For the Show), and a million-selling gold single (Dust in the Wind).
Throughout the mid-to-late seventies and early eighties, Kansas was a major headliner playing some of the world's largest and most important rock 'n' roll venues. With Kansas' roots in live performance and their history of relentless touring, the band developed a reputation for incredible live performances.
In 1995, Carry on Wayward Son was the number two most-played song on classic rock radio, and it claimed the title as the most-played song on classic rock radio in 1997. In 1998, the band recorded with London Symphony Orchestra, the result being the album Always Never the Same. In 2000, Kansas returned to the studio with all of its original members for the first time in 20 years to produce Somewhere to Elsewhere.
Experiencing a rejuvenation, Kansas continued to tour and regain popularity. In 2009, to celebrate their 35th anniversary, Kansas held a concert in their hometown of Topeka, accompanied by the Washburn University Symphony Orchestra. To celebrate their 40th anniversary, Kansas was adopted into both the Kansas and Georgia Music Halls of Fame. Still going strong today, Kansas recently signed with a new label and is preparing to release its 15th studio album.
We are so excited about this event and can't wait to see everyone at the Hard Rock Cafe on November 4. Doors open at 7:00 and seating is general admission, so get there early!