Finding a Career in the Forest
"One reason I would give for someone to pursue forestry is simple," says John Bischoff, a Utility Arborist for Great Lakes Energy, "they can get paid to play in trees–something they did for fun as a kid. Plus, having the forest as your office most of the day is pretty amazing too."
Why careers in forestry should matter to the next generation. The same idealistic young people who are attracted to organic farming should also be drawn to sustainable forestry. People who are passionate about protecting our planet should be taking an interest in our forests, as the modern forester is responsible not just for harvesting timber, but also for protecting delicate soils, protecting clean water, integrating wild habitats with forest operations, and balancing the relationship of our forests with that of our urban areas. Through proper and sustainable management, today's forests can provide viable, long-lasting energy, goods, and jobs.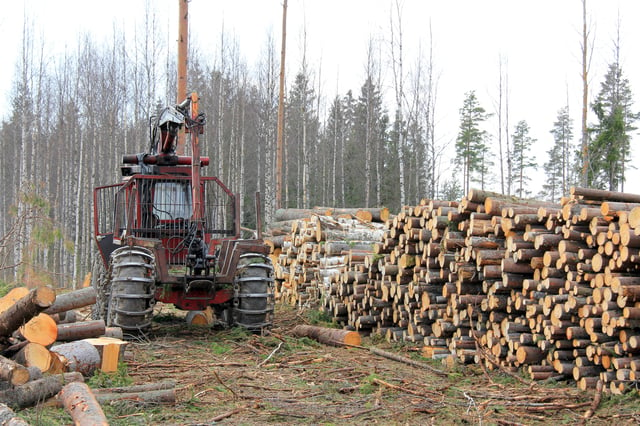 Why forestry needs new blood. With an aging workforce and the growth of more technologically advanced equipment and methods, the demand for talented and qualified people is high. Some suspect that with the growth of computers and video games, young people are less drawn to jobs outside, but little do they know the technological skills they have developed are becoming huge assets in the more mechanical and technologically advanced world of forestry.
What's happening with forestry. The forestry industry is shifting. In the field, light duty equipment like chainsaws are being replaced by heavy equipment like mechanized harvesters. While the use of mechanized equipment means fewer people in the woods with chainsaws—and fewer jobs—it also creates a need for a knowledgeable and educated workforce capable of fixing, maintaining, and operating the machines, while possessing a knowledge of forestry management. Back at the office, advanced software such as GSI is being used to report, map, chart, and demonstrate relationships, patterns, and trends to make informed and reasoned decisions on forestry management.
Where the new forestry jobs are being created. With the influx of people toward more urban environments, the role of urban forester is becoming more important and the job market reflects its growth. Seen by many as the frontline against global climate change, urban forests are critical to city infrastructure, providing green space, helping to control climate and clean the air, and providing energy. With urban forestry opportunities throughout city governments, agencies, and nonprofits, these positions require people skills, the ability to initiate volunteer programs, and an aptitude to write and apply for grants.
Whether deep in the backwoods or in the heart of a major metropolitan area, the sustainable management of our forests needs a pipeline of smart, driven people to steward them. We can relate to today's foresters; Rugged on the exterior, underneath today's forester is a smart, well-educated, and technologically savvy individual. Similarly, Primex and Alliance forestry tires may look rugged and mud-covered, but underneath they are carefully engineered with technological refinements to ensure on-the-job reliability and long life, and to minimize down time and reduce damage to forest floors.