Tires For Every Aspect of a Logging Operation


Last fall, our marketing team took a trip through Georgia and Alabama to connect with our customers about the challenges facing them and to see our Primex logging tires in action. Watching the efficiency of our host logging operations and observing the size and power of the equipment used in person is always amazing, and while we're proud of the work our tires do in the forest, what we really hang our hard hat on is our ability to outfit operations—in this case, timber—with tires for every step of the way.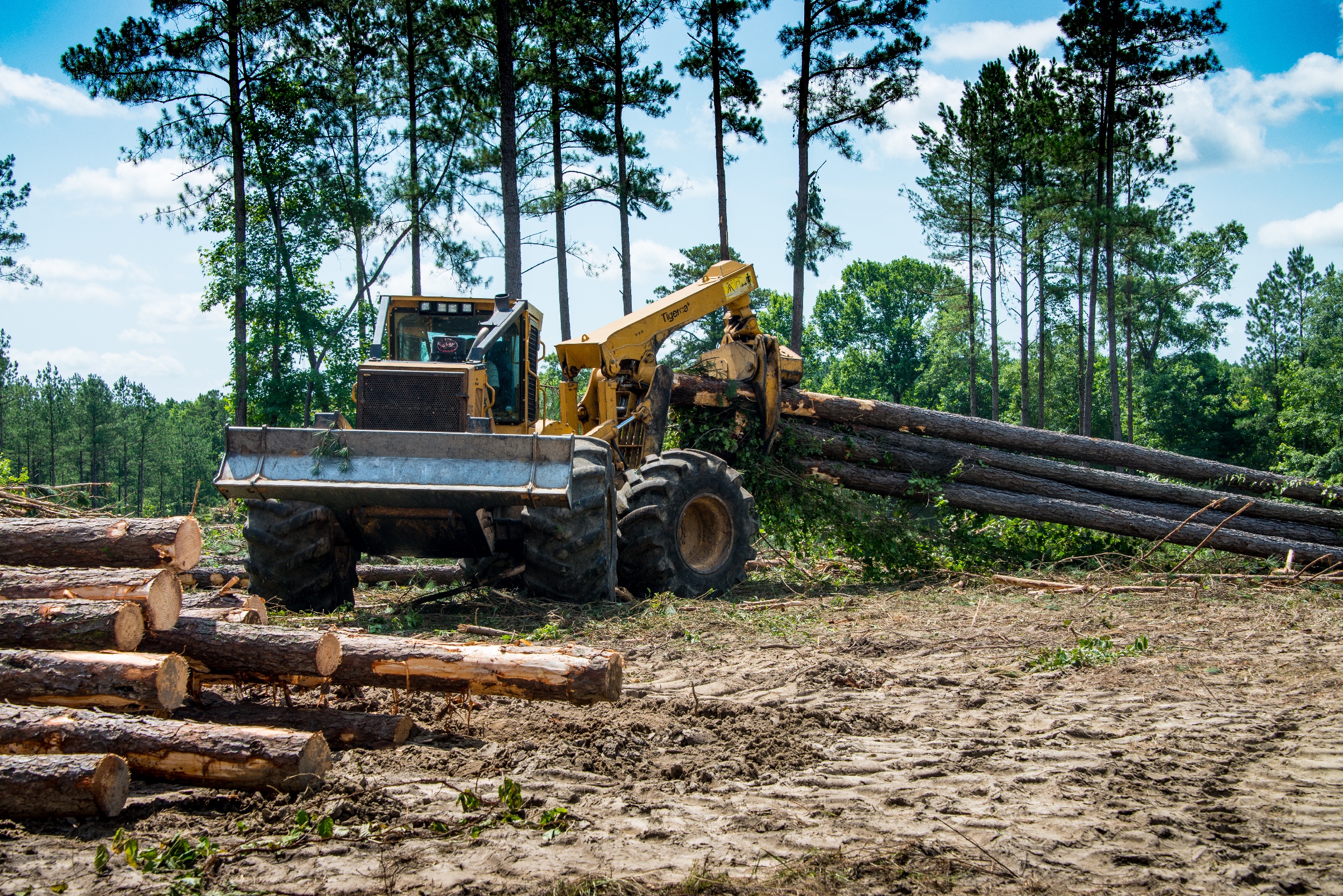 One of the highlights of the trip was observing skidders equipped with our Primex LogMonster and Xtreme tires haul massive trees through the Alabama and Georgia forests to landing sites. The size and power of these machines make giant trees seem like toothpicks—but equally eye-opening was that, in spite of these qualities, the equipment does minimal damage to the ground. We're happy to play our role in allowing this amazing equipment to reach its potential, providing traction in the swampy Southern soil and preventing dollar-draining downtime due to punctures while keeping the forest healthy and productive for generations to come.
Getting trees cut and timber to the landing site is just one part of the journey, though; it still has to be loaded onto trucks and brought to sawmills and lumber yards. As in any busy operation, a stoppage of any individual component can grind the whole enterprise to a halt. In this case, a flat tire on a log truck can lead to missed loads, backed-up landing sites, and, in the long run, lost income. Hauling heavy loads and negotiating dirt roads and debris-strewn landing sites, while also performing well on the road, is a tall task. However, it's a task tires such as the Aeolus ADC53 have become proven performers in. With 16-ply construction and a cut- and chip-resistant compound the ADC53 keeps the flow of timber consistent and operations efficiently moving.
While the trees are literally out of the woods at this stage, the tires supporting the equipment responsible for processing the timber are not. Forklifts bear the brunt of the work at sawmills—and, just like skidders and trucks, they're seemingly always on the move. Our Galaxy Yardmaster tires keep debris like the broken lumber and slivers frequently found in these places from causing unwanted downtime. Uptime is just one aspect of increased productivity and the Yardmaster checks all the boxes with high lateral load-carrying capacity, excellent stability, reliable traction, and a comfortable ride to reduce operator fatigue.
High-quality, dependable products like the Primex LogMonster and Xtreme, Aeolus ADC53, and Galaxy Yardmaster have led to a large number of customers putting their trust in our product to bring out the best in their machines and operations. We take that trust very seriously and back our products with a fantastic warranty and are continually making the warranty process quicker and easier to navigate—look no further than our Warranty Wizard App and website.
In a way, Southern loggers are a lot like our Primex tires—they're hard-working, tough as nails, and ready for any job in any conditions. If you want to learn about any of our offerings—whether for use in the woods or in the warehouse—contact your local dealer or rep today.