Flotation Tires and Manure Hauling


Phillip McLain is a sharp analyst. He tracks his stock picks on his Android phone as he walks through his family's oilseed crushing operation near Statesville, NC. He has a running knowledge of farms up and down the roads that connect the 5,000 acres of cropland that he and his family operate.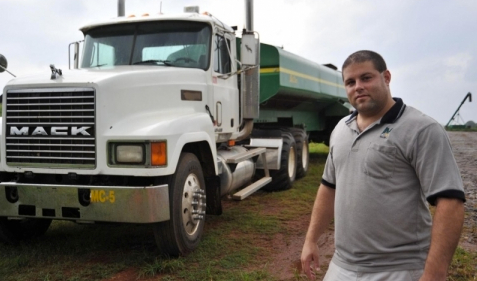 He's figured out that the success of his manure application business starts with Mack rigs outfitted with Alliance brand flotation tires. "The tires definitely play a role in the success of my story in the manure business because we're able to get over land that we couldn't normally get over with a truck," McLain says. "We can haul more gallons than a tractor, and that's contributed to a business that is more efficient and is better for the farmer because we can get things done in a timely manner."
McLain outfitted the drive axles of five Mack trucks with 700/40-22.5 Alliance 331 18-ply flotation tires. Replacing standard on-highway dual tires with high-performing flotation technology allows McLain and his crew to tackle all sorts of field terrain while minimizing soil compaction and comfortably hauling heavy manure tankers at 30 mph over the road. The manure tanks themselves are equipped with four 710/50R30.5 Alliance Agri-Transport 390 flotation radials, which keep 80,000 pounds of manure moving quickly and comfortably.
McLain's road rigs are a fraction of the cost of farm tractors, he notes, and they can run faster and more efficiently. With flotation tires on heavy-duty drive axles, they're high performers on and off the road, allowing McLain and his crew to keep trucks working all day and night to service local dairies.