Bet on Bank Robber


So what's it like sitting behind the wheel of a modified tractor called the Bank Robber that generates close to 10,000 horsepower and 8,500 RPM?
"It's a lot of fun," says Doug Lively, an Iowa farmer who started pulling garden tractors as a kid and is now a two-time champion of the National Tractor Pullers Association's Grand National Modified Division.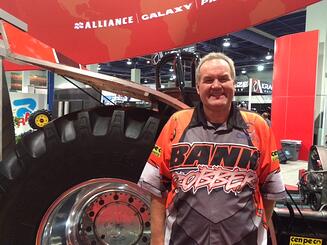 But as Lively explains, the "fun" extends way beyond the adrenaline rush that is tractor pulling and the satisfaction of winning the national championships in 2013 and 2014.
"My wife Nancy and I just love the family atmosphere at the events and all the kids who come by our camper to check out the Bank Robber," he says. "It's just a good wholesome environment."
Lively built the Bank Robber in 2012. The wicked-looking tractor runs on 30.5x32 tires on the back (which spin at up to 100 mph during competition) and golf cart tires on the front. The massive engine costs about $65,000 to replace, and there are four supercharged Hemis which also run about $65,000 each.
Lively and the Bank Robber were the star attractions at our booth at the recent SEMA industry show in Vegas. "Tractor pulling has a much broader audience than I thought," he noted. "I expect a lot of fans at farming shows like Farm Progress, but we've had so many people come by the booth here in Vegas who have been watching us on TV."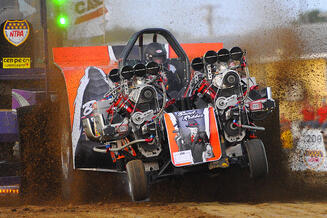 We announced in April a three-year sponsorship of the National Tractor Pullers Association (NTPA), the world's oldest and most respected truck and tractor pulling sanctioning organization.
Right after the SEMA show, Lively and his dad, Jim, made a beeline for their 1,500-acre farm near State Center, Iowa, where they had corn and beans to harvest. "We're late on our harvest so we will head straight to the fields as soon as we get back," he said.
Think Lively has a full plate? Add a fertilizer spreading business to his farming and tractor pull competition. "We stay pretty busy, no question," he says. "But we enjoy it and wouldn't have it any other way."
We want to thank Lively for participating in our SEMA booth and wish him the very best of luck in the upcoming NTPA season.