More Stable. Last Longer.
In southern Indiana, the Dubois County Highway Department road crew mows 1,400 miles of roadside shoulders all season long, racking up 1,200 hours on each of the county's four mowing tractors each year. Mowing on steep shoulders, carrying heavy bar
mowers, running on pavement—it's tough duty for tires, which is why Dubois County Highway Department mechanic Max Hopf got so excited when he compared a set of Alliance 550 Multiuse radials against the department's ag-style R-1 tires.
Stability? Better.
Traction? Every bit as good.
Power hop? Gone.
And wear? No contest.

The MultiUse 550
The first thing everybody notices about the Alliance Multiuse 550 radial—the thing that caught Max Hopf's interest—is its unique tread. Alliance calls it a "hybrid" tread, with R-3-style blocks arrayed in curves based on R-1 tractor lug designs. The result is more biting edges from the blocks and good self-cleaning from their pattern for great traction. The high rubber-to-void ratio and large centerline blocks provide a smooth ride and abrasion resistance on pavement, while the large, even footprint backed by steel radial belts minimizes tread wear.
Super Stability
The 550 also features a specially reinforced sidewall to ensure stability at high tilt angles. That's one of the reasons Alliance 550s are used not just on mowers, tractors and backhoes all over the country, but even on sidehill combines in the steep wheat fields of eastern Washington. Hopf and the Dubois County team noticed the added stability right away.
I've got a tractor with 3,000 hours on it and the Alliance 550s have still got half the tread, so they're lasting at least two, maybe three times longer. - Max Hopf, Dubois County, Indiana
"The first thing we noticed is you could put 45 pounds of air in them so you can get your stability," he says. "With the ag tires, you inflate them for stability and they balloon up and you wear your center out. Or you deflate them to make them last longer, but then you lose your stability." The hybrid block tread pattern puts more biting edges in contact with the soil for better traction in all directions. The reinforced sidewall, squared shoulders and strong, puncture-resistant steel radial belts of the Alliance 550 work together to create a large, flat contact patch at inflation pressures optimized for even the heaviest loads. The steel belts also dissipate heat more efficiently than other radial belt materials, extending tire life. The result is the ideal combination of stability, traction and long wear.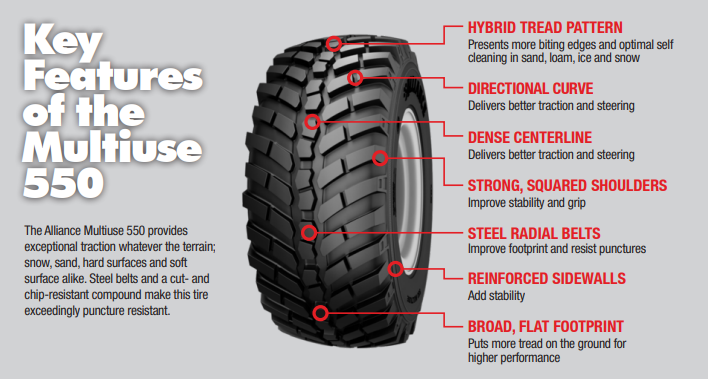 Tire Upgrade
After putting its first set of Alliance 550s through their paces, the Dubois County Highway Department replaced the rear tires on all three of its two-wheel drive tractors with 550s and put the Alliance tires on all four positions on its four-wheel-drive Massey Ferguson 5711SL. Hopf's next experiment will be mounting Alliance 550s on the county's grader, where he expects to benefit from the long tire life and a better fit with chains than he gets
on ag-style tires.
As far as value in them and life, they're terrific.
Hopf says county crews need great performance in the field and on the balance sheet, and the Alliance 550 Multiuse radial delivers.