Bringing Radial Tires to Backhoes


Though it's not yet a common sight to see backhoes and other construction equipment riding on radial tires in North America, in places like Europe they're becoming increasingly popular thanks to the many benefits they provide, including:
Longer tire life
Better suited to travel long distances
Greater puncture resistance in the tread area
More traction
Increased equipment productivity
Superior ride and improved operator comfort
Early adopters in the U.S. can attest that the improved traction, better ride quality, and longer lifespan of radial tires, among many other benefits, is giving them a leg up on the competition. Because we're big believers in the future of radial tires in construction—especially on backhoes—we're breaking down the barriers customers commonly cite for not making the switch.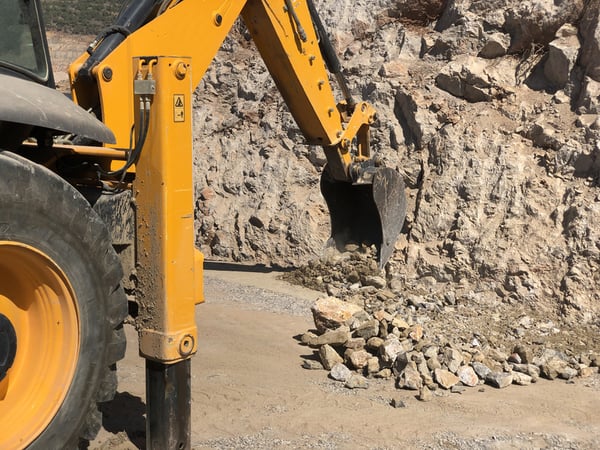 Radial Performance at a Bias Price
There's no getting around the fact that radial tires cost more than bias. Despite their better performance, improved fuel economy, and longer life spans—all of which adds up to a lower total cost of ownership and a better return on investment in tires—some fleet managers and backhoe owners are prey to sticker shock when pricing them at the dealer. Because up-front cost is a major customer concern, we are working with our dealers to deliver radial tires at a price that is competitive with our (and our competitors') premium bias offerings.
Speaking of our competitors, even they know that bias-ply tires can't compete with radials on much besides price. Just check out this Tire Review article from May which is peppered with competitor quotes like:
However, radials are more expensive...despite the fact that they work better in some applications.

A large part of this market is still bias, partly because of price.
Tire Options Abound


As manufacturers and distributors of the tire market's largest selection of application-specific tires—i.e., tires designed to help customers excel in particular jobs and terrains—our product managers are working with the research and development engineers to expand our radial tire offerings to suit more machines and jobs daily. A few favorites include:
The Alliance 585 features a hybrid block-lug tread pattern and steel belts to provide low-scrub, long-lasting performance on hard surfaces like asphalt and concrete.
The Alliance 580 is designed with a hockey-stick-shaped lug that shines in soft and sloppy soils, providing traction, stability, and self-cleaning.
The Galaxy Multi Tough is our all-surface specialist—thanks to its non-directional, multi-surface tread—making it the go-to tire for rental houses and operators who work in a variety of terrains and perform numerous types of jobs.

Specialized Patterns


In addition to building backhoe tires with more traditional treads, we continue to develop new, specialized patterns to help customers face everyday challenges on the job site more effectively. Our steel-belted Alliance 550 MultiUse radial defies classic categories—it combines an R-4 lug with an R-3 block-pattern—allowing it to maintain traction in softer surfaces while also having resistance to the scrubbing of hard asphalt. The 550 is a favorite of operators who use their backhoes in municipal service, snow removal, and other multi-surface applications.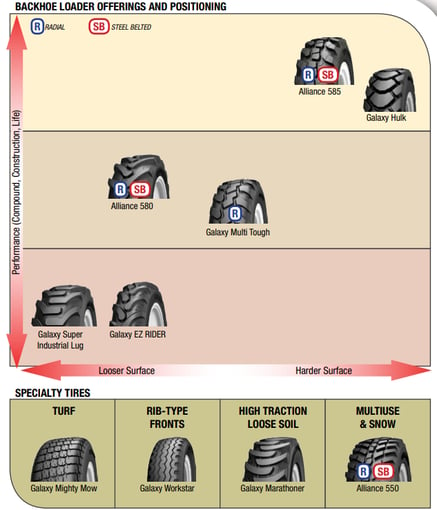 Constant Development


Despite our deep selection of radial backhoe tires and undeniably competitive pricing, we are continuing to expand our offering. We're currently working with customers in the field to develop and test new treads in order to ensure we provide a tire that meets their specific needs. Similarly, we continue to work with our dealers to fill gaps in sizes, making sure we have a tire for every piece of equipment and application.

Expanding Implementation


We're also working to expand the use of radials on construction equipment beyond backhoes, so skid steers, like Niel Grunzke's, can reap the radial rewards. He's getting more than twice the service life out of his Alliance 550s than he did from bias tires he was using before.


Building Awareness


The benefits of radial tires are well known; they've been a fixture on passenger cars and heavy trucks since the 1960s and are rapidly becoming commonplace on today's farm equipment. In Europe, radial tires are already the norm on compact utility equipment like backhoes and telehandlers. The radialization of North America's construction equipment is inevitable, but in the meantime, we keep working to share the facts about radials in publications and on our blog with articles like these:

Our Advantage


If you're interested in upgrading your backhoe to radial tires, contact your local dealer or rep today to learn about the special pricing and programs we're offering to help make the decision to convert to radials easier than ever.