Winter Tire Tips for Your Compact Tractor


The arrival of winter weather brings a host of new challenges for small acreage owners and hobby farmers who are serious about getting maximum performance out of their compact tractors. These must-have machines are used for a variety of winter work—everything from hauling firewood to feeding livestock to pulling your neighbor's car from a snowbank—but one application stands above the rest when Jack Frost settles in for the season: snow removal.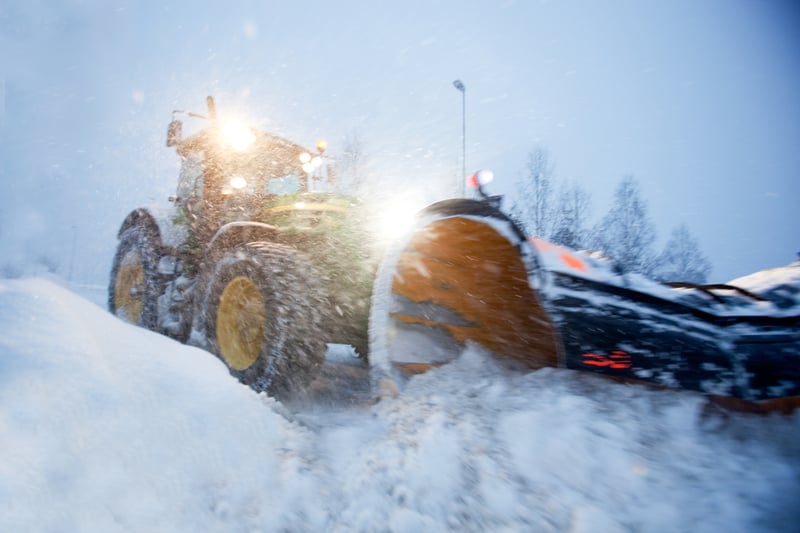 Whether you're keeping your driveway clean this winter, clearing a path to the barn, or digging your neighbor out after a big storm, take these steps to get the most out of your compact tractor this winter.

Before Winter Tire Preparation


The famous college coach Bobby Knight once said, "I don't believe in luck, I believe in preparation," which applies just as well to compact tractors as it does basketball teams. Before the flakes begin to fly, make sure the tires on your machine have enough tread to provide adequate traction in wintry conditions such as snow, sleet, and ice. After all, it doesn't matter how powerful your tractor is or what type of attachment you're using if your tractor can't get a grip.
If you're getting toward the end of the tread on your tires—or have tires with bias construction or the wrong tread design—now is the time to invest in new ones. Tires are what connect a tractor to the ground and they play a critical role in how well your tractor hooks up. You don't want to wait until that big blizzard to discover your tractor doesn't have enough traction to dig, push, or blow you out from the snow.

Compact Tractor Tires for Snow Removal


Another option for compact tractor owners, whether they need new tires or not, is to switch to a tire better suited for snow removal. Most compact tractors come equipped with R-4 (industrial) tires, which feature traditional bar-lug tread patterns. R-4 tires are found on so many compact tractors because they provide a good balance of hard- and soft-service performance—however, they're not the best choice for snow removal.
The best tires for compact tractors used for snow removal feature block treads, low rubber-to-void ratios, and snow-clearing channels. A few favorite offerings are:
Galaxy Garden Pro/Garden Pro XTD: A long-time choice of many snow removal operations thanks to its innovative tread pattern and knack for clearing snow. The best just keeps getting better with the introduction of the Garden Pro XTD, which features deeper tread and a rubber compound designed to deliver extra cold-weather performance.
Alliance 550 MultiUse: A favorite for all types of applications, the 550 is a proven winter worker thanks to a unique tread that blends a traditional tractor-style curved-bar design with a directional block tread for superior performance in the snow.
Alliance 551 MultiUse: Specifically designed for tractors operating on snow and ice, the 551 features sipes for exceptional grip in wet and snowy terrain and a special compound formulated for operation in extremely low temperatures.
One characteristic that unifies all of Yokohama Off-Highway Tires America, Inc.'s best snow removal tires is their radial construction. Radials deliver a larger, more even footprint, which results in more tread on the ground and greater traction. Other benefits of radials include:
Low rolling resistance for improved fuel economy
Ability to travel at higher speeds and go longer distances
Better heat dissipation (yes, heat can build up in tires even in arctic temps) for longer life
More comfortable ride for happy and productive operators
Fewer shocks and jolts for reduced maintenance costs
More flexibility and better impact absorption than bias tires, for bouncing off sneaky curbs hiding in the snow

During Winter Compact Tractor Tire Tips


Inflation
Evaluating your tractor's tires before the season is a critical step to take toward a successful winter, but so is their upkeep throughout the season. Changes in temperature can lead to a decrease in the air pressure of a tire—for every 10-degree drop in temperature, tire pressure can decrease by one pound per square inch—making it critical to check your tires and bring them to the proper pressure before getting to work.
Operating tractors on under-inflated tires can have a handful of negative consequences, including:
Rapid wear
Poor handling
Reduced fuel efficiency
Unexpected tire failure from heat buildup or internal damage
Because of the negative effects of underinflation, it's tempting to pump your tires way up; however, overinflation brings its own set of problems:
Reduces footprint size and consequently costs you traction
Concentrates wear to the center of the tire (on radials), shortening the lifespan of the tire
Because inflation plays such an important role in the performance, life, and total cost of ownership of a tire, it's critical to operate them at the correct pressure for the weight applied to the tractor and the speed it will travel at. Before beginning work, consult the load index chart for your tires—ours are found on our website—and inflate/deflate accordingly.


Visual Inspection


In addition to checking inflation pressure, get in the habit of giving your tires a regular visual inspection. Snow has a way of both hiding tire damage and hazards for tractor tires, like curbs and potholes. In between use, keep an eye out for cracks and chunking, check sidewalls for cuts, and make sure no puncture-threatening debris is lodged in the tread.
Whether you're digging out with a bucket, pushing snow with a plow, or trying to blast through winter with a blower, we have the tires you need for your compact tractor. Contact your local Yokohama Off-Highway Tires America, Inc. dealer or rep today to find out which tire will help keep you both snow- and trouble-free this season.