Compact Tractor Tires to Keep You from Falling Behind This Autumn
Compact tractors are a vital piece of equipment for many landscapers and small acreage owners. These valuable machines shine throughout the year—from mowing in the summer to snow removal in the winter—however, it's the gold, crimson, and yellow leaves of autumn that highlight the true colors of this easy-to-use and versatile piece of equipment that can speed up time-consuming tasks like fall chores and cleanup.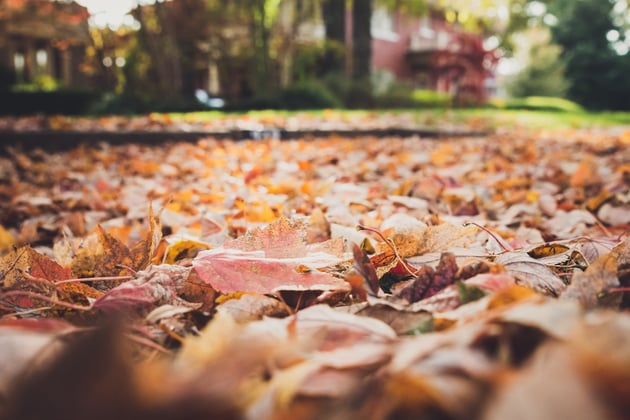 Compact Tractors for Fall Cleanup


Versatility is the reason why compact tractors are the backbone of many landscape operations and small acreages. These workhorses are able to tackle a wide variety of autumn applications thanks in part to their ability to work with a number of attachments, whether a front-end loader for moving firewood or a tow-behind vacuum for collecting leaves. In the end, a compact tractor can save landscape business owners and hobby farmers a considerable amount of time and effort in the fall (and throughout the year).


Five Fall-Friendly Compact Tractor Attachments

Leaf Baggers/Vacuums/Sweepers


Raking and bagging leaves can take a substantial amount of manual labor, especially if you're maintaining a large piece—or multiple pieces—of property. There are a handful of attachments that can help with leaf collection, from baggers to vacuums to sweepers, which streamline the task of leaf removal and allow you to finish jobs in hours that would otherwise take days to accomplish by hand.


Mulching Mower Kits


A mower equipped with a mulching kit eliminates the need to collect and remove annoying leaves by turning them into nutrient-rich material to feed your lawn. The powerful motors, large decks, and heavy-duty blades of compact tractor mulching kits make them well suited to handle even the deepest leaf-covered lawns.


Tow-Behind Dethatcher


Fall is the time to dethatch cool-weather grasses like Kentucky bluegrass and perennial ryegrass. Thatch is an accumulation of dead and living plant material that collects between grass and the soil and affects its ability to absorb water, nutrients, and air. Tow-behind dethatchers allow for fast, effortless dethatching of everything from yards to pastures.


Tow-Behind Aerators


Fall is an ideal time for aerating a lawn—it loosens compacted soil and allows the turf to more easily absorb water and nutrients. Compact tractors with tow-behind aerators are a great solution for those working on multiple or large properties.


Utility Wagon


A cart is a handy sidekick for fall chores. If you have to use yard waste bags for leaves, you can use a cart to move them to the curb for pickup. Carts are also handy to have for collecting downed branches, recently trimmed tree limbs, and cut-back perennials. In many parts of the country, fall is a popular time for planting shrubs—the warm soil and cool air allow them to get established before winter—and a cart makes moving new planting around your property easy.
Compact Tractor Tires for Fall Applications


Admittedly, compact tractor tires aren't as attention-grabbing as all of the exciting attachments on the market. That said, tires have an enormous effect on the performance of a compact tractor—influencing the efficiency of your fall work and the long-term health of the turf.


Galaxy Garden Pro XTD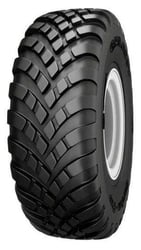 The Galaxy Garden Pro XTD provides exceptional performance for compact tractors performing a broad spectrum of fall applications. Garden Pro XTD tires feature radial construction and a unique hybrid tread pattern that combines the blocks of an R-4 tire with the lugs of an R-1. The innovative construction of the Garden Pro allows it to operate at lower air pressure and produce a larger footprint than its bias-ply counterparts—helping it protect sensitive surfaces like lawns and meadows while delivering maximum traction on hard and soft surfaces alike.
Use the Galaxy Garden Pro XTD for tasks such as mowing and mulching large fields, adding a new section of stone wall, or prepping a new patio for next spring. The Garden Pro XTD is also great on hard surfaces and snow, making it a particularly good partner for those who transition from fall cleanup to winter work.


Galaxy Mighty Mow TS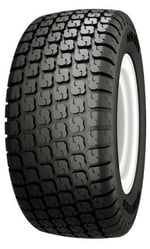 The Galaxy Mighty Mow TS is aimed at both landscape professionals and acreage owners who demand the highest-performing tire. It was developed in collaboration with golf course superintendents and landscape professionals and is designed to work with smaller commercial mowers with rims between eight and 12 inches. The Mighty Mow TS features a slightly higher void-to-rubber ratio than the Mighty Mow, allowing for better traction and self-cleaning when working on soft surfaces while maintaining the turf-friendly attributes of its namesake.
Delivering excellent versatility, the Galaxy Mighty Mow TS is commonly equipped on compact tractors asked to do it all—whether it's pulling a mower behind it for that final cut of the season or moving materials with a bucket on the front end for fall hardscape projects.


Galaxy Mighty Mow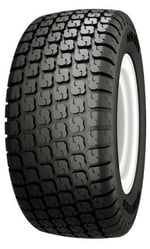 The Galaxy Mighty Mow is a long-time favorite of compact tractor owners and operators. The Mighty Mow features tried-and-true bias construction, superior flotation, and a traditional block-tread pattern that balances the need for traction with turf protection—making it an ideal candidate for use on lawns, playing fields, and golf courses. Furthering its sensitive surface bona fides are its shoulders, which are elongated and wrap the tread around the sidewall to prevent it from creating ruts or tearing up the grass.
The light touch of the Galaxy Mighty Mow makes it an excellent choice for jobs like aerating and dethatching, helping to create healthier soil while minimizing the impact of machinery on it. It's also an excellent candidate for any task that takes place on your prized lawn, such as moving firewood from the shed into the house.



Yokohama Off-Highway Tires America


Compact tractors are the workhorse of many landscape operations and small acreages and they depend on high-quality tires to keep them rolling at the peak of their performance. Yokohama Off-Highway Tires America's (YOHTA) Galaxy Brand turf tires provide application-specific options to meet the particular needs of landscapers and hobby farmers. To learn more about our exceptional lawn, garden, and turf tires, contact your local YOHTA dealer or rep today.