Pick the Perfect Compact Tractor Tire


Compact tractors are growing in popularity. According to the Association of Equipment Manufacturers (AEM) December 2018 U.S. Ag Tractor and Combine Report, the sales of under-40 HP tractors have risen 9.2%, building on a 9% increase the year prior (and an all-time high of 158,237 units sold). With more and more of these machines on the market, it's imperative to understand the three types of tires—R-4, R-3, and R-1—compact tractors are generally equipped with, as well as our game-changing multipurpose Galaxy Garden Pro MPC, and how to choose the correct tire for your application.

R-3 Turf Tire


R-3 tires, also called turf tires, feature the least aggressive tread of the three types of tires and are engineered to excel on one particular surface: turf.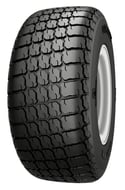 Made with mowing in mind, R-3s generally feature treads that are both less aggressive and less deep than the other types of compact tractor tires so as to not tear up or rut delicate turf, forage stands, or lawns. Turf tires also commonly deliver the largest footprint of the three types of tires, allowing them to float on the surface of turf and aid in traction. In addition to being turf-friendly, R-3 tires are also beloved by operators for the smooth ride they provide when compared to other compact tractor tires.
R-3 tires such as our Galaxy Mighty Mow are an ideal choice for compact tractors tasked primarily with mowing and are a favorite of landscapers for their outstanding performance on turf along with their ability to handle other odd jobs, such as moving mulch or patio bricks.

R-1 Tires


R-1 tires, or ag tires, feature the most aggressive tread patterns of the three types of compact tractor tires and are best suited to work in soft soils and loose dirt.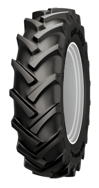 Ag tires feature the deepest lugs and biggest bars of the different types of compact tractor tires, delivering superior traction when compared to R-3 and R-4 tires. However, that superior grip and the fact that R-1 tires have the deepest tread of the three types can leave ruts in lawns and grasses, as they're engineered to grab at the soil rather than float on top of it. The aggressive tread and excellent self-cleaning capabilities of ag tires shine in mud, snow, and other conditions that require maximum traction, and make them ideal for jobs that involve pushing and pulling equipment.
Because R-1 tires primarily serve a single purpose, they're the least common kind of tire found on compact tractors; most operators choose a more versatile tread to match the versatility of the machine.
R-1 tires like our Galaxy Work Master feature an agro-industrial tread pattern designed to meet the needs of compact tractors operating in a variety of terrains and performing diverse jobs.

R-4 Industrial Tire
Striking a balance between the minimal tread found on R-3 tires and the aggressive tread patterns of R-1 tires, R-4 tires offer operators a happy medium, making them the most common tire for today's compact tractors.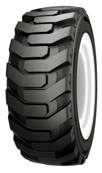 Sometimes called industrial tires, R-4s are commonly engineered with a shallower, less aggressive bar-tread pattern with a wider footprint than an R-1 tire, but more pronounced than that found on an R-3 tire. This results in a tire capable of working efficiently on soft surfaces like mud, dirt, and snow while minimizing soil disruption. Built using a harder compound than the other types of compact tractor tires, R-4s are the best of the three for work on hard surfaces such as asphalt, concrete, and gravel. Due to their strong carcasses and high puncture resistance, R-4 tires are also typically the longest lasting of the three types of compact tractor tires. Galaxy R-4 tires are original equipment on many of today's most popular compact tractors.
Industrial R-4 tires like our Galaxy Beefy Baby III are great for compact tractors operating in a variety of conditions and jobs—whether it's moving feed on the farm, repairing a driveway, or plowing snow.

The Galaxy Garden Pro MPC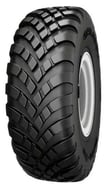 Purpose built for compact tractors, our Galaxy Garden Pro MPC blends the features and performance found in the three primary types of compact tractor tires into one that's extremely capable of performing a wide variety of jobs in all types of terrain. Constructed with a substantially deeper tread than what's commonly found on R-3 tires and a multipurpose tread pattern with a significantly larger solid-to-void ratio than typical R-1s and R-4s, the Galaxy Garden Pro delivers great traction in soft soils and a long lifespan when operated on hard surfaces—all while protecting delicate surfaces.
Another characteristic that makes the Galaxy Garden Pro extremely appealing to compact tractor owners is its radial construction. Radials offer a wider footprint, which distributes the weight of a tractor across a larger surface, causing less damage to the turf. Radial tires also provide a smoother ride and wear better than bias-ply tires when used on hard surfaces. Because the larger, more even footprint of radials tends to reduce tread wear, it's not uncommon for their total cost of ownership to be lower than that of a bias-ply tire.
To learn more about our wide array of application-specific compact tractor tires and how they can improve your machine's performance, contact your dealer or local rep today!