As of Jan 1, 2021, Alliance Tire Group and Alliance Tire Americas, Inc. changed their names to Yokohama Off-Highway Tires and Yokohama Off-Highway Tires America, Inc respectively. The Alliance, Galaxy and Primex brands and product names remain unchanged. Product information is available at www.yokohama-oht.com.
Five New Tire Styles Released Last Year
We make application-specific tires, purpose-built to solve the problems our customers face every day on the job. In some cases, solving an issue facing a customer might simply involve introducing them to a tire that already exists in our extensive lineup; in other cases, it involves working with our customers and our R&D team to bring a new tire to market. In 2017, we launched five new tire styles—including a "world's first"—and introduced an entirely new brand of truck tires. Keep reading to see why 2017 may have been one of our best tire-development years ever!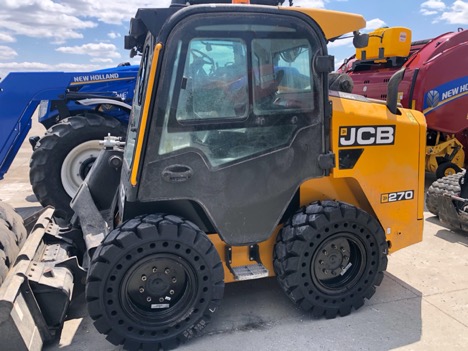 With the increasing interest in severe duty solid tires, we've had a lot of customers asking us to make some of our classic treads in a solid. With that in mind, we launched the Galaxy Hulk Deep-Tread Severe Duty Solid (SDS) Tire last January, much to the excitement of operators who use their skid steers in sites where punctures and excessive wear are constant challenges.
Some of the other challenges facing our customers are big, like soil compaction. And some of the biggest compaction culprits are big machines running on big tires. Because of this, we launched the Alliance Agriflex 389+ VF Flotation Tire, which brings compaction-reducing performance to the heavy implements towed behind tractors.
Severe-duty solid tires were a popular item for us in 2017, and with the launch of the Galaxy Yard Master SDS Press-On Band, we were able to add a tire that our customers in material handling had been asking for. The Galaxy Yard Master SDS Press-On Band makes replacing worn tires quick and easy, keeping your forklifts on the move and reducing downtime.
With the release of the Alliance AgriFlex 381 IF Flotation Tire, our customers are now able to take two leaps up from standard bias-ply ag implement tires, as they step up to steel-belted construction and IF technology. What this really means for the customer is better performance, reduced soil compaction, and more profits.
Sometimes the solution to our customers' problems doesn't require a whole new tire, it simply requires a new set of sizes. With the release of the Galaxy Mighty Mow TS Line, we bring the traction and professional-grade turf protection of our Galaxy Mighty Mow compact tractor tire to smaller commercial mowers.
Also, earlier this year, we debuted our line of Constellation truck tires with thirteen tread patterns and 50 skus suitable for all positions and types of commercial trucks. Like all of our brands, Constellation delivers the features, benefits, and performance of big-name brands without the big price tag.
Although we're still pretty excited about our tires of 2017, we are even more excited about what 2018 has in store. Keep checking the Hub and stay in contact with your dealer to stay up to date on our latest offerings and how they can benefit your operation.