As of Jan 1, 2021, Alliance Tire Group and Alliance Tire Americas, Inc. changed their names to Yokohama Off-Highway Tires and Yokohama Off-Highway Tires America, Inc respectively. The Alliance, Galaxy and Primex brands and product names remain unchanged. Product information is available at www.yokohama-oht.com.
Alliance Tire Americas, is revving up its booth at the Mid-America Trucking Show (MATS) with the launch of the Aeolus Ride Like the Wind sweepstakes. The Grand Prize winner, drawn in September of 2017, will walk away with a new Indian Scout motorcycle—runners-up can win iPads and Yeti coolers.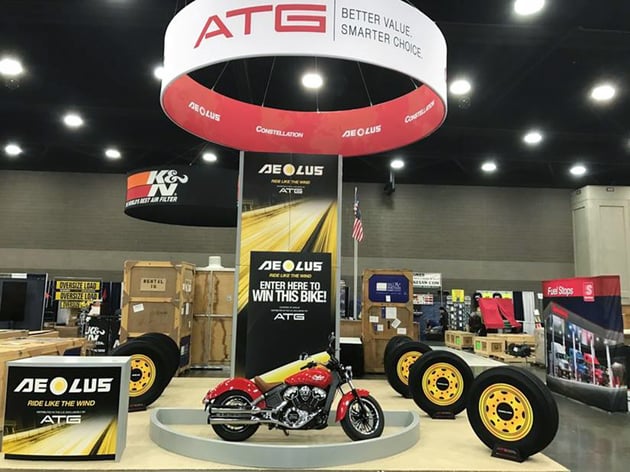 "We're proud to be Aeolus truck tires' sole U.S. distributor and to showcase their products at MATS," says John Hull, National Truck Tire Sales Manager for Alliance. "With the Ride like the Wind Sweepstakes, we'll be promoting the Aeolus brand of Medium Radial Truck tires to all our major audiences. The bike will travel in our Alliance Marketing trailer for display at trade shows and events around the country, from customer appreciation events to NTPA tractor pulls. A hot bike is always a great conversation starter and we meet all kinds of customers on the road with our trailer."
With the Aeolus brand, ATA fulfills its commitment to providing a full selection of OTR and MRT tires for its customers, Hull notes.
"With the recent reversal of government duty cases, we expect to have a steady supply of Aeolus' excellent-quality, competitively priced truck tires for every segment of the U.S. trucking industry, and we're delighted to be Aeolus' exclusive distributor," he says.
The Alliance booth at MATS—Booth 12100—will feature three Smartway-verified Aeolus truck tires—the HN308+ premium closed-shoulder drive tire, ASL67 premium steer and HN808 premium line haul trailer tire, as well as a selection of ATGs recently-launched Constellation brand truck tires.
"Alliance Tire has always been about providing great choices to its customers, whether it's the industry's broadest selection of purpose-built off-the-road tires or great options for over-the-road trucking," Hull notes. "Visitors to our booth at MATS will have a chance to see tires that meet their specific needs, talk with people who can help them connect with great truck tires, and enter an exciting sweepstakes that could have them on a brand-new Indian Scout by September."