Prepare Your Snow Removal Equipment for Winter
Ready or not, it's that time of year again—that's right, it's winter! And that means plowing season is here. While those of you in the Rocky Mountain Region and Pacific Northwest have already had your first taste of winter with some impressive snow, back east at our corporate headquarters just outside Boston, Massachusetts, we are left with the memory of last winter, a winter that, at times, basically shut the city down.
With a little over 112 inches of snow, last year was the snowiest season on record in Boston (they've kept snow totals since 1872). While the record snow total was a challenge, what truly debilitated the city was that the majority of it came within a six-week stretch. Between January 24 and February 22, the city of Boston received over 94 inches of snow, which made driving through—and parking in—the city a near impossibility, and kept parts of public transportation from running. There was so much snow that Boston began trucking snow outside the city to "snow farms," the last of which finally melted on July 14.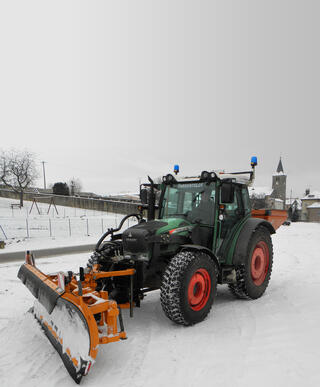 While not every year is going to as crazy as last year was in the Northeast, there's no excuse to not be prepared for winter. In fact, making sure your tires are ready for winter duty is pretty straight forward. For winters like last year's, running your tires with the most flotation possible will give you maximum performance in deep snow. Also, check your tires' PSI frequently when the weather changes; a 10-degree drop in temperature can lower your inflation pressure by as much as 3 PSI.
Already in use by municipalities and airports across the country, the Alliance 550 Multi-Use tire is a popular option for tractors, loaders, and other equipment that will see plowing duty this season. The Alliance Multi-Use's block-type tread provides excellent performance in snow and ice, while its steel-belted construction provides puncture protection. Thanks to its high number of blocks, rubber-to-void tread ration, and low rolling-resistance, you can expect great tread life from the Alliance 550.
Don't let winter sneak up on you this year. Download our 19 Indispensable Tips for Winter Cleanup when operating heavy machinery and be prepared this season.