Selecting an Application-Specific Tire for Snow


As competition in the snow removal industry grows, the use of equipment like telehandlers, industrial tractors, wheel loaders, and skid steers is becoming more prevalent by snow removal contractors looking for an edge over other operations. Compact equipment provides numerous advantages over the traditional pickup and plow setup, including better visibility, more maneuverability, and fantastic versatility thanks to the wide variety of available snow-removal attachments. All of this adds up to increased productivity and efficiency and improved bottom lines.


Make the Most out of Machinery


Compact equipment is lauded by snow-removal operations for its ability to handle heavy snow, deep drifts, and big banks along with its capacity to travel quickly, allowing operators to speedily clear large lots and move swiftly from one customer to the next. However, if the equipment is unable to gain traction and put power to the ground, the big horsepower and high speeds that make compact equipment so valuable are minimized, or worse, lost. After all, a large 75-horsepower skid steer is really a small skid steer if only 40 horsepower is getting to the ground.



Snow-Specific Tires for Compact Equipment



The standard R-4 tires found on a majority of compact equipment strike a balance between soft and hard surface performance. While R-4 tires are great for everyday tasks, they are not designed for the challenges of winter work and can lose traction when operating brooms, blades, blowers, and buckets, especially when being used in heavy, wet snow. Conversely, tires with block-tread patterns and low rubber-to-void ratios—along with favorable winter features like sipes and cold-weather compounds—are the real snow removal superstars.
Three construction features that are guaranteed to help move snow quicker (and improve operational productivity) are:
Radial construction: increases a tire's footprint which, in turn, improves contact surface area and traction.
Steel belt reinforcement: widens the tread area contacting the surface and boosts traction.
Block tread design: bites deeper into the snow surface and reduces slippage and enhances traction.
Radial tires are also gaining favor on machines used in snow removal. Radial tires offer a multitude of benefits to snow removal operations, including:
Ability to operate at lower inflation pressures, giving them a traction-enhancing larger, more uniform footprint.
Lower rolling resistance, which improves fuel economy and lowers operational costs.
Better dissipation of tire-destroying heat than bias tires—yes, traveling long distances and working at high speeds can cause heat buildup in tires, even in extreme cold—ensuring a longer life during those long days of moving snow.
Reduction of shocks and jolts to equipment, in turn, lowering maintenance costs.
More comfortable ride which keeps operators happy and productive.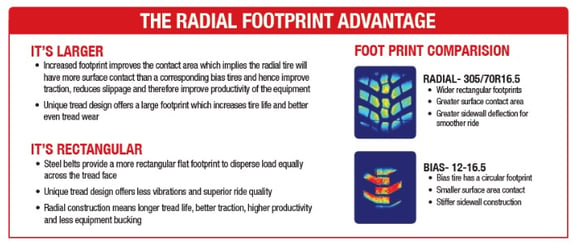 Favorite Alliance/Galaxy Radial Tires for Snow Removal


We are committed to creating solutions to the real-world issues facing our customers and have numerous tire solutions to help snow removal operations truly make winter the most wonderful time of year.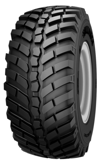 Alliance 550 MultiUse: Available for industrial tractors, wheel loaders, and skid steers, the Alliance 550 MultiUse is a long-time favorite of municipalities and commercial snow removal operations alike. The steel-belted Alliance 550 excels in any number of applications—including snow removal—thanks to its directional, block-lug tread pattern, a high number of traction-producing blocks, and low tread-to-void ratio that clears snow easily.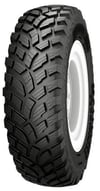 Alliance 551 MultiUse: The steel-belted Alliance 551 MultiUse was designed specifically for use in winter conditions and features a number of season-specific features, including variable-depth sipes for superior traction on snowy and wet surfaces, directional channels to clear snow and slush, and a special rubber compound formulated for work in cold temperatures.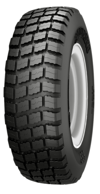 Alliance 655: An excellent choice for wheel loaders being used for snow removal is the Alliance 655. Designed for winter work, the 655's non-directional, wide-block tread pattern provides excellent self-cleaning and traction, while sipes further help put power to the ground in addition to improving maneuverability and braking. A robust all-steel casing provides protection against bashing against the occasional curb and a special compound helps ensure tire longevity.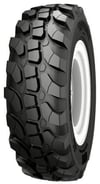 Alliance 585: More and more operations are turning to telehandlers for snow removal. Helping them excel at winter work are tires like the Alliance 585. The 585 features radial construction, which helps it put all of its large, multi-directional block tread on the ground for a great grip on slick, snowy surfaces and great performance all year long.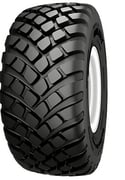 Galaxy Garden Pro/Garden Pro XTD: A unique hybrid tread pattern allows the Galaxy Garden Pro to shine in a variety of applications, including snow removal. The recently introduced Garden Pro XTD features a new, high-density compound formulated for extra performance at low temperatures, and its tread boasts an uncanny ability to clear snow. This all adds up to a tire that performs exceptionally well on hard surfaces, in deep snow, and in arctic-like temperatures.
Favorite Galaxy Bias Tires for Snow Removal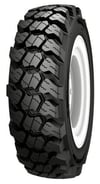 Galaxy Mighty Trac ND: Many in the snow removal market continue to favor bias-ply tires like the Galaxy Mighty Trac ND. This versatile all-surface, all-season skid steer tire features a block-tread pattern with an optimal lug-to-void ratio for ensuring awesome traction in the snow while providing significantly more life than a traditional R-4 tire. Additionally, the tread of the Galaxy Mighty Trac ND is equipped with sipes to improve the tire's "bite" on snow and icy surfaces, resulting in better traction and greater productivity.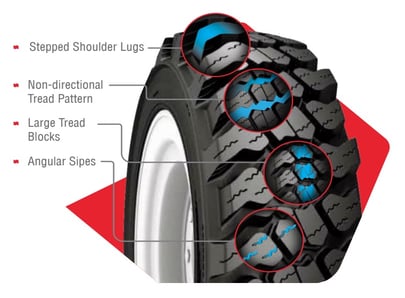 Have your compact equipment dashing through the snow this season with a tire designed to handle the rigors of winter work. Contact your local dealer or rep to learn which tires are right for your operation.