As of Jan 1, 2021, Alliance Tire Group and Alliance Tire Americas, Inc. changed their names to Yokohama Off-Highway Tires and Yokohama Off-Highway Tires America, Inc respectively. The Alliance, Galaxy and Primex brands and product names remain unchanged. Product information is available at www.yokohama-oht.com.
Standing nearly seven feet tall and more than four feet wide, the new Alliance Agriflex 372 IF 1250/50R32 CFO tire from Alliance Tire Americas, Inc. is a massive step toward minimizing soil compaction. Thanks to increased flexion (IF) sidewall technology and precision engineering, each of these huge tires can carry up to 22,480 pounds at an inflation pressure of just 46 psi, which helps reduce yield-limiting compaction that can be caused by combines and grain carts, says James Crouch, Agricultural Marketing Specialist for ATA.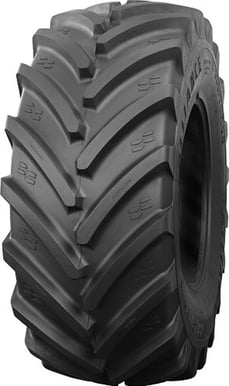 "The new 1250/50R32 size for the Alliance Agriflex 372 IF reflects not only an impressive manufacturing feat, but also demonstrates Alliance Tire's commitment to offering low-pressure solutions for every application on the farm," Crouch says. "With an ever-growing line of IF, VF and flotation tires, Alliance can help farmers protect their fields from soil compaction all season long and on every piece of equipment from the planters, sprayers, combines and grain carts. That ensures that a farmer doesn't cause unnecessary compaction with his tractor and end up doing damage later with some other tire."
Crouch notes that Alliance has also added an IF 1050/50R32 size to the Alliance Agriflex 376 lineup. He points out that IF tires offer users a choice of benefits:
20% greater load capacity than standard radials at the same inflation pressure, or
The same load capacity as standard radials at 20% less inflation pressure.
Both of the new tires bear the "CFO" designation, which stands for "cyclical field operations." That reflects special design and construction to withstand the cycles of loading and unloading—and shifting weight—experienced on the go during harvest.
Crouch explains IF and VF technology in one of Alliance Tire Americas' new "ATA Tireside Chats" videos, which can be found online at http://bit.ly/2F4B72W. ATA also offers a free paper on soil compaction at http://bit.ly/2EW2rwZ.