As of Jan 1, 2021, Alliance Tire Group and Alliance Tire Americas, Inc. changed their names to Yokohama Off-Highway Tires and Yokohama Off-Highway Tires America, Inc respectively. The Alliance, Galaxy and Primex brands and product names remain unchanged. Product information is available at www.yokohama-oht.com.
The new "Tireside Chat" vlog series from Alliance Tire Americas, provides easy-to-understand explanations of practical tire science, and offers quick tips on tire selection, maintenance and operation. The first series of five one-to-three-minute video segments, released today on YouTube and Facebook, is designed to offer brand-agnostic tire suggestions and focuses primarily on the farm tire segment.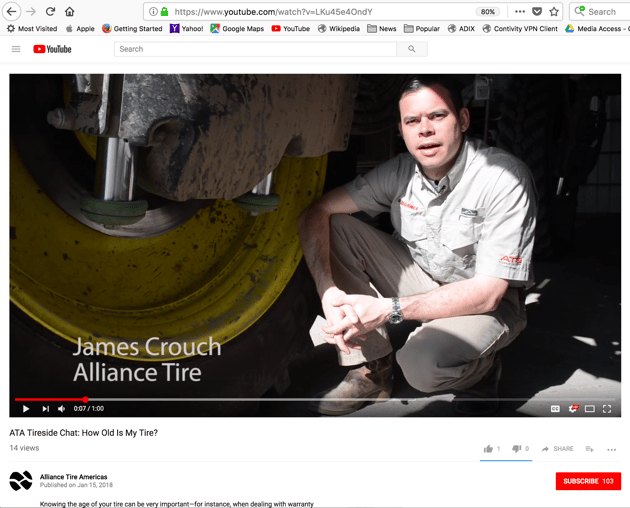 "The Tireside Chat Series is an informal and friendly way for ATA to provide machinery owners and operators with helpful tips and knowledge to help them get the best possible performance out of their tires and equipment," says Barry Clifford, Manager of Marketing at ATA. "Some of the segments explain the technology inside a particular type of tire or dig into how tires impact other aspects of success on the job, like soil compaction on the farm. Basically, we're answering questions and solving problems our salespeople and engineers see every day in the field."
The Tireside Chat segments released today are hosted by ATA Product Specialist James Crouch, and cover a range of topics, from ballasting tires to using a tape measure to determine if a tire is properly inflated. Other topics include managing tires to reduce soil compaction, how to determine the age of a tire from sidewall markings, and the differences among IF, VF and radial tires. Additional episodes will be released steadily throughout 2018.
"Tires are a very technical product, but there are many simple tricks that can have a huge impact on productivity around the farm," ATA tire expert Crouch says. "I want our customers to have good information, so they can make smarter choices. The Tireside Chat videos are a great way for us to help our customers do better and maybe even save money."
All ATA Tireside Chat segments are available on the Alliance Tire Americas Facebook page and its YouTube channel.