As of Jan 1, 2021, Alliance Tire Group and Alliance Tire Americas, Inc. changed their names to Yokohama Off-Highway Tires and Yokohama Off-Highway Tires America, Inc respectively. The Alliance, Galaxy and Primex brands and product names remain unchanged. Product information is available at www.yokohama-oht.com.
With vicious winter storms still making headlines this season, Alliance Tire Group is launching its Alliance 551 Multiuse Professional, a steel-belted radial designed for modified front-wheel-drive assist (MFWA) tractors operating in snow and ice.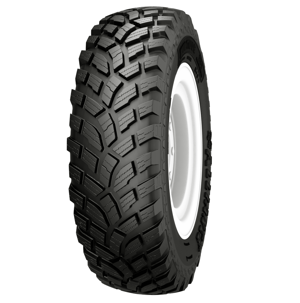 "Shipments of the new Alliance 551 are on the way and will be in stock soon," says James Crouch, Alliance Tire Americas National Product Manager—Agriculture. "That provides opportunities for municipal and commercial operators, as well as farmers, to put it through its paces in tough winter conditions."
The Alliance 551 Multiuse Professional features an R-3 block tread pattern with variable-depth sipes that provide extra biting surfaces as well as directional channels to clear snow and slush from the tread surface. Steel belts provide a broad footprint for improved traction and stability, Crouch notes, and boost fuel efficiency by reducing rolling resistance. The combination of steel belts and precisely engineered lugs ensures a stable, quiet ride with a dependable grip in the snow. The Alliance 551 is rated for speeds up to 40 mph (65 km/h).
"One of the hallmarks of the 551 that really makes it such an excellent performer in the snow is the special compounding," Crouch adds. "We optimized the rubber compound for great grip and flex, even in extremely low temperatures, and yet it's long-lasting so the tire can deliver an excellent return on investment."

Limited quantities of the new Alliance 551 Multiuse Professional will be available in six popular sizes: 440/80R24 (144D and 149D), 440/80R28, 440/80R34, 540/65R30 and 650/65R42. For more information, contact your Alliance Tire Americas sales rep.