As of Jan 1, 2021, Alliance Tire Group and Alliance Tire Americas, Inc. changed their names to Yokohama Off-Highway Tires and Yokohama Off-Highway Tires America, Inc respectively. The Alliance, Galaxy and Primex brands and product names remain unchanged. Product information is available at www.yokohama-oht.com.
Introducing the Alliance Agri Star II Radial Tire

A unique, two-layered lug design delivers better traction, more biting edges, and extra eye appeal in the new Alliance Agri Star II radial line of R-1 farm tires, launched today by Alliance Tire Americas, Inc. The new lugs combine a single-angle layer stacked on top of a wider, multi-angle lug in a design Alliance calls Stratified Layer Technology, which offers a more stable, longer-lasting tread bar with added biting edges for better traction.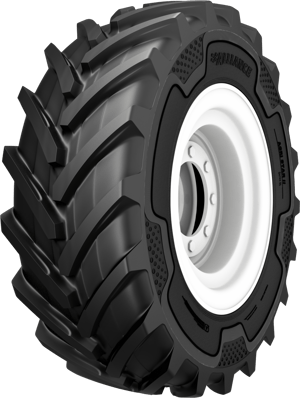 Under those lugs run a pair of step-tie bars to anchor the tread, break up mud and minimize lug shuffling, notes Brian Sheehey, Vice President of Marketing for ATA.
The Alliance Agri Star II is engineered and built for stability and reliability. It starts with the wide lugs and the way they overlap along the centerline for better roading, and includes the step-tie bars. It extends deep inside the tire to the polyester casing, which offers more stability than the nylon plies you usually see at this price point," says Sheehey
"The Alliance Agri Star II is a versatile, all-around performer for all classes of tractors—and we see extra benefits to the 140-hp-and-above categories switching from our standard FarmPRO line," he adds. "With its long wear and Stubble Guard Compound the Agri Star II is priced to deliver the lowest cost per 32nd of tread in the category, and its radial belts and durable carcass enlarge the tire's contact patch to 13 percent larger than a typical, comparably sized radial.
"Outside of the IF/VF category, you're not going to see a more dependable radial tire—and you're certainly not going to see one that's as dramatic-looking and full of features as the Agri Star II," says Sheehey.
The Agri Star II is covered by a 7-year warranty and Alliance Tire Americas' easy-to-use Warranty Wizard app. Alliance is launching the Agri Star II in 76 sizes ranging from 260/70R16 to 710/70R42 and the popular 480/80R50.