High-Tech VF Tires Improve Productivity and Efficiency on the Farm
From high-tech software to high-flying drones, interest in agtech is exploding. According to research company Crunchbase, in both 2018 and 2019, venture capitalists invested more than $4 billion in just agtech startups alone. While flashy apps and autonomous machinery often steal the spotlight, numerous other, more understated technological advancements—like the development of VF (very-high flexion) tires—are happening right under our (tractors') noses.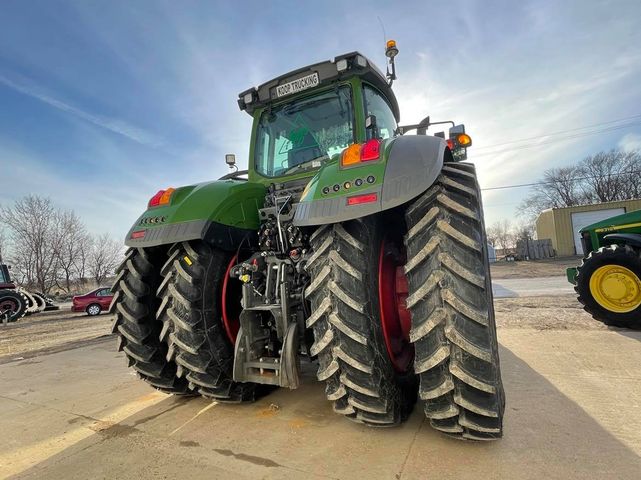 Photo courtesy 

of 

M&G Tire Service in Ackley, Iowa
Evaluating AgTech

Farmers are increasingly benefitting from improvements in productivity and efficiency delivered by agtech, but its rapid growth and the overabundance of expensive and hard-to-evaluate options can leave them feeling overwhelmed. It's imperative for farmers to practice good judgment when adopting new technologies to ensure they provide a return on their investment.
A recent article in Progressive Farmer, How to evaluate farm tech opportunities, offers some interesting insight into the assessment of agtech options and suggests three questions that farmers should ask before adopting a new technology:
Will it bring greater efficiency (and how much)?
Can we quantify the return on investment (ROI)?
How smoothly can we implement it?
When looking at these questions, we can't help but notice how conclusively the adoption of high-tech VF tires answers them—and that VF tires provide a simple-yet-innovative solution to many of the issues facing farmers that more expensive and complex agtech solutions are trying to address.
Improved Efficiency

Will it bring greater efficiency (and how much)? VF tires are constructed with sidewalls that enable them to bear heavier loads and operate at lower inflation pressures than traditional radial tires. In fact, VF tires, like our Alliance AgriFlex+ range, can carry up to 40% more load than a conventional radial tire at the same inflation pressure or operate at up to 40% lower air pressure under the same load.
VF tires offer quantifiable improvements on the farm. For example, the ability to carry heavier loads can cut down significantly on fuel use and reduce machine hours, while the ability to operate at lower inflation pressures allows tires to produce larger footprints, which can improve traction and reduce soil compaction. The best part is, you can choose which benefit works best for your operation.


Return on Investment (ROI)

Can we quantify the return on investment (ROI)? One of the great things about VF tires is how easy it is to measure the actual financial impact they have on a farm, especially if you have historical data for comparison. The ability of VF tires to carry more load allows for more efficient field work, especially when working with heavy towed implements like planters, spreaders, and carts—this means more time in the field, less wasted time, and possibly big dollars at the end of the season. Our Alliance brand's Whole Farm Concept is a commitment to delivering a cost-effective VF tire to every piece of farm equipment that enters the field, from tractors to self-propelled sprayers to combines.
You can also calculate the value of a VF tire's ability to minimize soil compaction. A 2019 study found that deep wheel-traffic compaction—compaction occurring below the depth of normal tillage—reduced yields by more than 20% for at least two years. If the cost of VF tires is less than 20% of your yield—or of the tremendous cost of trying to deep rip a compaction layer out of your subsoil—then there is a compelling argument for upgrading.


Easy to Implement

How smoothly can we implement it? Unlike agtech such as software, apps, and drones, all of which require a level of comfort with technology, the switch to VF tires is easy. With VF tires, there are no new screens to monitor, skills to learn, or numbers to crunch. While some require a wider wheel than standard tires, many VF tires provide a one-for-one replacement. After ensuring compatibility, simply install the tires, keep them inflated to the proper pressure, and reap the rewards.


Alliance AgriFlex+ Tires


Yokohama Off-Highway Tires is a leader in VF tires. All of our Alliance brand AgriFlex+ VF tires are steel-belted, which helps them produce large footprints that evenly distribute the weight of heavy equipment, along with providing excellent puncture resistance and long service life. We're continually introducing new AgriFlex+ tires and sizes to ensure a low-pressure tire option for every piece of equipment that enters the field. And we believe so strongly in the quality of our VF tires that they're backed by an astounding ten-year warranty.
Contact your local Yokohama Off-Highway Tires America, Inc. dealer or rep today to learn about an easy-to-implement technology for your farm that will start paying off immediately: Alliance AgriFlex+ tires.