Mizell Development Depends on Primex Tires for Reforestation Applications
What happens to a parcel of land after its trees have been collected and processed is an often overlooked aspect of timber harvesting, however, site preparation and replanting can account for as much as a fifth of a timber harvest budget. While timber harvesting and reforestation share similar equipment, site preparation and replanting provide unique challenges, something Adam Mizell, of Mizell Development, knows all about—and is why he chooses Primex tires.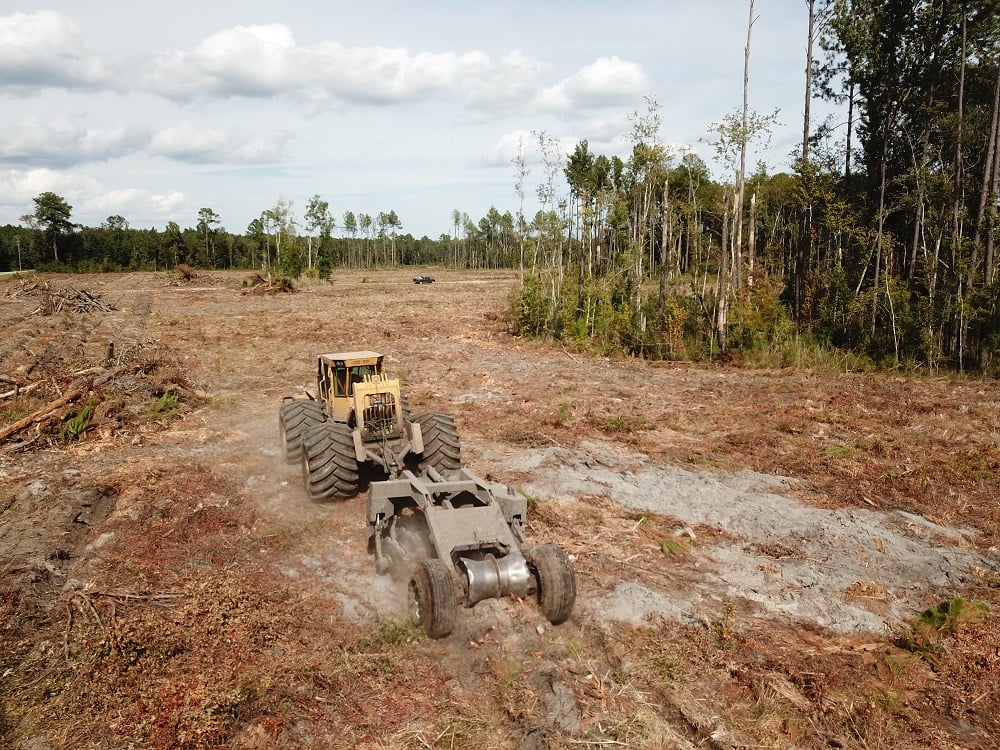 Reforestation Benefits


Mizell Development is a reforestation contractor working in northern Florida and southern Georgia. Reforestation projects—like those Mizell runs—help make land more sustainable and profitable. In 15 to 20 years, the trees replanted by Mizell and his crew will be ready for the pulp mill. In 30 years, the land owner will have a stand of valuable sawlogs. Studies have shown that slash and loblolly pine planted into prepared sites can grow faster and produce greater economic returns than naturally regenerated stands.


Reforestation Applications


Reforestation projects for Mizell begin with an herbicide application shortly after logging has ceased. Ideally, a clear-cut site sits for a year before site prep—giving debris a chance to start breaking down—but Mizell and his crew are often at work within a few months.
Once in the field, Mizell's crew pulls a drum chopper with a skidder through the site to prepare the ground. The chopper loosens the soil and grinds up organic matter like roots, stumps, and unwanted vegetation. This breaks up compaction caused by heavy logging and land-clearing equipment and makes it easier for new roots to grow while also providing valuable nutrients to the next generation of trees.
Mizell then runs a rake mounted on a feller buncher to pile up large, heavy debris that's too big for the drum chopper to break down, after which the site is ready for beds. Mizell establishes beds using skidders in the 250- to 300-horsepower range pulling bedding plows. In drier areas, Mizell can build beds in a single pass, but wetter areas commonly require a second time through.
Seeds are planted in January or February and stand survival can be as high as 98%—a testament to the effort Mizell puts into site preparation.
The Challenges of Reforestation Applications


Reforestation projects require working an entire parcel of land and while any crew can prepare the good parts of a field, what separates Mizell is his ability to work the difficult areas, such as soft and wet spots. After all, these spaces will grow trees, too. It's these demanding sections where Mizell really depends on his tires.
Unlike loggers, who can take advantage of the weight of timber to help them move through slick, slippery, and sloppy terrain, all Mizell has is the weight of the equipment itself. Consequently, great traction is invaluable when operating in wet and muddy conditions, and it's here where Primex tires shine.
Whether he's pulling a chopper with deep blades or a bedding plow through heavy, swampy soil, well-designed tread and deep bars make a world of difference to Mizell. Primex delivers what reforestation operations are looking for: tires with a wide, deep, effective tread. According to Mizell, he can put 2,000 to 3,000 hours on a set of Primex Logstomper Xtremes and they'll still have bigger bars on them still than some other tires do new.
In the September/October issue of Timber Harvesting Magazine, Mizell said that tires "are extremely important for my business…if I don't have good tires, I'm just spinning in place." Mizell knows that horsepower is important, but so is getting it to the ground, and inadequate tires can sink an operation—literally sink it: when a tire spins while pulling beds, it drops the tractor down and creates a hole it needs to dig out of—costing fuel, productivity, and time.


Primex for Profitability


Reforestation margins are thin and even small improvements in productivity and efficiency can make a big difference. Successful operations find a way to work more acres and keep crews active. A team watching a skidder spin in place or waiting for it to get unstuck costs money. The same is said for a tire that fails. If either happens too often, an operation is in trouble. Primex tires offer more than just deep tread and gobs of traction, they also have a well-earned reputation for being some of the toughest tires in the industry, thriving in harsh conditions and tough forestry applications.

Yokohama Off-Highway Tires America

Adam Mizell puts his trust in Yokohama Off-Highway Tires America's (YOHTA) Primex brand forestry tires and so can you. Contact your local YOHTA dealer or rep to learn more about our Primex tires and how they can benefit your timber harvesting or reforestation operation.