Radial Tires Provide This Forklift With the Right Amount of Durability and Performance


Working in a sawmill is one of the toughest jobs asked of a forklift, much less its tires. Long hours, rough surfaces, tight operational spaces, and exposure to a wide variety of puncture-causing debris mean tires are always at risk. Having tires on your forklift that are application-specific is a key step you can take to get the best performance and return on investment (ROI) from your machine and its tires. Don't believe us? Check out this test we've been running at one southeastern sawmill interested in equipping their forklift with the longest-lasting tires to reduce cost and downtime due to changeover.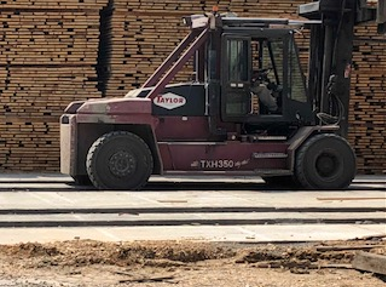 Finding a Forklift Tire


The forklift at the sawmill we've been working with is a 2013 Taylor XH-350L, with a lift capacity of 35,000 lbs. On average, the Taylor XH-350L works long 20-hour days that add up to roughly 400 hours of use per month. No light lifting, the most notable tire-wearing challenges facing the Taylor forklift is the super-long 20-hour work cycles and the necessity to make high scrub and sharp turns in and out of narrow spaces on dirt-covered asphalt. Additionally, the forklift spends a lot of time going forward and backward, makes uphill pickups, and travels at speeds up to 10 mph.
Over the past few months, the sawmill has been experimenting with a variety of different types of tires—solid, bias, and radial—in an effort to discover what kind of tire will make their forklift function as efficiently and productively as possible, along with what tire offers the best total cost of ownership (TCO).

Bias Tire: Not Tough Enough


Bias tires are popular in applications such as working in a sawmill thanks to their inexpensive upfront cost and were the first type of tire the sawmill tried on their forklift. Let's just say the results were underwhelming. The tires were removed after approximately 1,100 hours of service when the non-skid depth (NSD) in the center of the tire reached zero with the inner and outer shoulders of the tire showing minimal NSD—five and six—as well. Crunching the numbers, the projected lifespan of our competitor's bias tires tested is between 1,100 and 1,200 hours.

Solid Tires: Didn't Make the Cut


Solid tires have a reputation for being able to stand up to the toughest jobs and roughest terrain, so it makes sense that's where the sawmill turned next. As expected, the solid tires significantly outperformed their bias counterparts; however, the high heat generated during long hours of continuous operation didn't let them reach their full potential. The solid tire tested in this case was removed after roughly 3,000 hours with a center NSD of zero and inner and outer shoulder NSDs varying between eight and ten. With a projected total life of 3100-3200 hours, this was a good showing. However, the same tires used in an application with less extreme heat and turning friction will do much better.

Radial Tires: Just Right


Radials have been an afterthought when operators think about what type of tire to equip their forklift with, but that's beginning to change. The same reasons why radials are becoming increasingly common on farm and construction equipment—better footprint, improved traction, superior heat dissipation, and longer life—are leading to their adoption on tough jobs, like the one being taken on by the Taylor XH-350L.
It didn't take long for our Galaxy Yardmaster Radial tires to prove themselves...just 3,000 hours or so, after which the sawmill decided it wasn't a fair fight. At the conclusion of a little over 3,400 hours (400 more hours than our competitor's solid), our Yardmaster Radials were pulled with inner and outer shoulder NSDs between 17 and 23, about half of the original 49 NSD. Projected out, our Yardmaster Radials will last over 5,000 hours! While costing more upfront than their bias competitors, the fact that they last nearly five times as long dispels the myth of bias tires being more cost-effective.
Simply, for jobs like the ones facing the sawmill's forklift which involve lengthy shifts, nothing tops our radial's ability to beat the heat—the natural enemy of long-lasting tires—and keep valuable machinery on the move.

|An Added Bonus of Radials


In addition to the long lifespan of our Galaxy Yardmaster Radial tires, their flexible sidewalls provide a softer, more comfortable ride than both their bias and solid brethren. Reducing shocks and jolts, our radial tires decrease stress on the machine and provide a more pleasant operator experience. This benefits the sawmill by reducing machine maintenance and keeping operators productive and happy—especially on those extra-long shifts.

The Application-Specific Advantage


If you want to learn about our awesome line of application-specific forklift tires, or are interested in discovering what the right type of tire is for your machine, contact your local dealer or rep today.